AliPay VPS: Buy VPS with AliPay in 30+ Locations
AliPay VPS, easily complete the payment at LightNode and enjoy Cloud VPS in more than 30 countries around the world.
AliPay VPS — Safety & Security, Frictionless, Accessibility
As the most popular payment method used in Chinese-speaking areas, Alipay has over 1 billion users. However, some VPS providers don't provide Alipay payment method. LightNode has customers all over the world, and supports you to quickly complete the safe and secure payment through mobile APP or webpage code scanning, and enjoy the VPS immediately.
Rapid deployment
Everything is so fast. Your payment will arrive immediately and the VPS can be deployed in less than 2 minutes.
Reaching the world
We have data centers in over 30 countries on 5 continents, so whether you need a VPS in Southeast Asia, the Middle East, or South America, you can deploy it anytime after you pay.
No credit card required
We do not require you to bind a credit card. Whether you have an international credit card or not, you can complete your payment through Alipay.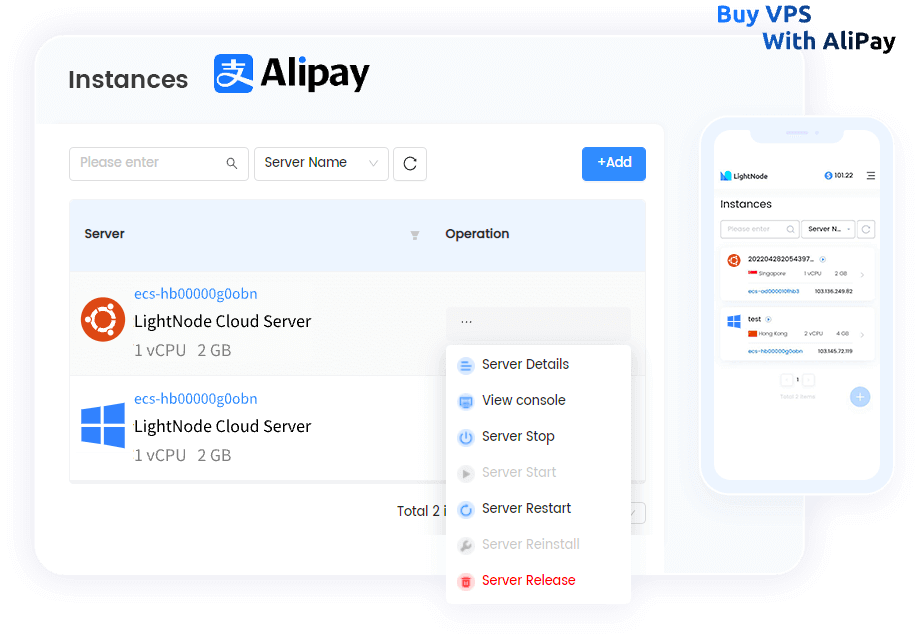 Rapid deployment
Reaching the world
No credit card required
Connect. Deploy. Grow - Globally
Start deploying your High Performance Cloud VPS worldwide. Reduce latency, with our Cloud VPS located near your users and equipped with local BGP access.
Silicon Valley

Washington

Frankfurt

Istanbul

Riyadh

Dubai

Bangkok

Hanoi

Phnom Penh

Ho Chi Minh

Hong Kong

Taipei

Seoul

Johannesburg

Singapore

Manila

Dhaka

Sao Paulo

Jeddah

Tokyo

Cairo

Bahrain

Sofia

Athens

Kuala Lumpur

London

Muscat

Kuwait City

Marseille

Karachi

kathmandu

Moscow

Buenos Aires

Jakarta

Mexico City

Santiago

Yangon

Japan
LightNode Worldwide Locations
0
700,000+
Cloud Servers Launched
More resources, less cost
Not only is it cheap, but it can give you up to $15 when you recharge for the first time.


Why buy AliPay VPS from LightNode?
LightNode's AliPay VPS boasts cutting-edge Intel and AMD CPUs, combined with 100% NVMe SSD storage for unmatched performance. With data centers in over 30 global locations, we guarantee optimal network performance by partnering with top-tier global carriers. Our flexible hourly billing system, activated immediately upon PayPal payment, ensures transparency with no hidden fees. Committing to the highest standards, we offer an impressive uptime of 99.95%, ensuring consistent stability and security for your business operations.
User-friendly interface
At LightNode, you don't need to understand the technology in particular, we do the complicated stuff, you just need to simply use the platform to do VPS monitoring and management.
Hong Kong Local Company
Our company is located in Hong Kong, China, and we understand more about what Chinese users expect from payment methods, and we believe that we are better able to provide payment support to our customers.
Cost-Effective
We offer competitive VPS plans in more than 30 countries around the world, thanks to our 20+ years in the IDC industry. We are committed to building long-term relationships with users worldwide through both cheap and quality VPS.
Multiple Images
Whether you need to set up a Windows VPS, use a Linux distribution (e.g. Ubuntu, Debian, CentOS, Rocky Linux, etc.), or an application image for rapid deployment of your application (e.g. OpenLiteSpeed WordPress, BlueStacks, cPanel, CyberPanel, Plesk, Utunnel, etc.), we have a wide range of choices for you to choose from, all of them are easy to implement and require no hassle.
Hourly Billing
Whether you pay via Alipay or PayPal, credit card, Google Pay, you can use the VPS via hourly billing after payment.You are free to try out our globally spread data centers and wide variety of images.
Customizable Configurations
LightNode's virtual servers stand out for their high-performance capacity and unrivaled flexibility. Unlike physical servers, which are often hampered by physical limitations and maintenance issues, LightNode's VPS offers scalability and adaptability. This means that users can quickly expand their services as their business grows, without having to invest heavily in additional hardware.
Trusted by over 50,000 customers all over the world
Leveraging our two-decade long experience in the IDC industry, our platform, LightNode, which was launched in 2021, has already served more than 50,000 customers across over 130 countries with over 700,000 cloud servers launched. Over the next three years, we aim to establish edge compute nodes in more than 100 countries worldwide to cover a broader user base.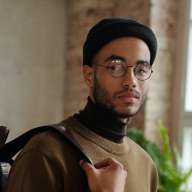 " I've been using LightNode's VPS for a few months now. It's been a smooth ride so far, no big issues or anything. Their customer service is pretty responsive too."
John Thompson
FAQ | AliPay VPS
We usually refer to a VPS that supports Alipay payments for purchases as an AliPay VPS. it's not about performance, it's about the payment method.

AliPay is a safe and secure choice as the payment platform trusted by over 1 billion people. Any payment is completed secured by the platform and you don't need to worry about losses due to fraud.

In addition, Alipay, as a popular payment method in East Asia, is very user-friendly for local users.

Rest assured that we treat every user fairly. The amount you pay is determined by the currency exchange rate versus the amount paid, it's all transparent.

All LightNode servers are

Hourly Billing VPS

, so if you buy the wrong VPS, simply unsubscribe the machine and deploy the correct new VPS.

LightNode uses advanced encryption and security measures to protect your payment information. Alipay, as a globally recognized payment platform, also has strict security protocols to protect users' transactions.

We don't have any limitation on the payment method, as long as you have money in your account, you can open more than one VPS on our platform.We do have some quota limit for all users, but if you have a large number of machines, please send a work order to us.
Don't miss out on the best AliPay VPS.
Embrace excellence with LightNode VPS - Unleashing the power of high-performance hosting!