Best Middle East VPS solutions
Discover affordable Middle East VPS hosting solutions with LightNode. We provide an extensive range of server locations throughout the Middle East, setting us apart with competitive pricing and flexible hourly billing options. Our services are tailored to meet the specific demands of the Middle Eastern market.
Locations: Bahrain, Egypt, Kuwait, Oman, Saudi Arabia, Turkey, UAE
Cheap VPS Middle East
LightNode Middle East VPS offers a high-speed experience, from a user-friendly dashboard that simplifies VPS management to a selection of operating system images for different project needs. With the free IP change feature, you can meet the dynamic network needs of the region.
Simple Dashboard
Easily take control of your Middle East VPS with our user-friendly dashboard designed for convenience, whether it's rebooting or reinstalling your VPS.
Multiple OS Images
Choose from a wide range of operating systems on our Middle East VPS platform, such as Windows VPS, Ubuntu VPS, CentOS VPS, and more, to suit your project's needs.
Free IP Change
Experience flexible network connectivity with two free IP change options for your Middle East VPS.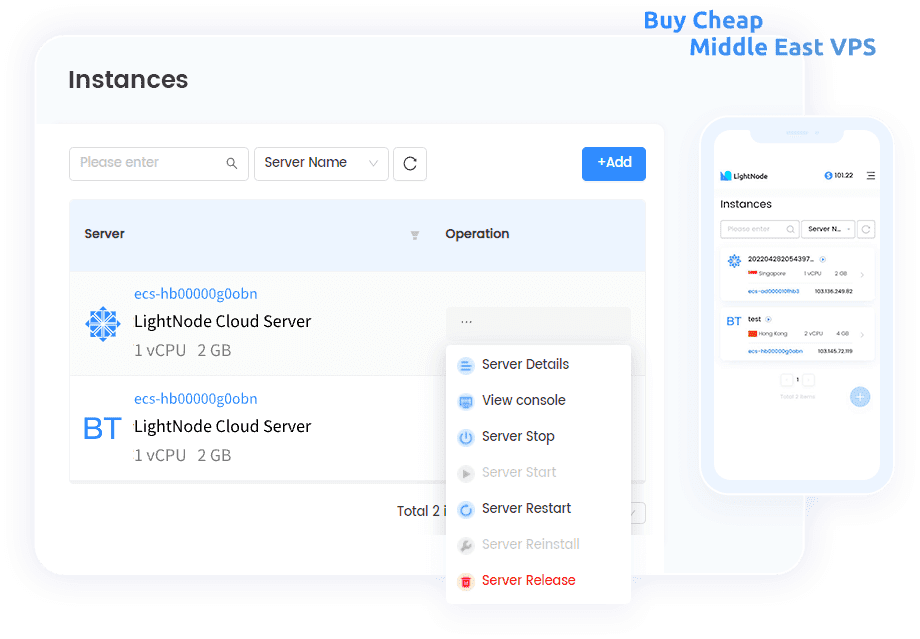 Simple Dashboard
Multiple OS Images
Free IP Change
Connect. Deploy. Grow - Globally
Start deploying your High Performance Cloud VPS worldwide. Reduce latency, with our Cloud VPS located near your users and equipped with local BGP access.
Silicon Valley

Washington

Frankfurt

Istanbul

Riyadh

Dubai

Bangkok

Hanoi

Phnom Penh

Ho Chi Minh

Hong Kong

Taipei

Seoul

Johannesburg

Singapore

Manila

Dhaka

Sao Paulo

Jeddah

Tokyo

Cairo

Bahrain

Sofia

Athens

Kuala Lumpur

London

Muscat

Kuwait City

Marseille

Karachi

kathmandu

Moscow

Buenos Aires

Jakarta

Mexico City

Santiago

Yangon

Japan
LightNode Worldwide Locations
0
700,000+
Cloud Servers Launched
More resources, less cost
Not only is it cheap, but it can give you up to $15 when you recharge for the first time.


Why should I use LightNode Middle East VPS?
When you take a deeper look at our Middle East VPS solution, you'll find strong security, customizable port settings, and guaranteed uptime to ensure your online business faces minimal obstacles. With KVM virtualization and rapid deployment, each VPS comes with a dedicated IP and full root access for maximum operational freedom.
Custom Firewall
Enhance the security of your Middle East VPS with customizable firewall settings to ensure optimal protection, with the ability to control the switching of ports with a simple point-and-click, without the need for any command line operations.
Uptime Guarantee
Our Middle East VPS comes with a 99.5% uptime guarantee to ensure constant online presence, keeping your business stable and giving your customers a great experience.
KVM Virtualization
Our Middle East VPS uses KVM virtualization technology to give the VPS superior performance and isolation, making your business more secure and reliable.
Dedicated IP Address
We provide each VPS with a fixed IP address, which ensures the stability and security of your business.
Full Root Access
Enjoy complete control and freedom to optimize your project's potential with full root access to your Middle East VPS.
Rapid Deployment
When you buy our Middle East VPS, you only need to wait a minute to start using it. Our VPS deployment is so fast that you can have multiple VPS up and running in a very short period of time.
Trusted by over 50,000 customers all over the world
Leveraging our two-decade long experience in the IDC industry, our platform, LightNode, which was launched in 2021, has already served more than 50,000 customers across over 130 countries with over 700,000 cloud servers launched. Over the next three years, we aim to establish edge compute nodes in more than 100 countries worldwide to cover a broader user base.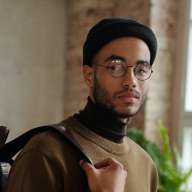 " I've been using LightNode's VPS for a few months now. It's been a smooth ride so far, no big issues or anything. Their customer service is pretty responsive too."
John Thompson
FAQ | Middle East VPS
A VPS located in the Middle East is known as a Middle East VPS. a Middle East VPS provides good coverage of the Middle East, North Africa, and the Arab League.

If you are using a Windows or Linux desktop system, you can easily operate and manage it via RDP. If you are using a general Linux distribution, you can connect via SSH.

On a Middle East VPS, you can host websites, run applications, set up a VPN, and more. It is versatile and can be used for both personal projects and business solutions, offering flexibility in terms of software and configuration.

Yes, LightNode Middle East VPS offers full root access, giving users complete control over their server and enabling them to install, configure and manage software and services as they see fit.

VPS hosting combines the benefits of shared hosting and dedicated hosting. It is cost-effective and offers a higher level of security, performance and control than shared hosting. Specifically, with our Middle East VPS, you will benefit from localized servers and services tailored to the region.

A VPS, especially LightNode Middle East VPS, is an ideal choice if you need more control, security and performance than shared hosting. It's perfect for growing websites, developers and users who need a specific server configuration.
Don't miss out on the best Middle East VPS.
Embrace excellence with LightNode VPS - Unleashing the power of high-performance hosting!