Best BlueStacks VPS Hosting (Android Emulator VPS)
LightNode's BlueStacks VPS comes pre-installed with a stable and high-performance Android emulator. Cost-effective, pay-as-you-go.
BlueStacks VPS — Easy to Run Android Apps
BlueStacks is an Android emulator with excellent performance and compatibility. It allows you to run any Android APP inside the emulator.Many people can conveniently install BlueStacks emulator on their own computers, but many VPS providers do not support running BlueStacks on VPS due to its performance and virtualization technology. At LightNode, we offer out-of-the-box BlueStacks VPS hosting. You can conveniently link your Android emulator VPS via RDP.
Quick Startup
At LightNode, setting up a BlueStacks Android Emulator VPS is just as easy as setting up a regular VPS and usually takes less than 120 seconds.
Global coverage with low latency
We have more than 30 Locations around the world, so no matter where you are in the world, you can find an Android emulator close to you to get the lowest latency.
Pre-Installed BlueStacks
Based on Windows operating system, we provide pre-installed BlueStacks Android Emulator app image, you just need to install APPs on your VPS!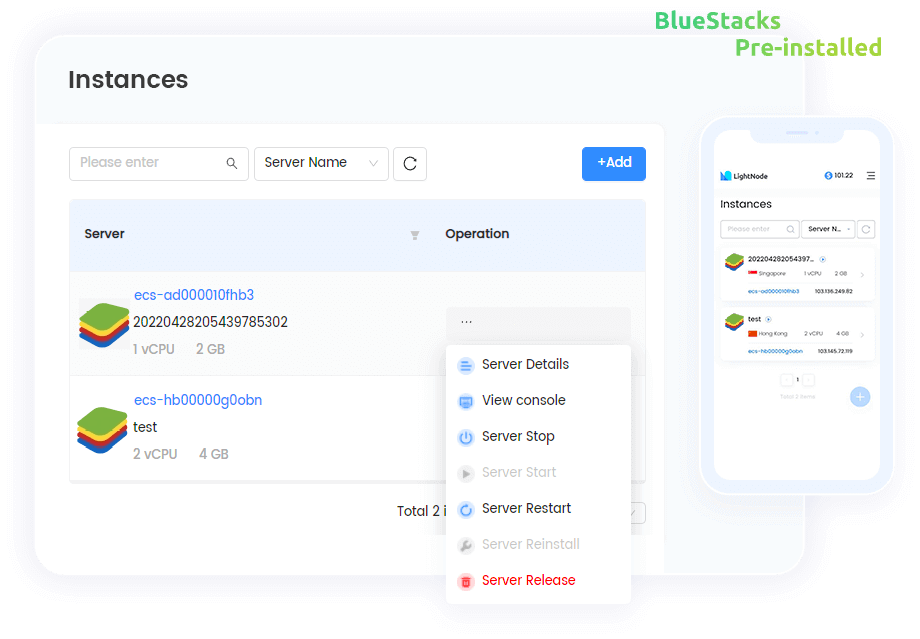 Quick Startup
Global coverage with low latency
Pre-Installed BlueStacks
Connect. Deploy. Grow - Globally
Start deploying your High Performance Cloud VPS worldwide. Reduce latency, with our Cloud VPS located near your users and equipped with local BGP access.
Silicon Valley

Washington

Frankfurt

Istanbul

Riyadh

Dubai

Bangkok

Hanoi

Phnom Penh

Ho Chi Minh

Hong Kong

Taipei

Seoul

Johannesburg

Singapore

Manila

Dhaka

Sao Paulo

Jeddah

Tokyo

Cairo

Bahrain

Sofia

Athens

Kuala Lumpur

London

Muscat

Kuwait City

Marseille

Karachi

kathmandu

Moscow

Buenos Aires

Jakarta

Mexico City

Santiago

Yangon

Japan
LightNode Worldwide Locations
0
700,000+
Cloud Servers Launched
More resources, less cost
Not only is it cheap, but it can give you up to $15 when you recharge for the first time.


Why rent BlueStacks Android Emulator VPS from LightNode?
LightNode offers BlueStacks VPS Hosting with high-frequency CPUs and fast NVMe SSD storage in more than 30 locations around the world. Connects to major carriers around the globe for fast global remote connectivity with RDP and VNC. Supports fast turn-up of pre-installed BlueStacks VPS with
pay-as-you-go
and no hidden fees. Enjoy global Android emulator VPS with one account.
Pay as you go
We support hourly payments, so you can safely unsubscribe from the machine when you are not using BlueStacks Android Emulator VPS and pay according to your usage, no monthly subscription.
Globally Accessible
MWe offer reliable Android emulator VPS in more than 30 countries around the world, allowing you to operate in the location of your choice with the best access performance, supporting both RDP and VNC.
Reliable Servers
By partnering with local carriers, our VPS provides stable, low-latency local access performance to ensure that your usage and business runs consistently.
Local IP
Our servers are located on five continents and in more than 30 countries. Every BlueStacks VPS uses a local static IP so you can quickly access local apps and websites.
Simple Installation
Whether you've used VPS Hosting before or not, you can quickly start an Android Emulator VPS in 1 to 2 minutes.Providing easy-to-use services is our goal.
Good value for money
We serve over 50,000 customers worldwide and therefore have lower costs and offer cheaper VPS, especially in South East Asia and the Middle East.
Trusted by over 50,000 customers all over the world
Leveraging our two-decade long experience in the IDC industry, our platform, LightNode, which was launched in 2021, has already served more than 50,000 customers across over 130 countries with over 700,000 cloud servers launched. Over the next three years, we aim to establish edge compute nodes in more than 100 countries worldwide to cover a broader user base.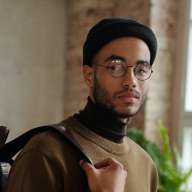 " I've been using LightNode's VPS for a few months now. It's been a smooth ride so far, no big issues or anything. Their customer service is pretty responsive too."
John Thompson
FAQ | BlueStacks VPS
Of course you can, with LightNode's BlueStacks VPS, you can install any Android app on the VPS. one thing to note is to configure it to meet the minimum requirements of the app.

BlueStacks currently only supports Windows and MAC OS, so the usual Linux VPS cannot install BlueStacks. In addition some CPU virtualization modes can't run BlueStacks properly.

BlueStacks VPS Hosting generally refers to a Windows VPS with the BlueStacks Android emulator pre-installed, which enables you to run Android apps on your VPS through the Android emulator, generally used for digital marketing, gaming, etc.

You can use the

blueStacks emulator

to run all applications including social media, games, and also to assist in development (e.g. network packet capture).

According to BlueStacks official recommendations, you need a minimum of 4GB of RAM to run BlueStacks emulator properly. After optimization, LightNode offers a minimum configuration of 4GB to run BlueStacks fast.

On VPS, BlueStacks 10 provides a smoother experience, so LightNode's BlueStacks VPS installs BlueStacks 10 by default.If you want a closer to native Android experience, you can go to the BlueStacks official website

download

to install BlueStacks 5.

You can connect to LightNode's BlueStacks

VPS via RDP

or VNC, if you have a better network, it is recommended to prioritize RDP for a better experience.
Don't miss out on the best BlueStacks VPS.
Embrace excellence with LightNode VPS - Unleashing the power of high-performance hosting!