Buy RDP with Full Admin Access
Looking for a reliable Admin RDP VPS without a high price? The top Windows VPS RDP services offered by LightNode combine affordability with unrivaled performance. Enhance your remote desktop experience with the best RDP VPS solution on the market.
Buy Windows RDP VPS Hosting
When exploring RDP VPS solutions, it's often tempting to get stuck in a maze of choices. At LightNode, we simplify this process by offering RDP VPSs that combine precision, performance and affordability. With full admin access, support for multiple operating systems and innovative NVMe SSD storage, our VPS is customized for your digital footprint.
Full Admin Access
With our RDP VPS solution, you'll get full admin access(Admin RDP), ensuring you get a high-performance, customized VPS experience. Customize your server to meet all requirements and expectations.
Multiple Operating System
Our RDP VPS supports a range of operating systems to meet different tasks and preferences. Multiple Windows versions ensure your flexibility.
Control Panel
Our RDP VPS server hosting comes with a user-friendly control panel. Quickly manage instances, monitor performance, and adjust settings to optimize your hosting environment.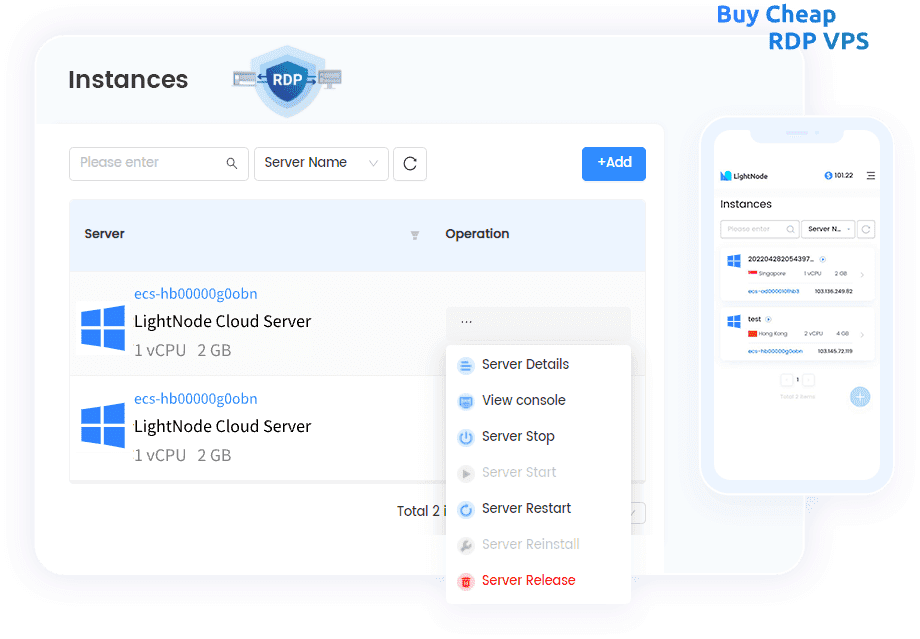 Full Admin Access
Multiple Operating System
Control Panel
Connect. Deploy. Grow - Globally
Start deploying your High Performance Cloud VPS worldwide. Reduce latency, with our Cloud VPS located near your users and equipped with local BGP access.
Silicon Valley

Washington

Frankfurt

Istanbul

Riyadh

Dubai

Bangkok

Hanoi

Phnom Penh

Ho Chi Minh

Hong Kong

Taipei

Seoul

Johannesburg

Singapore

Manila

Dhaka

Sao Paulo

Jeddah

Tokyo

Cairo

Bahrain

Sofia

Athens

Kuala Lumpur

London

Muscat

Kuwait City

Marseille

Karachi

kathmandu

Moscow

Buenos Aires

Jakarta

Mexico City

Santiago

Yangon

Japan
LightNode Worldwide Locations
0
700,000+
Cloud Servers Launched
More resources, less cost
Not only is it cheap, but it can give you up to $15 when you recharge for the first time.


Why buy RDP VPS at LightNode?
Our cheap RDP VPS is customized for your web services. LightNode's intuitive control panel, dedicated IP advantage and flexible hourly billing are just the tip of the iceberg. Our dedicated support team and dynamic IP change features ensure that your Windows RDP VPS journey is both smooth and adaptable to meet the ever-changing demands of today's online environment.
Dedicated IP Address
Each RDP VPS from LightNode comes with a dedicated IP address, ensuring unique online presence, higher security and better SEO performance.
Support Team
At LightNode, our RDP VPS customers benefit from prompt support. Our team of professionals is always ready to make sure that your server runs smoothly.
High Quality
At LightNode, quality is unquestionable. Our cheap VPS RDP products promise 99.9% uptime, fast networks, and peak performance every time.
NVMe SSD Storages
Enhance your Windows VPS RDP experience with our state-of-the-art NVMe SSD storage, guaranteeing faster load times and ultra-responsive applications.
Hourly Billing VPS
Enjoy the convenience of hourly billing with LightNode's RDP VPS. Adapt to changing needs and make sure you only pay for the time you use it and can pause or start your business at any time.
IP Change
The online world is dynamic and so is our RDP VPS solution. Enjoy the privilege of two free IP changes to enhance the security and adaptability of your hosting journey.
Trusted by over 50,000 customers all over the world
Leveraging our two-decade long experience in the IDC industry, our platform, LightNode, which was launched in 2021, has already served more than 50,000 customers across over 130 countries with over 700,000 cloud servers launched. Over the next three years, we aim to establish edge compute nodes in more than 100 countries worldwide to cover a broader user base.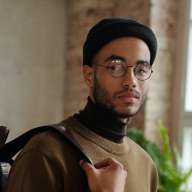 " I've been using LightNode's VPS for a few months now. It's been a smooth ride so far, no big issues or anything. Their customer service is pretty responsive too."
John Thompson
FAQ | RDP VPS
RDP VPS is a Virtual Private Server optimized for Remote Desktop Protocol(RDP) access. This setup allows users to connect to the server remotely, providing the flexibility of a VPS with the interactive interface of RDP. With LightNode's RDP VPS solution, users can experience a fast, high-performance remote desktop environment.

While both VPS and RDP are essential in the hosting space, they serve different functions; VPS are virtualized servers that provide users with dedicated resources, while RDP is the technology that enables remote access to these servers. However, LightNode's RDP VPS combines the two to provide a VPS optimized for remote desktop access.

Logging into a Windows VPS using RDP is very simple. Just open the 'Remote Desktop Connection' tool on your Windows computer, enter the IP address of the RDP VPS, and then enter the given credentials. With LightNode's reliable RDP VPS product, the process is smooth and ensures that you're up and running in no time.

While RDP is native to Windows, it is also possible to RDP to a Linux VPS using tools such as 'xRDP'.After ensuring that xRDP is installed on your Linux RDP VPS, you can use the RDP client on your device to connect by entering the IP address and credentials of your VPS.

Yes. You can buy RDP VPS located in the USA. Besides USA RDP VPS, you can also buy South Africa VPS, Japan VPS, Brazil VPS, UK VPS, Indonesia VPS, Germany VPS, Philippines VPS, Cambodia VPS, Kuwait VPS, Singapore VPS, Chile VPS, Mexico VPS, Nepal VPS, Bahrain VPS, Pakistan VPS, Turkey VPS, South Korea VPS, Russia VPS, Bulgaria VPS, Hong Kong VPS, France VPS, Bangladesh VPS, Vietnam VPS, Saudi Arabia VPS, Taiwan VPS, Oman VPS, Greece VPS, Dubai VPS, Argentina VPS, Thailand VPS, Egypt VPS, Malaysia VPS, and Guatemala VPS.

The RDP server provides a variety of features and capabilities. The following are the features of an RDP server:

Remote Access: The main purpose of RDP is to allow users to remotely access the Windows environment. This means that you can connect to a Windows server or PC from another device and use it as if you were sitting in front of that machine.

Application Hosting: With RDP VPS, you can install any software and have it remotely accessed by multiple users. This allows users to run applications that cannot be run locally due to hardware limitations or compatibility issues.

Centralized Management: IT departments can centrally manage software updates, patches, and data backups, ensuring that all users are using the same environment and software versions.

File and Data Access: Storing files and data on an RDP server allows users to access these files remotely. This promotes data centralization and makes backup and management easier.

Secure Access: RDP can be configured to use strong encryption to secure the data transmitted between the client and the server. With the right configuration and VPN, it can be a very secure method of remote access.

Testing and Development: Developers can use RDP hosts to test software in different environments without risking the use of a master workstation.

Of course, you can not only buy RDP with a credit card, but you can also buy our RDP VPS plans via PayPal, Alipay, Google Pay, and more.

You can use the RDP that comes with Windows or any third-party RDP tool for network connection, or you can use MACOS's Remote Desktop for network connection, and you can also use VNC on our platform for network connection.

No, but our plans include highly configurable virtual servers. We have a high-performance KVM-based virtualization technology solution that we believe will meet your needs. For questions about configuration, you can contact our technical support staff.

Yes, you can choose

Ubuntu Remote Desktop

when setting up your VPS and get an Ubuntu desktop system that supports RDP connections and has high performance and low latency.
Don't miss out on the best RDP VPS.
Embrace excellence with LightNode VPS - Unleashing the power of high-performance hosting!