Buy FreeBSD VPS with Minute around the World
Experience speed and reliability with LightNode's FreeBSD VPS. Deploy instantly in a minute, no matter where you are in the world.
Best FreeBSD Hosting
Our FreeBSD VPS are specifically designed to meet the needs of our users, ensuring powerful performance and unrivaled uptime. Start your rapid digital journey with LightNode!
KVM Virtualization
Enhance your server capabilities with advanced KVM virtualization, ensuring optimal performance and control.
40+ Locations
Choose from 40+ global data centers to optimize your server's coverage and performance across regions.
Multiple OS Images
Choose from a wide variety of operating systems to meet the unique requirements of your project.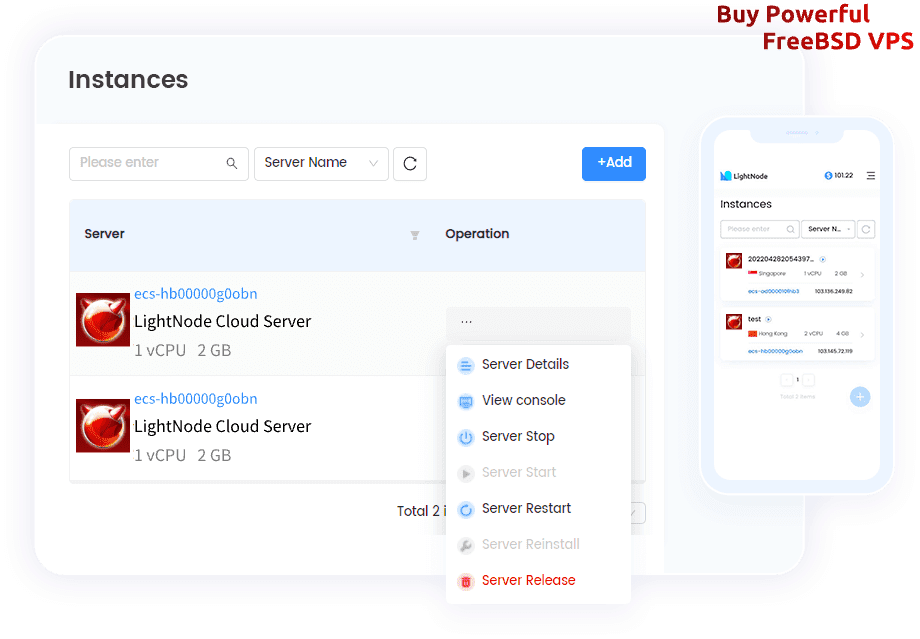 KVM Virtualization
40+ Locations
Multiple OS Images
Connect. Deploy. Grow - Globally
Start deploying your High Performance Cloud VPS worldwide. Reduce latency, with our Cloud VPS located near your users and equipped with local BGP access.
Silicon Valley

Washington

Frankfurt

Istanbul

Riyadh

Dubai

Bangkok

Hanoi

Phnom Penh

Ho Chi Minh

Hong Kong

Taipei

Seoul

Johannesburg

Singapore

Manila

Dhaka

Sao Paulo

Jeddah

Tokyo

Cairo

Bahrain

Sofia

Athens

Kuala Lumpur

London

Muscat

Kuwait City

Marseille

Karachi

kathmandu

Moscow

Buenos Aires

Jakarta

Mexico City

Santiago

Yangon

Japan
LightNode Worldwide Locations
0
700,000+
Cloud Servers Launched
More resources, less cost
Not only is it cheap, but it can give you up to $15 when you recharge for the first time.


Cheap FreeBSD VPS Hosting Server
Enjoy the flexibility of LightNode's FreeBSD for a variety of tasks. Enhance your online experience without compromising your budget - learn about our cheap FreeBSD VPS hosting servers today.
Multiple Payment Methods
Enjoy flexible payment options through multiple methods including PayPal, Alipay, and credit cards.
Simple Dashboard
LightNode provide a simple dashboard which you can contorl your VPS servers easily. You can restart or reinstall your VPS hosting.
Full Root Access
LightNode's VPS has full root access and supports custom configuration and installation.
Online Support
Get quick assistance from our dedicated support team whenever you need it.
Stable Performance
Count on consistent and reliable performance for seamless online operations.
Transparent Cost
Experience clear and predictable pricing with no hidden fees.
Trusted by over 50,000 customers all over the world
Leveraging our two-decade long experience in the IDC industry, our platform, LightNode, which was launched in 2021, has already served more than 50,000 customers across over 130 countries with over 700,000 cloud servers launched. Over the next three years, we aim to establish edge compute nodes in more than 100 countries worldwide to cover a broader user base.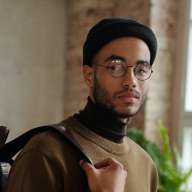 " I've been using LightNode's VPS for a few months now. It's been a smooth ride so far, no big issues or anything. Their customer service is pretty responsive too."
John Thompson
FAQ | FreeBSD VPS
The amount of RAM you need for a VPS depends on your specific requirements and the applications you'll run, but a common starting point is around 2 GB for basic tasks and can increase as your needs grow.

The best operating system for a VPS depends on your familiarity and specific needs, but popular choices include Linux distributions like Ubuntu, CentOS, and Debian. These system images can be purchased on LightNode.

A FreeBSD VPS is commonly used for web hosting, application development, networking experimentation, and running custom services on a stable and secure platform.

Yes. You can install a graphical user interface on a FreeBSD VPS. This allows you to have a visual desktop environment similar to a traditional operating system.

FreeBSD and Linux have different strengths, so the choice depends on your preferences and requirements.

Yes, FreeBSD can be used for daily tasks, but it might require more technical expertise compared to user-friendly operating systems.
Don't miss out on the best FreeBSD VPS.
Embrace excellence with LightNode VPS - Unleashing the power of high-performance hosting!