Get Powerful SSD AlmaLinux VPS | Cheap VPS AlmaLinux
Discover powerful performance with LightNode's SSD AlmaLinux VPS. Designed for speed, reliability and optimal efficiency, our AlmaLinux VPS solutions offer a high-speed hosting experience at an affordable price. Experience the world of virtual private servers with LightNode and empower your online presence with the best AlmaLinux hosting.
Stable Linux Operating System
Explore the pinnacle of VPS technology with LightNode's KVM AlmaLinux VPS. We combine advanced virtualization technology with intuitive dashboards to ensure optimal performance and user-friendly management.LightNode offers a robust AlmaLinux VPS environment that meets the dynamic demands of today's web environment.
KVM AlmaLinux VPS
Experience top-notch virtualization with our KVM AlmaLinux VPS, ensuring high performance and dedicated resources for all your hosting needs.
Simple Dashboard
Easily navigate and manage your AlmaLinux VPS with our user-friendly dashboard, designed for beginners and experts alike, you can quickly get AlmaLinux firewall add ports through the panel.
Stable Performance
With LightNode AlmaLinux VPS, expect consistent and smooth performance that optimizes the uptime of your applications and websites.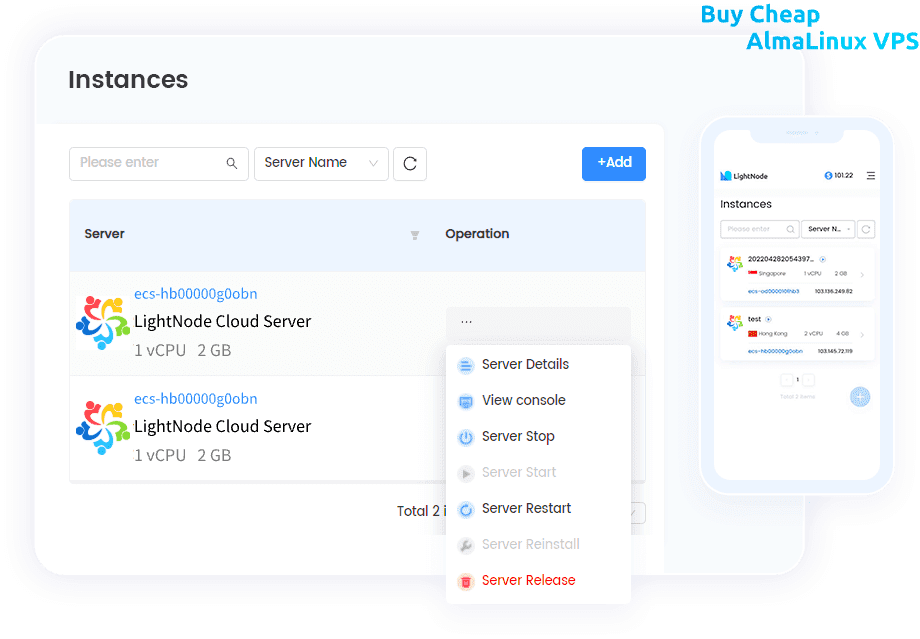 KVM AlmaLinux VPS
Simple Dashboard
Stable Performance
Connect. Deploy. Grow - Globally
Start deploying your High Performance Cloud VPS worldwide. Reduce latency, with our Cloud VPS located near your users and equipped with local BGP access.
Silicon Valley

Washington

Frankfurt

Istanbul

Riyadh

Dubai

Bangkok

Hanoi

Phnom Penh

Ho Chi Minh

Hong Kong

Taipei

Seoul

Johannesburg

Singapore

Manila

Dhaka

Sao Paulo

Jeddah

Tokyo

Cairo

Bahrain

Sofia

Athens

Kuala Lumpur

London

Muscat

Kuwait City

Marseille

Karachi

kathmandu

Moscow

Buenos Aires

Jakarta

Mexico City

Santiago

Yangon

Japan
LightNode Worldwide Locations
0
700,000+
Cloud Servers Launched
More resources, less cost
Not only is it cheap, but it can give you up to $15 when you recharge for the first time.


Why You Need a LightNode AlmaLinux VPS?
LightNode redefines colocation excellence with a powerful, user-friendly solution. With reliable snapshots, unhindered root access, clear pricing structures and flexible billing options, our AlmaLinux VPS hosting sets the standard for online solutions. Unique IP offerings and flexible changes give you additional advantages to keep your online endeavors at the forefront.
Snapshots
Protect and backup your data instantly with the Snapshot feature, making your AlmaLinux VPS data recovery a breeze.
Full Root Access
Deeply customizable, take full control of your AlmaLinux VPS environment with full root access.
Dedicated IP Address
Dedicated IP addresses for your AlmaLinux VPS allow you to stand out from shared hosting users, increasing your network presence and security.
Transparent Cost
No hidden fees or surprises. With LightNode, what you see is what you get with your AlmaLinux VPS hosting.
Change AlmaLinux VPS IP
With two free IP changes, it's easy to change the IP of your AlmaLinux VPS to suit different network needs, ensuring flexibility and scalability.
Hourly Billing AlmaLinux VPS
Optimize your budget with our hourly billing options, ensuring that you only pay for the exact amount of time your AlmaLinux VPS is used.
Trusted by over 50,000 customers all over the world
Leveraging our two-decade long experience in the IDC industry, our platform, LightNode, which was launched in 2021, has already served more than 50,000 customers across over 130 countries with over 700,000 cloud servers launched. Over the next three years, we aim to establish edge compute nodes in more than 100 countries worldwide to cover a broader user base.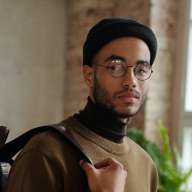 " I've been using LightNode's VPS for a few months now. It's been a smooth ride so far, no big issues or anything. Their customer service is pretty responsive too."
John Thompson
FAQ | AlmaLinux VPS
AlmaLinux is an open source, enterprise Linux distribution and a free alternative to CentOS. Designed for stability and performance, AlmaLinux VPS provides an excellent environment for web hosting, development, and a variety of server tasks.

To update AlmaLinux, simply use the command 'sudo yum update'. Running an AlmaLinux VPS with LightNode ensures that you get timely updates and stable performance, making the update process smooth and efficient.

Of course! AlmaLinux is gaining popularity for its reliability and stability, which makes AlmaLinux VPS an ideal choice for businesses and individuals looking for a powerful server solution.LightNode's integration with AlmaLinux further enhances its benefits.

Installing AlmaLinux usually involves downloading the ISO from its official website and then following the installation guide. However, with LightNode, you can easily deploy AlmaLinux VPS with just a few clicks, eliminating the hassle of manual installation.

AlmaLinux VPS can be used for a variety of server tasks, from web hosting, application development, database management, to running enterprise-class applications. With LightNode, taking advantage of AlmaLinux in a VPS setup has never been easier or more efficient.

After the shift in direction of CentOS, both AlmaLinux and Rocky Linux became strong contenders. While both are excellent choices for enterprise users, your specific needs may make one more attractive than the other. For example, the AlmaLinux VPS with LightNode combines user-friendly features with top-notch performance, making it a top choice for many.
Don't miss out on the best AlmaLinux VPS.
Embrace excellence with LightNode VPS - Unleashing the power of high-performance hosting!