Buy Cheap CloudPanel VPS | Pre CloudPanel Installation
Enter a new world of web hosting with LightNode CloudPanel VPS. For your convenience, our CloudPanel VPS products are pre-installed and guaranteed to deliver the best performance at an affordable price. Unleash the power of streamlined hosting with the best CloudPanel VPS on the market.
Pre-Install CloudPanel VPS
By choosing LightNode CloudPanel VPS, you'll get a unique dedicated IP address while enjoying ultra-fast NVMe SSD storage speeds. What's more, our real-time snapshot feature provides an extra layer of security for your data.
Dedicated IP Address
Each CloudPanel VPS user gets a dedicated IP address to ensure an isolated and secure environment, and this IP is fixed to keep your business going.
NVMe SSD Storages
Experience lightning-fast data access with our CloudPanel VPS equipped with powerful NVMe SSD storage, giving your customers a fast access experience.
Snapshots
Secure every moment of data; our CloudPanel VPS offers snapshot capabilities to capture and restore to a preferred system state.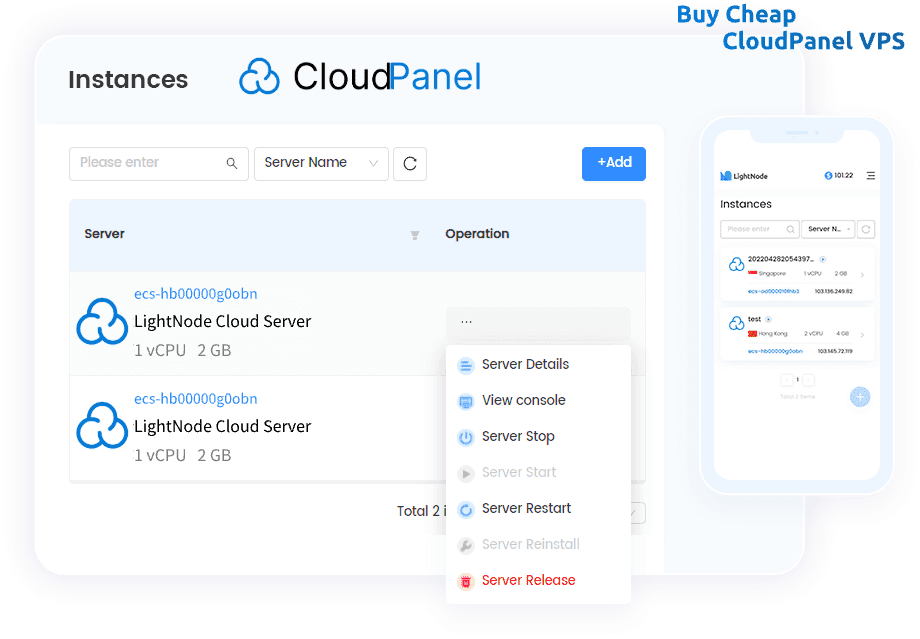 Dedicated IP Address
NVMe SSD Storages
Snapshots
Connect. Deploy. Grow - Globally
Start deploying your High Performance Cloud VPS worldwide. Reduce latency, with our Cloud VPS located near your users and equipped with local BGP access.
Silicon Valley

Washington

Frankfurt

Istanbul

Riyadh

Dubai

Bangkok

Hanoi

Phnom Penh

Ho Chi Minh

Hong Kong

Taipei

Seoul

Johannesburg

Singapore

Manila

Dhaka

Sao Paulo

Jeddah

Tokyo

Cairo

Bahrain

Sofia

Athens

Kuala Lumpur

London

Muscat

Kuwait City

Marseille

Karachi

kathmandu

Moscow

Buenos Aires

Jakarta

Mexico City

Santiago

Yangon

Japan
LightNode Worldwide Locations
0
700,000+
Cloud Servers Launched
More resources, less cost
Not only is it cheap, but it can give you up to $15 when you recharge for the first time.


Why You Need a LightNode CloudPanel VPS?
Our CloudPanel VPS is specifically designed for high performance and comes with CloudPanel pre-installed for your convenience. Multiple payment methods are supported, KVM technology is used, and we ensure that we deliver the highest possible performance. Whenever you need it, our online support team is ready to make sure your CloudPanel VPS experience is always the same.
Hourly Billing
Our CloudPanel VPS offers the convenience of hourly billing options for flexibility and affordability, giving you the flexibility to use CloudPanel VPS as you see fit.
Pre-install CloudPanel
Launch your project; our VPS comes pre-installed with CloudPanel, saving you time and effort, and you can be up and running with CloudPanel in just a minute or two.
Multiple Payment Methods
Pay the way you want! Our CloudPanel VPS supports multiple payment methods, including credit card, Paypal, and Alipay for your convenience.
KVM Tech
Our VPS uses KVM technology, our CloudPanel VPS ensures optimal virtualization, providing top-notch isolation and performance.
High Performance
Our CloudPanel VPS promises not only functionality, but also the highest performance to keep your applications running smoothly.
Online Support
Having problems? We offer online support exclusively for CloudPanel VPS users, so feel free to contact us if you need it!
Trusted by over 50,000 customers all over the world
Leveraging our two-decade long experience in the IDC industry, our platform, LightNode, which was launched in 2021, has already served more than 50,000 customers across over 130 countries with over 700,000 cloud servers launched. Over the next three years, we aim to establish edge compute nodes in more than 100 countries worldwide to cover a broader user base.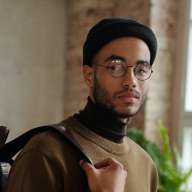 " I've been using LightNode's VPS for a few months now. It's been a smooth ride so far, no big issues or anything. Their customer service is pretty responsive too."
John Thompson
FAQ | CloudPanel VPS
CloudPanel is a lightweight, high-performance VPS management panel designed to simplify server and application management. On LightNode CloudPanel VPS, you can easily manage and deploy multiple applications.

Yes, CloudPanel is a free VPS management tool and LightNode offers CloudPanel VPS so you can enjoy all the great features of CloudPanel at no extra cost.

Changing the CloudPanel port is a simple process. In LightNode CloudPanel VPS, you just need to edit the relevant configuration file and restart the service.

At LightNode, you just need to buy our pre-installed CloudPanel VPS and start using Cloud Panel right away, no need to have a code base and no need to wait too long.

Installing WordPress with LightNode CloudPanel VPS is very easy. In the CloudPanel Marketplace, select WordPress and follow the prompts for one-click installation.

Yes, you can definitely host multiple websites on CloudPanel.LightNode CloudPanel VPS provides users with the tools and resources to easily manage and deploy multiple sites.
Don't miss out on the best CloudPanel VPS.
Embrace excellence with LightNode VPS - Unleashing the power of high-performance hosting!