Cloud VPS Brazil Hosting | Cheap Brazil VPS Plan
LightNode VPS Brazil plan offers instant VPS hosting with both Linux OS and Windows OS options starting at $7.71/month. Deploy your VPS in less than 60 seconds.
Flexible Sao Paulo VPS in Brazil
LightNode's Brazil VPS represents the high-performance dedicated portion of servers located in Brazil. This virtualized environment allows customers to run their software applications and websites with maximum efficiency and speed. You have full control of the system through root access, which gives you the flexibility to customize the settings as needed. Located in Brazil, it offers excellent connection speeds and reduced latency, a boon for those targeting the Latin American market. From small personal projects to demanding commercial websites, Brazil VPS offers the ideal hosting solution for every need.
Cost-Effective
Enjoy excellent performance at a price that won't pinch your pockets. Our VPS services offer superb value for your money.
Dedicated IP Address
We provide a unique IP address with each server, making your connections more stable and secure.
Pre-installed Images
Save time with our ready-to-use application images. Your server is fully prepared to get to work as soon as you are.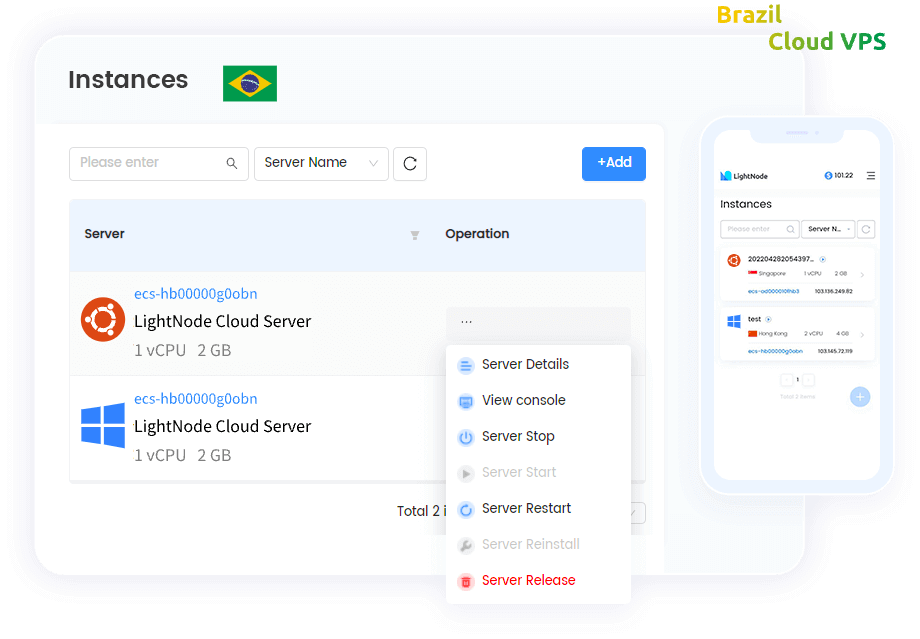 Cost-Effective
Dedicated IP Address
Pre-installed Images
Connect. Deploy. Grow - Globally
Start deploying your High Performance Cloud VPS worldwide. Reduce latency, with our Cloud VPS located near your users and equipped with local BGP access.
Silicon Valley

Washington

Frankfurt

Istanbul

Riyadh

Dubai

Bangkok

Hanoi

Phnom Penh

Ho Chi Minh

Hong Kong

Taipei

Seoul

Johannesburg

Singapore

Manila

Dhaka

Sao Paulo

Jeddah

Tokyo

Cairo

Bahrain

Sofia

Athens

Kuala Lumpur

London

Muscat

Kuwait City

Marseille

Karachi

kathmandu

Moscow

Buenos Aires

Jakarta

Mexico City

Santiago

Yangon

Japan
LightNode Worldwide Locations
0
700,000+
Cloud Servers Launched
More resources, less cost
Not only is it cheap, but it can give you up to $15 when you recharge for the first time.


Understanding the Features of Brazil VPS in LightNode
Immerse yourself in the comprehensive feature set of LightNode Brazil VPS. Our products are designed to power your online presence, providing the tools necessary for a smooth and reliable virtual experience. From superior performance to easy-to-use interfaces and fast boot-ups, we pride ourselves on offering the best VPS solutions. Find out how our Brazilian VPS stands out in the server space, highlighting LightNode's commitment to quality, affordability and unwavering support.
Multiple OS Options
No matter your preference, our Multiple OS Options have you covered. Select from a variety of Linux and Windows images to customize your VPS experience.
Cost-effective
When it comes to balancing cost and performance, our VPS solutions hit the mark. Get the performance you need at a price you'll love.
Control Panel
Take control of your VPS using our straightforward platform, which allows basic operations such as monitoring server performance and managing power settings.
Online Customer Service
Your satisfaction is our priority. Our online support team is readily available to solve your issues swiftly.
Hourly Billing
Benefit from our hourly billing system. Release your VPS when you don't need it, and stop the charges.
Custom Firewall
Maintain the security of your VPS with our support for customizable port configurations.
Trusted by over 50,000 customers all over the world
Leveraging our two-decade long experience in the IDC industry, our platform, LightNode, which was launched in 2021, has already served more than 50,000 customers across over 130 countries with over 700,000 cloud servers launched. Over the next three years, we aim to establish edge compute nodes in more than 100 countries worldwide to cover a broader user base.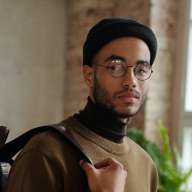 " I've been using LightNode's VPS for a few months now. It's been a smooth ride so far, no big issues or anything. Their customer service is pretty responsive too."
John Thompson
FAQ | Brazil VPS
Yes, you can host multiple websites on one VPS with some graphical panels. Such as CyberPanel, CloudPanel and other control panels. If you need, you can directly purchase LightNode's control panel application image.

The main difference between a VPS (Virtual Private Server) and a dedicated server is that a VPS is a virtualized server running on a physical server, while a dedicated server is a standalone physical server entirely dedicated to a single user or organization.

LightNode VPS provides root access, you can fully control your own machine.

No, a VPS (Virtual Private Server) does not use your internet connection directly. It uses its own internet connection, which is provided by the hosting provider. Your internet connection is only used to access and manage the VPS remotely.

Whether you need a VPS depends on your specific requirements. If you need dedicated resources, more control, and scalability for your website or application, a VPS can be beneficial. Consider your website's size, traffic, and technical needs to determine if a VPS is necessary.

VPS is better than shared web hosting when you need dedicated resources, increased control, and customization. Shared hosting is suitable for small websites with low traffic and minimal management needs. Choose based on your website's size, traffic, and technical requirements.
Don't miss out on the best Brazil VPS.
Embrace excellence with LightNode VPS - Unleashing the power of high-performance hosting!