Buy Southeast Asia VPS | Cheap Southeast Asia NVMe VPS
Southeast Asia Datacenter✓ Linux & Windows VPS in Southeast Asia✓ Pay as You Go Hourly✓ NVMe SSD✓ Dedicated-IP✓ Full Root Access✓
Best and Cheap VPS Southeast Asia
Southeast Asia is a region of Asia consisting of several countries and territories south of China, east of India, west of New Guinea and north of Australia. To expand your business to Southeast Asian countries such as Singapore, Philippines, Malaysia, Laos, etc., you can purchase LightNode VPS. With LightNode's Southeast Asia VPS, you can experience the true meaning of ultra-low latency access, ensuring server availability with a 99.95% uptime guarantee. You'll get a Windows or Linux-based operating system powered by NVMe SSD storage devices and high-performance CPU servers.
99.95% Uptime guarantee
LightNode Southeast Asia VPS has numerous data centers, stable and secure network links, and ensures efficient transmission of unlimited data.
37 Locations
Choose from LightNode's more than 37 locations around the world to deploy your Southeast Asia VPS, making it easy to select multiple country nodes in Southeast Asia to provide the best experience for your users.
Flexible hourly billing
Pay only for the hours you use, cancel at any time, no contracts, and save on hosting costs.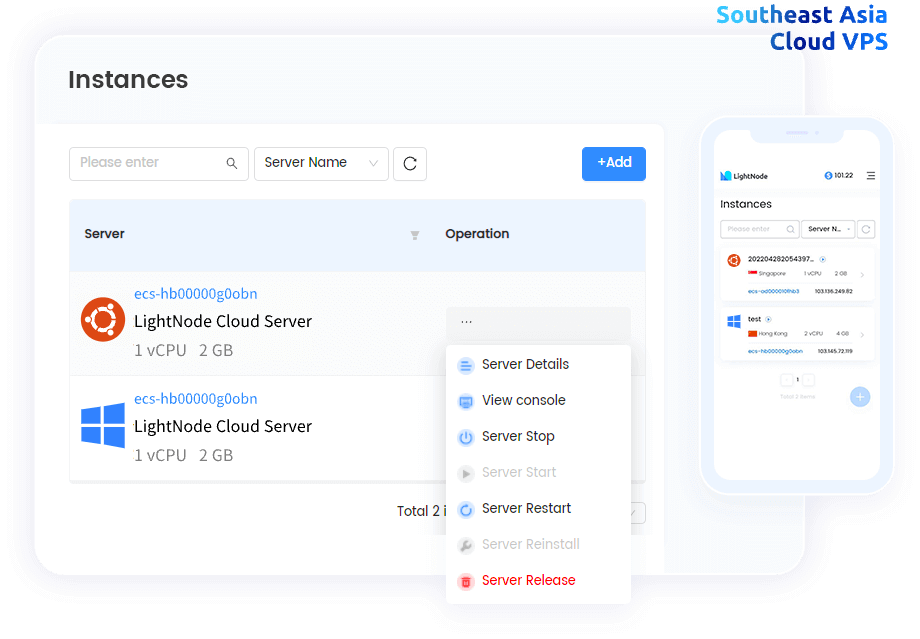 99.95% Uptime guarantee
37 Locations
Flexible hourly billing
Connect. Deploy. Grow - Globally
Start deploying your High Performance Cloud VPS worldwide. Reduce latency, with our Cloud VPS located near your users and equipped with local BGP access.
Silicon Valley

Washington

Frankfurt

Istanbul

Riyadh

Dubai

Bangkok

Hanoi

Phnom Penh

Ho Chi Minh

Hong Kong

Taipei

Seoul

Johannesburg

Singapore

Manila

Dhaka

Sao Paulo

Jeddah

Tokyo

Cairo

Bahrain

Sofia

Athens

Kuala Lumpur

London

Muscat

Kuwait City

Marseille

Karachi

kathmandu

Moscow

Buenos Aires

Jakarta

Mexico City

Santiago

Yangon

Bogota

Baghdad
LightNode Worldwide Locations
0
700,000+
Cloud Servers Launched
More resources, less cost
Not only is it cheap, but it can give you up to $15 when you recharge for the first time.


Why buy Southeast Asia VPS from LightNode?
LightNode's Southeast Asia data centers are located in Singapore, the Philippines, Indonesia, Malaysia, Laos, Vietnam, Thailand, Cambodia and other countries. Data range easily covers the entire Southeast Asia, IP address purity, efficient connection to local network providers. And support hourly billing, payment method is flexible. LightNode's Southeast Asian VPS uses KVM virtualization technology, high-performance cpus, and provides NVMe SSD hard drive storage.
VPS Southeast Asia
data centers are located in Singapore, the Philippines, Indonesia, Malaysia, Laos, Vietnam, Thailand, Cambodia and other Southeast Asia countries
Flexible payment
Flexible payment methods, support hourly billing, monthly payment, etc. You can use Alipay, Pay Pal, Google Pay, credit card payment, etc.
Easy and fast boot
1-2 minutes fast boot, easy to understand the new friendly control panel, let you easily deploy your own VPS host.
Full day customer support
Our team of experts are online 24/7, ready to respond to customer support.
Cheap and efficient packages
LightNode Southeast Asia VPS packages are priced as low as $0.013 per hour.
NVMe SSD Storages
Efficient data access Because our Southeast Asia VPS are equipped with powerful NVMe SSD storage, give your customers a fast access experience.
Trusted by over 50,000 customers all over the world
Leveraging our two-decade long experience in the IDC industry, our platform, LightNode, which was launched in 2021, has already served more than 50,000 customers across over 130 countries with over 700,000 cloud servers launched. Over the next three years, we aim to establish edge compute nodes in more than 100 countries worldwide to cover a broader user base.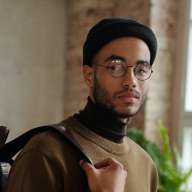 " I've been using LightNode's VPS for a few months now. It's been a smooth ride so far, no big issues or anything. Their customer service is pretty responsive too."
John Thompson
FAQ | VPS Southeast Asia
In Southeast Asia, LightNode has data centers in Laos, Vietnam, Cambodia, Thailand, Malaysia, Singapore, Indonesia, the Philippines and other countries.

Yes. LightNode guarantees that each customer's Southeast Asia VPS server will receive a dedicated static IP. You will be the only user of this IP and your data and all your online activities will be extremely secure.

LightNode Southeast Asia Forex VPS has multiple server locations to choose from and is still growing: Singapore VPS, South Korea VPS, Hong Kong VPS, Vietnam VPS, Cambodia VPS, Philippines VPS, Thailand VPS, Bangladesh VPS, Malaysia VPS, Indonesia VPS, Myanmar VPS and more.

Yes, our control panel is easy to understand. You can easily change your South East Asia VPS server plan from the control panel at any time, depending on your changing needs and requirements.

Yes, you can also pay with credit card, Google Pay, Alipay and so on.

VPS can be used for a wide range of purposes without violating the terms of the agreement with your hosting service provider. For example, you can use it to run websites, operate database servers, and even run Web applications.
Don't miss out on the best VPS Southeast Asia.
Embrace excellence with LightNode VPS - Unleashing the power of high-performance hosting!