Get Powerful Debian VPS Hosting with Hourly Billing
Discover the prowess of LightNode's Debian VPS Hosting – an optimal blend of performance, security, and affordability.
Useful Debian VPS
Crafted for businesses and developers alike, our Debian VPS solution offers unmatched reliability. Now with flexible hourly billing, you only pay for what you use. Elevate your web experience with LightNode!
Transparent Cost
At LightNode, we believe in clear, straightforward pricing, ensuring there are no hidden or unexpected charges on your bill.
Uptime Guarantee
We guarantee the reliability of our service with our Uptime Guarantee, making sure your VPS remains online and accessible to users.
Custom Firewall
Tailor your server's security with ease through our customizable port, without needing to use complicated command lines.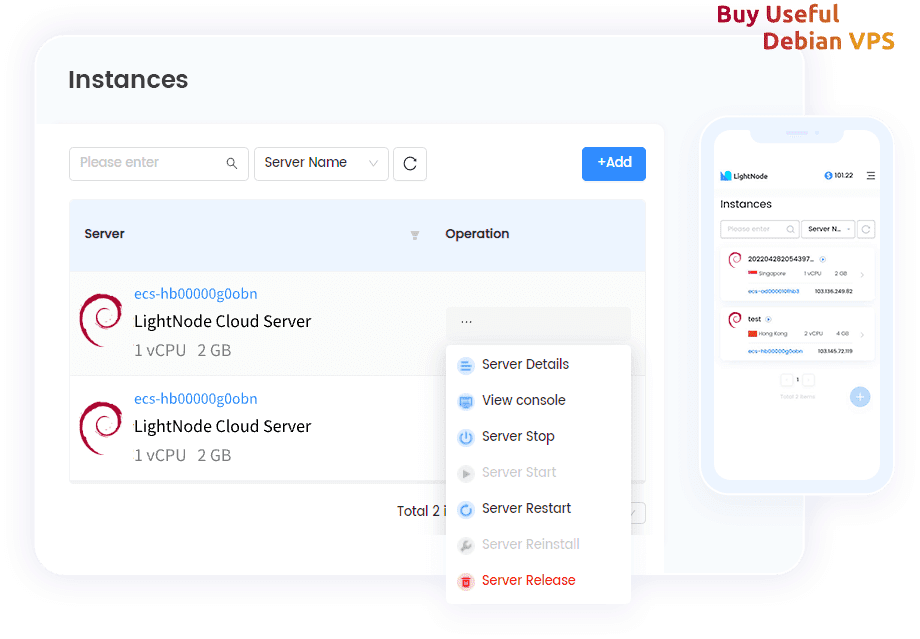 Transparent Cost
Uptime Guarantee
Custom Firewall
Connect. Deploy. Grow - Globally
Start deploying your High Performance Cloud VPS worldwide. Reduce latency, with our Cloud VPS located near your users and equipped with local BGP access.
Silicon Valley

Washington

Frankfurt

Istanbul

Riyadh

Dubai

Bangkok

Hanoi

Phnom Penh

Ho Chi Minh

Hong Kong

Taipei

Seoul

Johannesburg

Singapore

Manila

Dhaka

Sao Paulo

Jeddah

Tokyo

Cairo

Bahrain

Sofia

Athens

Kuala Lumpur

London

Muscat

Kuwait City

Marseille

Karachi

kathmandu

Moscow

Buenos Aires

Jakarta

Mexico City

Santiago

Yangon

Japan
LightNode Worldwide Locations
0
700,000+
Cloud Servers Launched
More resources, less cost
Not only is it cheap, but it can give you up to $15 when you recharge for the first time.


Advanced Debian VPS Hosting by LightNode
Recognizing that every project has unique needs, we've introduced hourly billing, allowing for flexible on-demand payments without incurring unnecessary overhead. Whether you're a developer, or a large enterprise, LightNode's Debian VPS has all the features you're looking for.
Flexible Configurations
The configuration can be freely selected and adjusted according to your needs, and can be upgraded as needed.
Dedicated IP Address
Each of our VPS devices comes with a dedicated IP address, giving you a unique online identity.
Stable Performance
Our VPS has consistent, stable performance, enabling you to maintain a reliable, high-quality online service.
Full Root Access
Unlock the full potential of your VPS with full root access, giving you complete control over your virtual environment.
Rapid Deployment
Experience fast VPS setup and fast boot times to be up and running in minutes.
Snapshots
With our snapshot feature, the current state of your VPS can be easily captured and saved for easy restoration or experimentation.
Trusted by over 50,000 customers all over the world
Leveraging our two-decade long experience in the IDC industry, our platform, LightNode, which was launched in 2021, has already served more than 50,000 customers across over 130 countries with over 700,000 cloud servers launched. Over the next three years, we aim to establish edge compute nodes in more than 100 countries worldwide to cover a broader user base.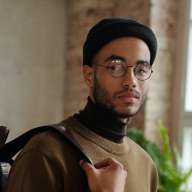 " I've been using LightNode's VPS for a few months now. It's been a smooth ride so far, no big issues or anything. Their customer service is pretty responsive too."
John Thompson
FAQ | Debian VPS
A Debian VPS can perform a wide range of tasks, including hosting websites, running applications, managing databases, and providing a customizable, versatile environment for a variety of online projects.

No. You can only get one IP address in one VPS of LightNode.

No, a VPS has its own separate internet connection and does not rely on your personal internet connection.

Yes. But if you want to use WordPress to build a website it is still recommended to use our OLS WordPress image directly, we have pre-installed it, no need to wait.

Absolutely, a Debian VPS provides the capability to host multiple websites within a single virtual environment.

A Debian VPS provides you with a versatile platform to install a diverse array of software and applications. You have the freedom to customize the environment to match your specific needs.
Don't miss out on the best Debian VPS.
Embrace excellence with LightNode VPS - Unleashing the power of high-performance hosting!