LightNode Oman VPS Hosting in Muscat
If you want to deploy cheap and high-performance VPS masters in the Middle East,LIghtNode's Oman VPS is the perfect choice. We have a separate data center in Muscat, Oman, for as low as $7.71 / month.LightNode Muscat node is a BGP line with low latency and supports multiple systems.
Best Oman VPS
Oman is located on the southeastern coast of the Arabian Peninsula, near the United Arab Emirates and Saudi Arabia, and it guards the world's most important oil export route, the Strait of Hormuz between the Persian Gulf and the Gulf of Oman. Oman has a free and open economy and if you want to deploy VPS hosts in Oman, our data center in Muscat is the best choice for you.LightNode Muscat is a BGP route. Similar nodes are located in Dubai, Bahrain, Riyadh, and Jeddah.
Online Customer Service
Our customer service team remains online around the clock, offering avenues like support tickets, live chat, and email for you to reach out with any VPS deployment concerns.
Low Latency, High Uptime
Never miss a beat with our VPS's 99.95% uptime, ensuring 24/7 uptime, complemented by the lightning-fast speeds of local BGP.
Set Up in Minutes
Boot quickly within 1-2 minutes to respond to your large number of business needs.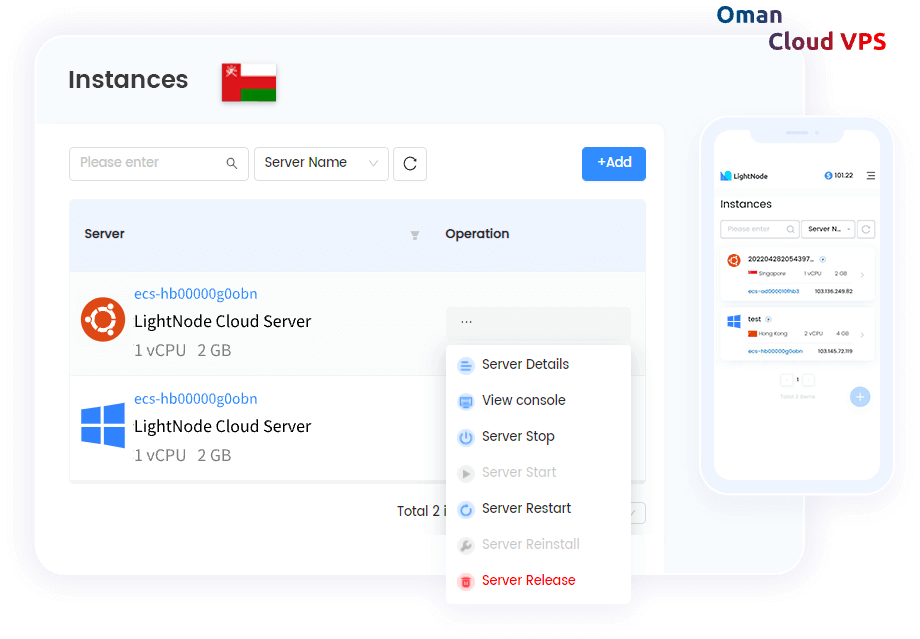 Online Customer Service
Low Latency, High Uptime
Set Up in Minutes
Connect. Deploy. Grow - Globally
Start deploying your High Performance Cloud VPS worldwide. Reduce latency, with our Cloud VPS located near your users and equipped with local BGP access.
Silicon Valley

Washington

Frankfurt

Istanbul

Riyadh

Dubai

Bangkok

Hanoi

Phnom Penh

Ho Chi Minh

Hong Kong

Taipei

Seoul

Johannesburg

Singapore

Manila

Dhaka

Sao Paulo

Jeddah

Tokyo

Cairo

Bahrain

Sofia

Athens

Kuala Lumpur

London

Muscat

Kuwait City

Marseille

Karachi

kathmandu

Moscow

Buenos Aires

Jakarta

Mexico City

Santiago

Yangon

Japan
LightNode Worldwide Locations
0
700,000+
Cloud Servers Launched
More resources, less cost
Not only is it cheap, but it can give you up to $15 when you recharge for the first time.


Why choose LightNode's Oman VPS?
LightNode's Oman VPS pays by the hour, with effortless refunds. Connects to major local carriers in Oman, providing ultra-low latency local access and local IP. The business scope easily covers the Arabian Peninsula region. Provides high-performance cpu and NVMe SSD storage with KVM virtualization. Supports multiple payment methods, such as Google Pay, Paypal, Alipay, etc., and has no hidden fees. Customer service 24 hours online response, for your VPS business to provide the strongest technical support.
Cost-Effective
Choosing our VPS hosting in Oman ensures you get value for your money, aligning with the steady progression of your website.
Oman Local IP
Over five continents, our server deployments reach in excess of 30 countries. Ensuring fast local connectivity, each Oman VPS is allocated a native static IP.
Hourly Billing
Experience the benefits of a pay-as-you-go system and a rich collection of application images with LightNode Oman VPS hosting's hourly billing.
Simple and intuitive panel
Get hands-on control over your Oman VPS using our client platform. A singular click allows you to survey performance, boot up, power down, restart the server, refit the system, transpose the IP, among other tasks.
Reliable Servers
Partnering with local carriers enhances our Bahrain VPS's capability to deliver consistent, low-latency local connections, ensuring your business runs seamlessly.
Low Latency, High Uptime
Our VPS's robust 99.95% uptime ensures non-stop operation, and the integration of local BGP delivers low-latency connections.
Trusted by over 50,000 customers all over the world
Leveraging our two-decade long experience in the IDC industry, our platform, LightNode, which was launched in 2021, has already served more than 50,000 customers across over 130 countries with over 700,000 cloud servers launched. Over the next three years, we aim to establish edge compute nodes in more than 100 countries worldwide to cover a broader user base.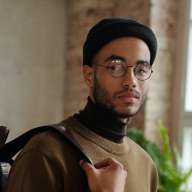 " I've been using LightNode's VPS for a few months now. It's been a smooth ride so far, no big issues or anything. Their customer service is pretty responsive too."
John Thompson
FAQ | Oman VPS
LightNode VPS stands out by supporting an extensive list of operating system versions, from Windows, Linux, Ubuntu, Debian, CentOS, FreeBSD, to Rocky Linux, AlmaLinux, and Arch Linux.

Yes, LightNode's every Oman VPS Hosting is characterized by a unique static IP, validating you as the singular IP user during your service period. This ensures you wield comprehensive control over your web privacy and actions, shielded from any potential distractions due to unconventional usage by others.

LightNode VPS caters to diverse application needs, supporting images from CyberPanel, OpenLiteSpeed Wordpress, Cloud Panel 2, cPanel & WHM, BT-Panel, Wordpress 5.4.2, BlueStacks, Utunnel, to MikroTik CHR.

At LightNode, we prioritize your convenience. For purchasing our Oman VPS, we offer diverse payment options like Google Pay, PayPal, Alipay, and credit card. Dive into the 'Customer Control Panel' to seamlessly manage your payment methods and finalize transactions.

We've curated a diverse array of VPS plans to align with your business objectives. Should you ever feel the need to elevate your current VPS setup, just access your account dashboard and pinpoint the upgraded plan that suits you. The transition promises to be seamless, devoid of any interruptions or downtime.

LightNode's Oman VPS hosts can be delivered in 1-2 minutes. As the server gets successfully instantiated, expect an email at the address paired with your LightNode account, detailing the server's password and other correlated specifics. The console also facilitates password alteration in its server details compartment.
Don't miss out on the best Oman VPS.
Embrace excellence with LightNode VPS - Unleashing the power of high-performance hosting!