Get Best And Cheap KVM VPS Hosting Server
Experience the perfect combination of quality and affordability with LightNode's KVM VPS hosting.
KVM SSD VPS
Designed for optimal performance and reliability, LightNode KVM VPS servers ensure smooth operation without breaking the bank. And our products are hourly billed, enabling flexible usage.
Custom Firewall
LightNode VPS KVM lets you strong your cloud business with a customized port that protects your servers according to your unique specifications.
Flexible Configurations
With LightNode KVM VPS, you have the flexibility to choose the server configuration and service environment according to your needs.
Simple Dashboard
LightNode KVM VPS provides you with a fast server management experience through an intuitive dashboard that allows you to get started quickly, even if you know relatively little about technology.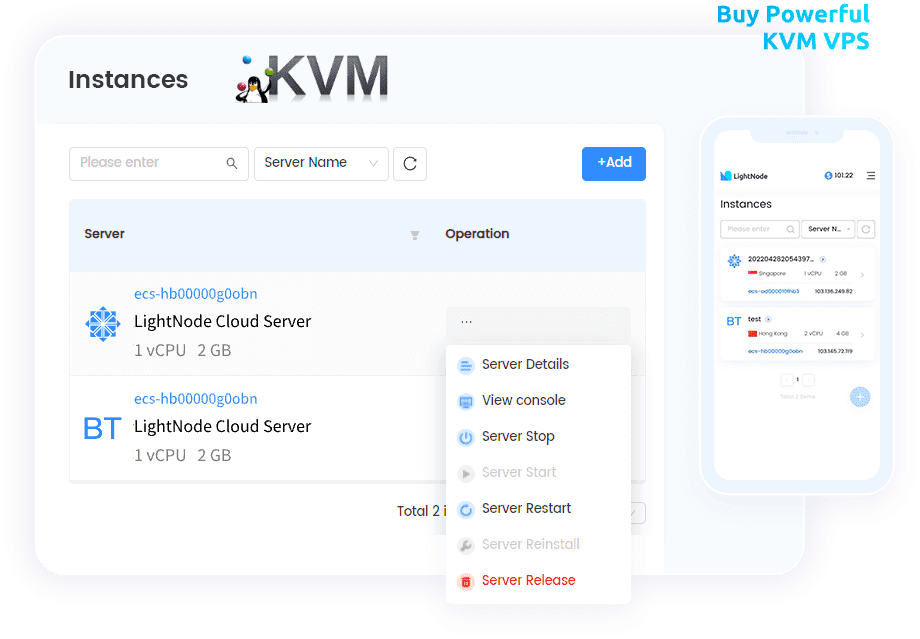 Custom Firewall
Flexible Configurations
Simple Dashboard
Connect. Deploy. Grow - Globally
Start deploying your High Performance Cloud VPS worldwide. Reduce latency, with our Cloud VPS located near your users and equipped with local BGP access.
Silicon Valley

Washington

Frankfurt

Istanbul

Riyadh

Dubai

Bangkok

Hanoi

Phnom Penh

Ho Chi Minh

Hong Kong

Taipei

Seoul

Johannesburg

Singapore

Manila

Dhaka

Sao Paulo

Jeddah

Tokyo

Cairo

Bahrain

Sofia

Athens

Kuala Lumpur

London

Muscat

Kuwait City

Marseille

Karachi

kathmandu

Moscow

Buenos Aires

Jakarta

Mexico City

Santiago

Yangon

Japan
LightNode Worldwide Locations
0
700,000+
Cloud Servers Launched
More resources, less cost
Not only is it cheap, but it can give you up to $15 when you recharge for the first time.


Why should you buy LightNode KVM VPS?
Choose LightNode KVM VPS and experience the perfect combination of power and control. With our KVM-based virtual private servers, you'll enjoy the benefits of dedicated resources, ensuring that your websites and applications are always high-performing. Whether you're hosting websites, applications or databases, LightNode KVM VPS gives you the stability and flexibility you need to enhance your online business.
Stable Performance
Trust LightNode KVM VPS to deliver stable and reliable performance, laying the foundation for dependable online operations.
Online Support
Trust LightNode KVM VPS's dedicated support team to guide you through any challenges or questions you may encounter online and in a timely manner.
Multiple OS Images
LightNode KVM VPS offers a range of operating system options designed to meet your different needs and preferences. Whether it's a Linux VPS or a Windows VPS, we have it covered.
Hourly Billing
LightNode KVM VPS matches your usage pattern perfectly with hourly billing, ensuring that you only pay for the resources you consume, giving you more flexibility to control your costs.
Full Root Access
With LightNode KVM VPS, you'll get full root access, giving you complete control over your server environment, no matter what you want to install.
Transparent Cost
LightNode KVM VPS has a transparent pricing structure that provides you with clear and predictable cost management without any additional fees.
Trusted by over 50,000 customers all over the world
Leveraging our two-decade long experience in the IDC industry, our platform, LightNode, which was launched in 2021, has already served more than 50,000 customers across over 130 countries with over 700,000 cloud servers launched. Over the next three years, we aim to establish edge compute nodes in more than 100 countries worldwide to cover a broader user base.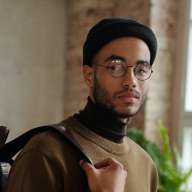 " I've been using LightNode's VPS for a few months now. It's been a smooth ride so far, no big issues or anything. Their customer service is pretty responsive too."
John Thompson
FAQ | KVM VPS
A KVM VPS is a virtual private server that uses Kernel-based Virtual Machine technology to provide hardware-level virtualization, allowing for isolated and efficient virtualized environments.

LightNode KVM VPS provides true virtualization, ensuring dedicated resources and better isolation between virtual machines. This leads to improved performance, security, and reliability compared to standard VPS. It also allows for more customization, like using different operating systems. Nonetheless, the ideal choice still depends on individual project requirements and budget considerations.

Yes, KVM is considered secure due to its hardware-level virtualization, which provides strong isolation between virtual machines and the host system.

Yes, KVM VPS hosting is a specific type of VPS hosting that uses Kernel-based Virtual Machine technology, offering enhanced isolation and better resource management compared to traditional virtualization methods.

At LightNode, we are committed to providing cheap KVM VPS and we have control over the quality of our VPS to give you the best experience.

Yes, KVM VPS hosting is designed to be online and accessible 24/7, providing consistent availability for your websites and applications.
Don't miss out on the best KVM VPS.
Embrace excellence with LightNode VPS - Unleashing the power of high-performance hosting!