LightNode Nepal VPS Hosting in Kathmandu
Nepal is a country in southern Asia, bordering China and India. Nepal's foreign trade business is in high demand, and if you need to deploy VPS hosts in Nepal, LightNode's data center in Kathmandu, Nepal is a great choice.
Best Nepal VPS
Nepal is a South Asian country and many people use Nepal vps as an alternative to India vps. Select a niche Nepalese vps host will not feel the line congestion, LightNode provides the local static ip in Nepal. Low latency, high performance, low price, fast refund. If you want to choose a nearby Asian data center, there are also Hong Kong, China, Hanoi, Thailand and Bangkok for you to choose from.
Nepal Local IP
Our global server distribution is comprehensive, touching over 30 countries across five vast continents. Every Nepal VPS we deploy utilizes a local static IP for instantaneous connection to local web and software platforms..
Cost-Effective
Experience quality on a budget with our Nepal VPS hosting. It's more than just hosting; it's an investment in the sustainable development of your site.
Set Up in Minutes
All our locations, including Nepal VPS, can be delivered within 120 seconds.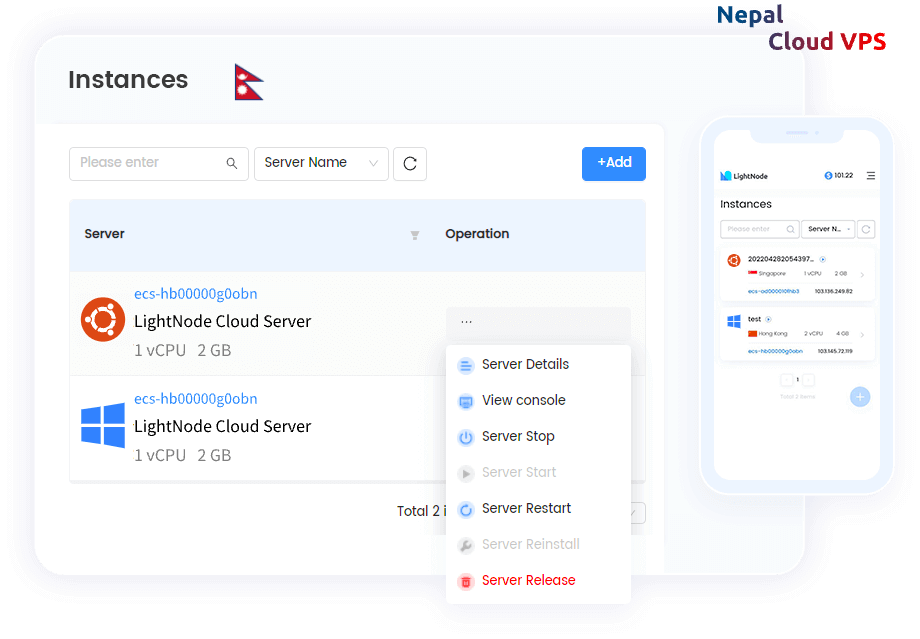 Nepal Local IP
Cost-Effective
Set Up in Minutes
Connect. Deploy. Grow - Globally
Start deploying your High Performance Cloud VPS worldwide. Reduce latency, with our Cloud VPS located near your users and equipped with local BGP access.
Silicon Valley

Washington

Frankfurt

Istanbul

Riyadh

Dubai

Bangkok

Hanoi

Phnom Penh

Ho Chi Minh

Hong Kong

Taipei

Seoul

Johannesburg

Singapore

Manila

Dhaka

Sao Paulo

Jeddah

Tokyo

Cairo

Bahrain

Sofia

Athens

Kuala Lumpur

London

Muscat

Kuwait City

Marseille

Karachi

kathmandu

Moscow

Buenos Aires

Jakarta

Mexico City

Santiago

Yangon

Japan
LightNode Worldwide Locations
0
700,000+
Cloud Servers Launched
More resources, less cost
Not only is it cheap, but it can give you up to $15 when you recharge for the first time.


Why choose LightNode's Nepal VPS?
LightNode's Nepal VPS data center is located in Kathmandu, Nepal, and is connected to major local operators in Kathmandu, providing ultra-low latency local access and Nepali local IP. The business scope easily covers the whole country of Nepal. Provides high-performance cpu and NVMe SSD storage with KVM virtualization. Support a variety of payment methods, such as Google Pay, Paypal, Alipay, pay by the hour, easy refund. Customer service 24 hours online response, for your VPS business to provide the strongest technical support. It is affordable and offers high reliability and 99.95% uptime.
Hourly Billing
LightNode Nepal VPS hosting's hourly billing mechanism provides a flexible payment model, coupled with the chance to discover our vast application image library.
Super Fast Storage
Delivering on our promise of quality, each of our global VPS solutions boasts the inclusion of high-efficiency enterprise-standard NVMe solid-state drives.
Simple and intuitive panel
Our tailored client panel simplifies the management of your Nepal VPS. With a solo click, you're equipped to track performance, energize, power down, refresh the server, reconfigure the OS, redirect the IP, and the like.
Reliable Servers
Leveraging local carrier partnerships, our Nepal VPS ensures you benefit from stable, low-latency local access for uninterrupted business flow.
KVM virtualization
Rooted in KVM's efficient resource management, LightNode guarantees that your VPS experiences minimal overhead and maximized performance.
Online Customer Service
Continuously online, our support team can be accessed through tickets, live chats, or emails, ensuring any problems during your VPS deployment are promptly addressed.
Trusted by over 50,000 customers all over the world
Leveraging our two-decade long experience in the IDC industry, our platform, LightNode, which was launched in 2021, has already served more than 50,000 customers across over 130 countries with over 700,000 cloud servers launched. Over the next three years, we aim to establish edge compute nodes in more than 100 countries worldwide to cover a broader user base.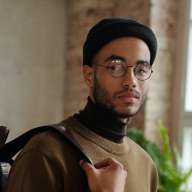 " I've been using LightNode's VPS for a few months now. It's been a smooth ride so far, no big issues or anything. Their customer service is pretty responsive too."
John Thompson
FAQ | Nepal VPS
Yes, each Nepal VPS hosted by LightNode is accorded a specific static IP, ensuring you remain its solitary user throughout your service engagement. This architecture bestows upon you an unmatched control over your web privacy and actions, isolated from any potential impacts of anomalous use by other parties.

Choose from a comprehensive range of operating systems on LightNode VPS, featuring Windows, Linux, Ubuntu, Debian, CentOS, FreeBSD, Rocky Linux, AlmaLinux, and Arch Linux.

Embrace a myriad of application images on LightNode VPS, including favorites like CyberPanel, OpenLiteSpeed Wordpress, Cloud Panel 2, cPanel & WHM, BT-Panel, Wordpress 5.4.2, BlueStacks, Utunnel, and MikroTik CHR.

We facilitate your Nepal VPS shopping experience with several handy payment methods, encompassing Google Pay, PayPal, Alipay, and credit card. Utilizing the 'Customer Control Panel' ensures you can deftly manage and conclude your payments.

Experience speed with LightNode as our VPS hosts are provisioned within 1-2 minutes. Post successful server initialization, your linked LightNode account email will get an automated message encompassing the server's password and essential details. Don't forget, the console provides an avenue to reset the password in the server details section.

Indeed, we proudly offer an extensive selection of VPS plans tailored for Nepal, each with its unique configuration. Tailor your choice to your business requirements. When it's time to elevate your existing VPS, just access your account control panel and pinpoint the preferred upgrade. Rest assured, the transition will be smooth and uninterrupted.
Don't miss out on the best Nepal VPS.
Embrace excellence with LightNode VPS - Unleashing the power of high-performance hosting!