Buy Cheap VPS with BGP | Best BGP VPS Provider
LightNode is a leading BGP VPS provider committed to excellence. Our VPS solutions offer unmatched performance and affordability, tailored for users looking for the best BGP routing.LightNode is your ultimate choice for BGP VPS hosting.
Cheap VPS BGP
Enter a world where versatility meets precision with LightNode BGP VPS solutions. Choose from a variety of operating system images, enjoy the uniqueness of a dedicated IP address, and get started immediately with our rapid deployment. Experience the best BGP VPS with every detail crafted for your best online journey.
Multiple OS Images
With our BGP VPS solution, you have the flexibility to choose from a large number of OS images to ensure that they match your usage habits.
Dedicated IP Address
Each VPS BGP session from LightNode comes with a dedicated IP address, providing a unique online presence and ensuring smooth BGP routing to make your salespeople stand out.
Rapid Deployment
Start your project immediately with our rapid deployment feature. Our BGP VPS ensures that you go live quickly, maximizing efficiency and allowing you to drive the volume you want in the shortest amount of time.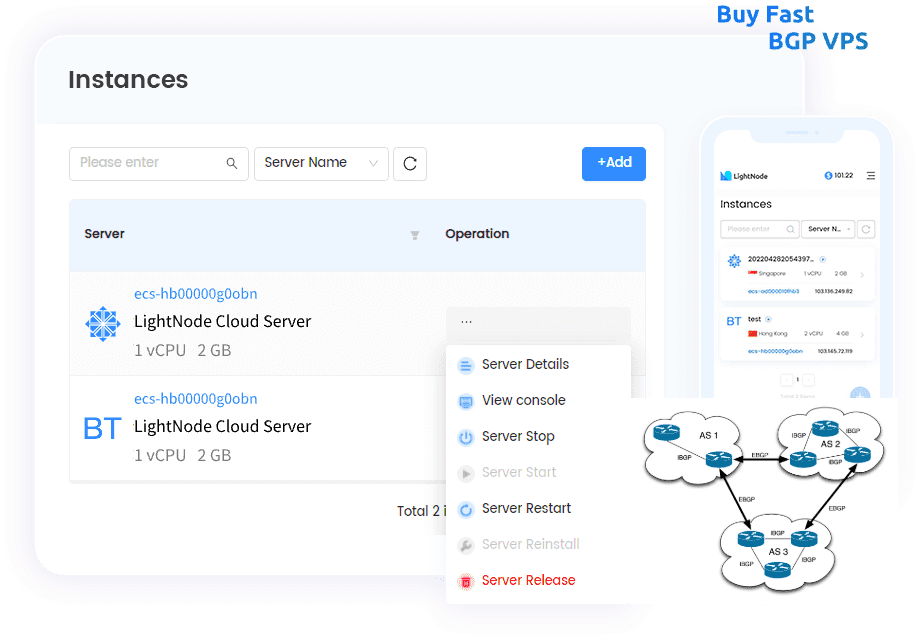 Multiple OS Images
Dedicated IP Address
Rapid Deployment
Connect. Deploy. Grow - Globally
Start deploying your High Performance Cloud VPS worldwide. Reduce latency, with our Cloud VPS located near your users and equipped with local BGP access.
Silicon Valley

Washington

Frankfurt

Istanbul

Riyadh

Dubai

Bangkok

Hanoi

Phnom Penh

Ho Chi Minh

Hong Kong

Taipei

Seoul

Johannesburg

Singapore

Manila

Dhaka

Sao Paulo

Jeddah

Tokyo

Cairo

Bahrain

Sofia

Athens

Kuala Lumpur

London

Muscat

Kuwait City

Marseille

Karachi

kathmandu

Moscow

Buenos Aires

Jakarta

Mexico City

Santiago

Yangon

Japan
LightNode Worldwide Locations
0
700,000+
Cloud Servers Launched
More resources, less cost
Not only is it cheap, but it can give you up to $15 when you recharge for the first time.


Why should you buy VPS with BGP at LightNode?
LightNode BGP VPS products offer transparency, flexibility, and consistent performance. With transparent costs, adaptive hourly billing and an impervious custom firewall, we give you peace of mind. Our presence in over 35 locations worldwide, combined with stable performance and professional online support, makes our BGP VPS the first choice for discerning customers around the globe.
Transparent Cost
No hidden costs. With LightNode BGP VPS, what you see is what you pay, ensuring transparent and competitive pricing.
Hourly Billing
LightNode VPS full BGP offers hourly billing, allowing you to manage your costs wisely, pay only for the resources you use, and have the flexibility to change configurations based on circumstances.
Custom Firewall
Our BGP VPS features visual port switching, allowing you to manipulate ports without the need for a command line, ensuring optimal protection against potential threats.
Stable Performance
Experience unrivaled stability with LightNode BGP VPS, ensuring your projects run smoothly and without interruption.
35+ Locations
Working with global users? Our VPS BGP support is available in more than 35 locations, ensuring optimal performance and regional compliance.
Online Support
LightNode is the best BGP VPS provider. We have a live chat customer support team, so you can ask us anytime you have questions about your usage.
Trusted by over 50,000 customers all over the world
Leveraging our two-decade long experience in the IDC industry, our platform, LightNode, which was launched in 2021, has already served more than 50,000 customers across over 130 countries with over 700,000 cloud servers launched. Over the next three years, we aim to establish edge compute nodes in more than 100 countries worldwide to cover a broader user base.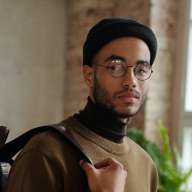 " I've been using LightNode's VPS for a few months now. It's been a smooth ride so far, no big issues or anything. Their customer service is pretty responsive too."
John Thompson
FAQ | BGP VPS
A BGP VPS, or Border Gateway Protocol Virtual Private Server, is a specialized hosting solution that integrates the power of BGP routing with the flexibility of a virtual server. Essential for those managing multiple IP addresses or looking to have full control over their routing paths, a BGP VPS ensures optimal routing of internet traffic. LightNode BGP VPS services offer both reliability and performance, making it the prime choice for businesses seeking superior routing capabilities combined with the perks of virtualized hosting.

A BGP route is a path determined by BGP to efficiently direct internet traffic between autonomous systems (AS). These routes ensure that data packets navigate the vast internet landscape via optimal pathways, minimizing latency and maximizing data transfer speeds. When integrated into a BGP VPS, like the ones offered by LightNode, users can expect enhanced control over their routing decisions, contributing to a streamlined and reliable online experience.

BGP predominantly uses TCP port 179 for its communication. This allows BGP peers to establish and maintain their connections, exchanging routing information for optimal data path determination. When you harness the capabilities of a BGP VPS ensuring the accessibility and security of port 179 becomes crucial to facilitate seamless BGP operations.

BGP operates as a crucial exterior gateway protocol designed to exchange routing information between different autonomous systems (AS) on the internet. It ensures the resilience and stability of the internet by finding and establishing the most efficient data paths. When routers communicate in a BGP environment, they advertise paths to certain IP networks or prefixes, ensuring that data follows the optimal route. Using a BGP VPS like those provided by LightNode allows businesses to leverage the advanced routing capabilities of BGP in a virtual environment, promoting both reliability and efficiency in their online operations.

Totally! LightNode BGP VPS is designed with performance and speed at its core. Utilizing the power of the Border Gateway Protocol, our VPS ensures optimal routing of Internet traffic, which directly translates into faster data transfer and minimized latency. Together with our state-of-the-art infrastructure and advanced server technology, LightNode BGP VPS offers a nice solution for those looking for speed and reliability in their hosting environment.

LightNode provides more than 35 areas of VPS BGP over the world, included South Korea BGP VPS, Guatemala BGP VPS, Chile BGP VPS, Germany BGP VPS, Bahrain BGP VPS, USA BGP VPS, Cambodia BGP VPS, Mexico BGP VPS, Nepal BGP VPS, Indonesia BGP VPS, Bulgaria BGP VPS, France BGP VPS, Pakistan BGP VPS, Vietnam BGP VPS, Russia BGP VPS, South Africa BGP VPS, Taiwan BGP VPS, Brazil BGP VPS, Greece BGP VPS, Turkey BGP VPS, Argentina BGP VPS, Japan BGP VPS, Malaysia BGP VPS, UK BGP VPS, Saudi Arabia BGP VPS, Philippines BGP VPS, Thailand BGP VPS, Egypt BGP VPS, Hong Kong BGP VPS, Bangladesh BGP VPS, Singapore BGP VPS, Oman BGP VPS, Dubai BGP VPS, Kuwait BGP VPS.
Don't miss out on the best BGP VPS.
Embrace excellence with LightNode VPS - Unleashing the power of high-performance hosting!