Buy Cheap VPS Europe | Best Europe VPS
Improve your business with LightNode VPS Europe solutions. Experience unbeatable speed, reliability and security, tailored to your business needs.
Best Europe VPS
LightNode Europe VPS brings you a whole new level of flexibility. Our hourly billing system ensures that you only pay for what you use, while the integration of NVMe SSDs delivers unrivaled speeds across our vast network of 7 major European locations including Germany, Bulgaria, Greece, UK, Turkey, France, and Russia.
Hourly Billing VPS Europe
Hourly Billing VPS
make Europe VPS more affordable and responsive to your needs with our flexible hourly VPS, paying only for the hours you use.
NVMe SSD VPS Europe
Integrate an NVMe SSD into your Europe VPS and experience blazing fast speeds and superior performance to make your file transfers slower than ever.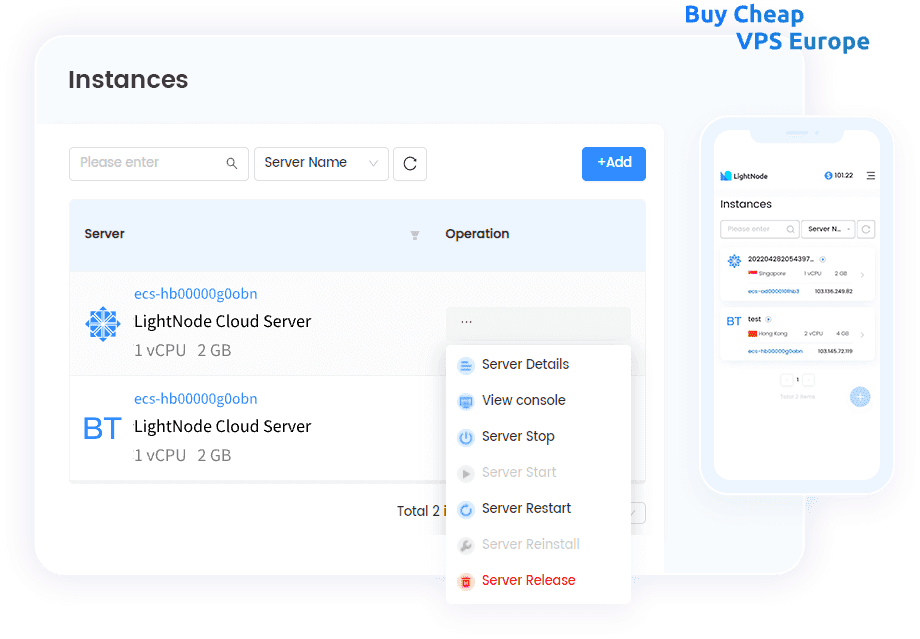 Hourly Billing VPS Europe
NVMe SSD VPS Europe
7 Countries VPS in Europe
Connect. Deploy. Grow - Globally
Start deploying your High Performance Cloud VPS worldwide. Reduce latency, with our Cloud VPS located near your users and equipped with local BGP access.
Silicon Valley

Washington

Frankfurt

Istanbul

Riyadh

Dubai

Bangkok

Hanoi

Phnom Penh

Ho Chi Minh

Hong Kong

Taipei

Seoul

Johannesburg

Singapore

Manila

Dhaka

Sao Paulo

Jeddah

Tokyo

Cairo

Bahrain

Sofia

Athens

Kuala Lumpur

London

Muscat

Kuwait City

Marseille

Karachi

kathmandu

Moscow

Buenos Aires

Jakarta

Mexico City

Santiago

Yangon

Japan
LightNode Worldwide Locations
0
700,000+
Cloud Servers Launched
More resources, less cost
Not only is it cheap, but it can give you up to $15 when you recharge for the first time.


Why should you choose LightNode VPS Europe?
Add power to your online journey with full control on our European VPS. From ensuring full access to customization to the reliability of KVM virtualization, we've got you covered. Whether you're a Windows enthusiast or a Linux expert, we have the platform to meet your needs. Our multiple payment options combined with the unique feature of free IP changes ensure the perfect blend of convenience and security.
Full Access VPS
Take full control of your server with unrestricted root and administrator access for unparalleled customization.
100% KVM VPS Hosting
Our Europe VPS is virtualized with KVM technology, which can well guarantee the independence of VPS resources and make your business more secure and reliable with KVM VPS.
Free IP Change VPS
Change your IP address twice at no cost, providing you with greater flexibility and security.
Multiple Payment Options
Choose the payment method that best suits your needs and provides convenience for every user, our payment methods include Alipay, PayPal, Credit Card.
Windows OS support
Run your favorite Windows system smoothly on our optimized Europe VPS platform, we have several Windows versions to choose from.
Multiple Linux images
Experience the robustness and reliability of Linux on our European VPS servers, you can choose from different distributions, Ubuntu, CentOS, Debian, Rocky Linux, AlmaLinux and more.
Trusted by over 50,000 customers all over the world
Leveraging our two-decade long experience in the IDC industry, our platform, LightNode, which was launched in 2021, has already served more than 50,000 customers across over 130 countries with over 700,000 cloud servers launched. Over the next three years, we aim to establish edge compute nodes in more than 100 countries worldwide to cover a broader user base.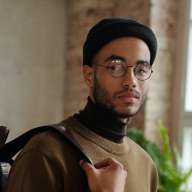 " I've been using LightNode's VPS for a few months now. It's been a smooth ride so far, no big issues or anything. Their customer service is pretty responsive too."
John Thompson
FAQ | VPS Europe
A European VPS, or Europe Virtual Private Server, is a virtualized server that acts like a dedicated server but is installed on a single computer to serve multiple websites and applications.

With LightNode Europe VPS, users can host websites, run multiple applications, set up VPNs, engage in forex trading, develop and test software, and more, all while enjoying the strategic geographic advantages of being hosted in Europe.

Europe VPS offers dedicated resources, higher privacy and greater environmental control than Europe shared hosting. While shared hosting involves multiple users sharing the resources of a single server, VPS provides each user with a dedicated portion of the server's resources, ensuring more stable and consistent performance.

Yes, LightNode Europe VPS fully supports WordPress. and we use

OLS WordPress

, which allows users to easily install, customize, and run their WordPress websites with greater speed, flexibility, and security than traditional shared hosting.

LightNode Europe VPS uses premium BGP routing lines to ensure optimal connectivity, low latency and fast data transfer to effectively serve the European market.

Although shutting down your VPS will stop the server's operation, the VPS resources are still occupied and billing will continue according to your contract with LightNode, if you want to stop billing, you need to free up the VPS!
Don't miss out on the best VPS Europe.
Embrace excellence with LightNode VPS - Unleashing the power of high-performance hosting!