PayPal VPS: Buy VPS with PayPal in 30+ Locations
PayPal VPS, the easy and secure way to buy VPS Hosting worldwide. pay as you go and get started today at LightNode.
PayPal VPS — Simple and secure
PayPal is a globally popular and mainstream payment method covering over 200 countries with over 400 million users.Consumer friendly, secure and convenient, PayPal is the preferred payment method for users in many regions. Due to the nature of the industry, many VPS providers do not support PayPal payment method. However, at LightNode, you can safely use PayPal to purchase any VPS Hosting.
Deploys in Minutes
After the payment is completed through PayPal, you only need 1 to 2 minutes to deploy the VPS.
Global Data Center
In over 30 countries around the world, you can self-service a PayPal VPS to bring your business closer to your customers.
Application Image
In addition to offering VPS for Windows and Linux operating systems, you can also easily open a number of application image VPS including cPanel VPS,
BlueStacks VPS
,
CyberPanel VPS
.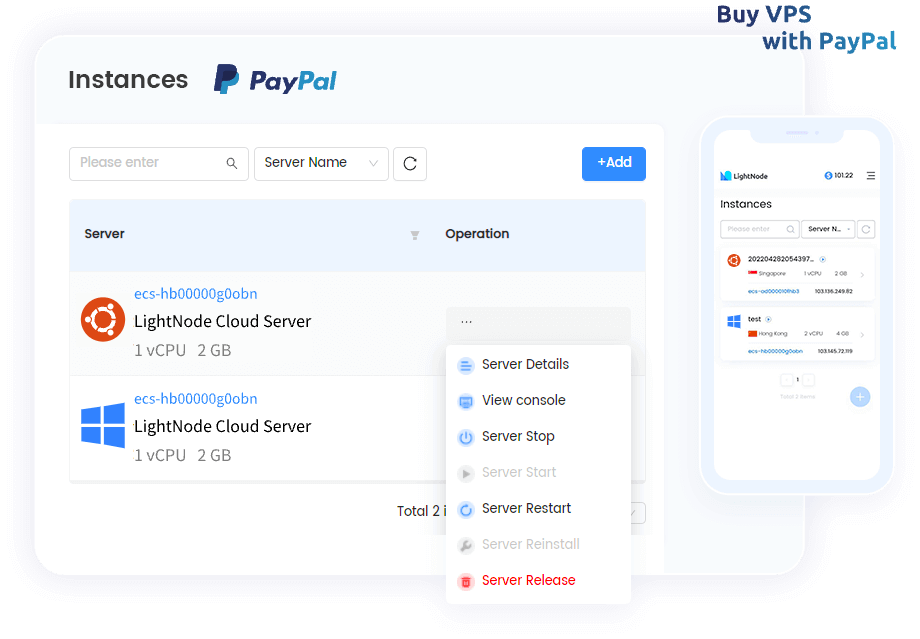 Deploys in Minutes
Global Data Center
Application Image
Connect. Deploy. Grow - Globally
Start deploying your High Performance Cloud VPS worldwide. Reduce latency, with our Cloud VPS located near your users and equipped with local BGP access.
Silicon Valley

Washington

Frankfurt

Istanbul

Riyadh

Dubai

Bangkok

Hanoi

Phnom Penh

Ho Chi Minh

Hong Kong

Taipei

Seoul

Johannesburg

Singapore

Manila

Dhaka

Sao Paulo

Jeddah

Tokyo

Cairo

Bahrain

Sofia

Athens

Kuala Lumpur

London

Muscat

Kuwait City

Marseille

Karachi

kathmandu

Moscow

Buenos Aires

Jakarta

Mexico City

Santiago

Yangon

Japan
LightNode Worldwide Locations
0
700,000+
Cloud Servers Launched
More resources, less cost
Not only is it cheap, but it can give you up to $15 when you recharge for the first time.


Why buy PayPal VPS from LightNode?
LightNode's PayPal VPS offers high-end Intel and AMD CPUs, 100% NVMe SSD storage. We provide services in more than 30 regional data centers around the world, and access to carriers around the world to guarantee quality network performance. Hourly billing is supported, and the VPS can be activated immediately after recharging via PayPal without any hidden fees. Uptime up to 99.95%, to protect your business stability and security.
Simple to use
In LightNode platform, there is no complicated operation logic, just a few clicks, you can quickly open your own PayPal VPS. from payment to use, the whole process is not more than 5 minutes.
Easy to manage
When you want to manage your VPS, monitor usage, reinstall systems, change IPs and perform other administrative tasks, it can all be done quickly through the LightNode platform.
Cost-Effective
Our 20+ years of industry experience allows us to offer affordable VPS hosting. We are committed to being the long-term choice of our users by allowing you to get quality service at a low price.
Multiple Images Available
We offer a wide range of Linux distributions including Ubuntu, Debian, CentOS, Rocky Linux, and more, as well as VPS with pre-installed applications such as OpenLiteSpeed WordPress, BlueStacks, cPanel, CyberPanel, Utunnel, and more, so you can get your business up and running right away without the hassle of technical setup procedures.
Hourly Billing
Our PayPal VPS hosting supports flexible hourly billing options, giving you the freedom to try out our various application images or test deployments in different regions.
No credit card required
LightNode allows you to pay with PayPal only without tying your credit card. We also support Google Pay as well as AliPay payment methods.
Trusted by over 50,000 customers all over the world
Leveraging our two-decade long experience in the IDC industry, our platform, LightNode, which was launched in 2021, has already served more than 50,000 customers across over 130 countries with over 700,000 cloud servers launched. Over the next three years, we aim to establish edge compute nodes in more than 100 countries worldwide to cover a broader user base.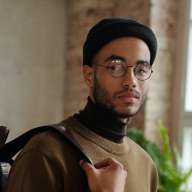 " I've been using LightNode's VPS for a few months now. It's been a smooth ride so far, no big issues or anything. Their customer service is pretty responsive too."
John Thompson
FAQ | PayPal VPS
PayPal VPS refers to a VPS that supports PayPal as a payment method for purchases.Payment through PayPal ensures that the consumer's payment is secure and you don't have to worry about information leakage. You can also get anti-fraud protection, PayPal will protect the rights and interests of consumers.

As answered in the previous question, buying a VPS with PayPal combines the advantages of security and convenience.

You don't need to give us your credit card information, you just pay through PayPal. In addition, if you don't receive your VPS or it doesn't meet the expected specifications, you can file a dispute with PayPal and possibly get a refund.

No, buying a VPS from LightNode will cost you the same regardless of the method of payment, and you can feel free to use PayPal to buy a VPS.

LightNode offers

hourly billing VPS

, so if you buy the wrong VPS, simply unsubscribe yourself from the machine and deploy the correct new one.

We have data centers in more than 30 countries around the world, and the VPS you buy is located in your local T4 level data center.

Of course you can, at any time you can pay through our supported payment methods. Currently we support credit card, PayPal, Google Pay, AliPay.
Don't miss out on the best PayPal VPS.
Embrace excellence with LightNode VPS - Unleashing the power of high-performance hosting!