Best OpenLiteSpeed Wordpress VPS Hosting (Pre-Installed)
We are excited to present LightNode's solution - our unique pre-installed OpenLiteSpeed WordPress VPS hosting.
OpenLiteSpeed Wordpress VPS — Speed up websites performance
OpenLiteSpeed is a high-performance, lightweight, open-source HTTP server developed by LiteSpeed Technologies. OLS excels in its capability to handle a large number of connections concurrently while maintaining low memory usage and CPU consumption. It provides a comprehensive set of features that make it an optimal choice for WordPress sites. These include built-in anti-DDoS features, a user-friendly admin interface, and support for the latest technologies such as HTTP/3 and QUIC.
Set Up in Minutes
With just 1-2 minutes needed, you can rapidly deploy your OpenLiteSpeed Wordpress VPS.
Low Latency, High Uptime
Reliability meets speed: our VPS promises a 99.95% uptime for constant availability and our local BGP optimizes for low latency.
Pre-Installed OpenLiteSpeed Wordpress
We offer Cloud VPS with pre-installed OpenLiteSpeed Wordpress across more than 30 locations around the world.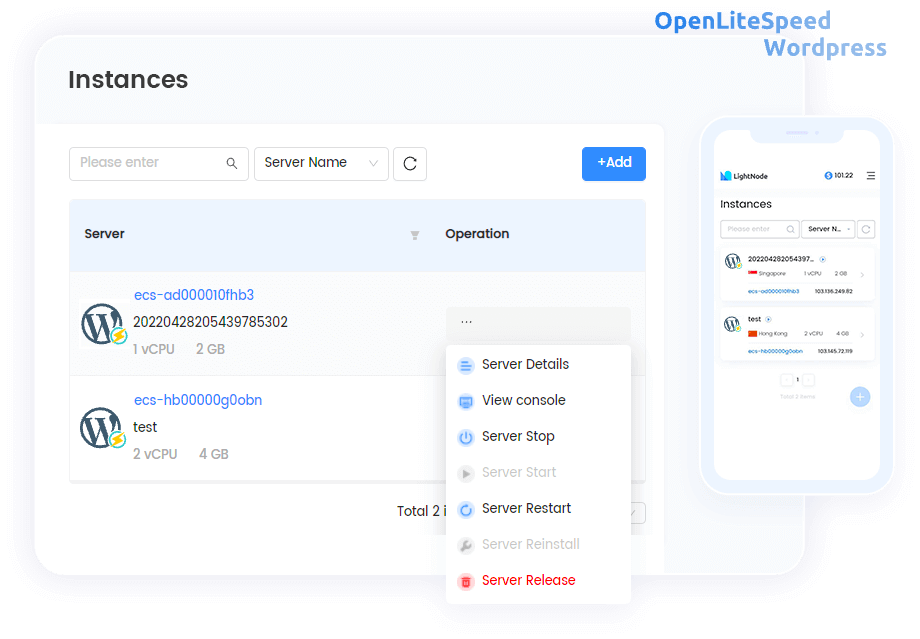 Set Up in Minutes
Low Latency, High Uptime
Pre-Installed OpenLiteSpeed Wordpress
Connect. Deploy. Grow - Globally
Start deploying your High Performance Cloud VPS worldwide. Reduce latency, with our Cloud VPS located near your users and equipped with local BGP access.
Silicon Valley

Washington

Frankfurt

Istanbul

Riyadh

Dubai

Bangkok

Hanoi

Phnom Penh

Ho Chi Minh

Hong Kong

Taipei

Seoul

Johannesburg

Singapore

Manila

Dhaka

Sao Paulo

Jeddah

Tokyo

Cairo

Bahrain

Sofia

Athens

Kuala Lumpur

London

Muscat

Kuwait City

Marseille

Karachi

kathmandu

Moscow

Buenos Aires

Jakarta

Mexico City

Santiago

Yangon

Japan
LightNode Worldwide Locations
0
700,000+
Cloud Servers Launched
More resources, less cost
Not only is it cheap, but it can give you up to $15 when you recharge for the first time.


Why buy OpenLiteSpeed Wordpress VPS from LightNode?
LightNode's full line of OpenLiteSpeed Wordpress VPS offers high-performance CPUs (Intel, AMD optional) and NVMe SSD storage. Connected to major carriers in countries around the world, ultra-low latency local access is available in more than 30 locations worldwide. Supports fast turn-up of pre-installed OpenLiteSpeed Wordpress VPS with no hidden fees. Affordable pricing but with high reliability and 99.95% uptime.
Simple Installation
Users with any technical background only need to choose the server configuration and OpenLiteSpeed Wordpress application image to quickly set up a ready-to-use OpenLiteSpeed Wordpress in 1 to 2 minutes.
Easy-to-use Control Panel
Our VPS hosting comes with a user-friendly control panel, making it easy for you to manage your website, monitor server performance, and carry out other administrative tasks. You get root access to your VPS, allowing you to configure and manage your server as per your needs.
Quick Deployment
Our pre-installed OpenLiteSpeed WordPress VPS hosting allows for immediate deployment. With WordPress and OpenLiteSpeed pre-installed, you can launch your site instantly, avoiding the hassle of technical setup procedures.
Superior Stability
With our VPS hosting, your WordPress site runs on a dedicated environment, ensuring consistent performance even with traffic spikes. The stability of OpenLiteSpeed server further enhances this reliability.
Hourly Billing
Our OpenLiteSpeed WordPress VPS hosting solution also supports flexible hourly payments, providing you with the freedom to experiment with our diverse range of application images or to test deploying in various regions.
Cost-Effective
Our VPS hosting is an affordable solution, ensuring that you get premium services at a price that doesn't break your bank. With our OLS WordPress VPS hosting, you are investing in the long-term success of your website.
Trusted by over 50,000 customers all over the world
Leveraging our two-decade long experience in the IDC industry, our platform, LightNode, which was launched in 2021, has already served more than 50,000 customers across over 130 countries with over 700,000 cloud servers launched. Over the next three years, we aim to establish edge compute nodes in more than 100 countries worldwide to cover a broader user base.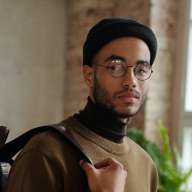 " I've been using LightNode's VPS for a few months now. It's been a smooth ride so far, no big issues or anything. Their customer service is pretty responsive too."
John Thompson
FAQ | OpenLiteSpeed Wordpress VPS
There are several compelling reasons to choose OpenLiteSpeed (OLS) for your WordPress site: High performance, scalability, easy to use, built-in page caching, free and open-source.

Yes, with our VPS hosting, you can host multiple websites. The exact number depends on the resources required by your websites and the plan you choose.

OpenLiteSpeed comes with a built-in caching plugin for WordPress LiteSpeed Cache. This plugin, when properly configured, can significantly improve your site's performance.

OpenLiteSpeed is compatible with most WordPress plugins. However, for best performance and compatibility, we recommend using the LiteSpeed Cache for WordPress plugin.

OpenLiteSpeed WordPress enhances your website's loading speed, a crucial factor in SEO rankings. Faster sites are more likely to rank higher in search engine results, improving your site's visibility.

Absolutely. Our VPS hosting provides high-speed performance and robust security features, making it a perfect choice for e-commerce sites.
Don't miss out on the best OpenLiteSpeed Wordpress VPS.
Embrace excellence with LightNode VPS - Unleashing the power of high-performance hosting!