Malaysia VPS Hosting: Your Cloud Solution in Asia
Boost your digital footprint with unparalleled VPS hosting services from LightNode Malaysia, offering unmatched speed, and superior security.
Best and FLexible VPS in Malaysia
VPS is Virtual Private Server, a powerful web hosting service that allows users to access their own virtual server over the internet. It offers more flexibility and control than shared hosting, and it's much cheaper than renting a full physical server. Malaysia VPS refers to the VPS whose physical server and host IP are located in Malaysia. This is great for those who want their servers to be geographically close to Malaysia or other parts of Asia. LightNode provides an excellent solution for VPS hosting in Malaysia, which can meet the needs of users looking for high-quality, high-performance VPS services in Malaysia or surrounding areas.
Online Service
Have a question? Our dedicated support team is always just a click away to help resolve any issues you may encounter.
Rapid Deployment
We work diligently to ensure your server is prepared quickly, typically within just a few minutes of your purchase.
KVM Virtualization
Experience the difference with our KVM Virtualized VPS, ensuring you have dedicated resources and high performance for all your online operations.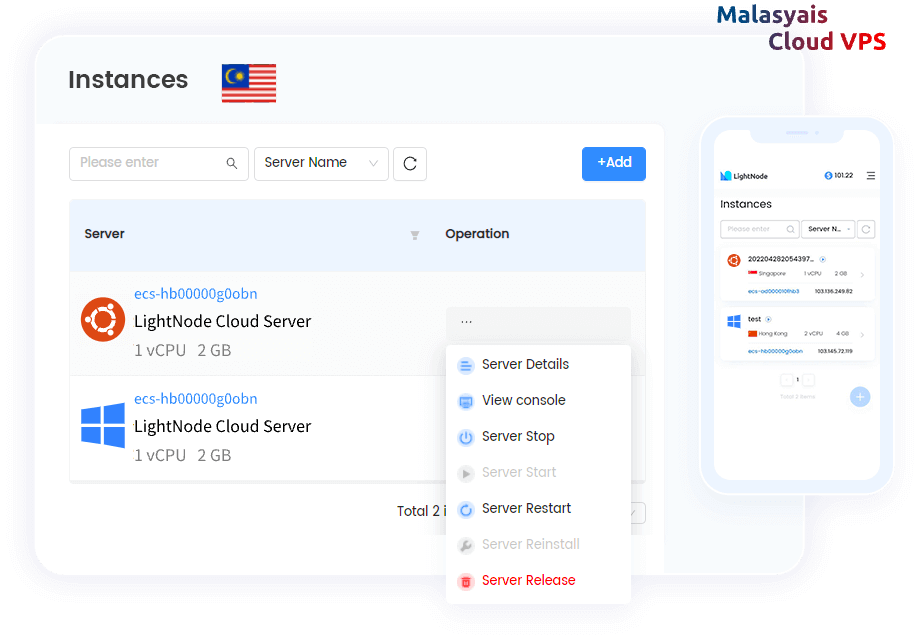 Online Service
Rapid Deployment
KVM Virtualization
Connect. Deploy. Grow - Globally
Start deploying your High Performance Cloud VPS worldwide. Reduce latency, with our Cloud VPS located near your users and equipped with local BGP access.
Silicon Valley

Washington

Frankfurt

Istanbul

Riyadh

Dubai

Bangkok

Hanoi

Phnom Penh

Ho Chi Minh

Hong Kong

Taipei

Seoul

Johannesburg

Singapore

Manila

Dhaka

Sao Paulo

Jeddah

Tokyo

Cairo

Bahrain

Sofia

Athens

Kuala Lumpur

London

Muscat

Kuwait City

Marseille

Karachi

kathmandu

Moscow

Buenos Aires

Jakarta

Mexico City

Santiago

Yangon

Japan
LightNode Worldwide Locations
0
700,000+
Cloud Servers Launched
More resources, less cost
Not only is it cheap, but it can give you up to $15 when you recharge for the first time.


Why should you choose LightNode's Malaysia VPS?
LightNode's Malaysia VPS offers several advantages. First and foremost, it delivers top-notch speed and unmatched performance, ensuring your applications run smoothly and efficiently. It also offers extremely high security measures to protect your data and give you peace of mind. Additionally, LightNode's commitment to transparent pricing means there are no hidden costs, and our flexible hourly billing system allows for easy cost management.
Easy to Manage
Each of our VPS packages includes a convenient control panel for effortless management of your VPS server. You can monitor your resources in real-time via the dashboard and make requisite modifications on the fly.
Multiple Images
LightNode provides a variety of system images and application images to choose from, and continues to add more images. The system images include various versions of Linux images and Windows images, and the application images include CyberPanel and OLS Wordpress. They are all pre-installed and ready to use as soon as you buy them.
Transparent Price
The billing mode of LightNode is hourly billing. After you select the configuration, the hourly fee is determined. There is no additional charge, and the bill will be given in time. Moreover, you can also upgrade the configuration at any time, and adjust the vps configuration in time according to the current business need.
Full Root Access
ull Root Access is one of the key features of our VPS. Take charge of your server and manage it exactly how you wish.
IP Change
Experience the flexibility with our IP Change feature, allowing two free IP changes for every new machine to better serve your specific needs.
Multiple Payment Options
Enjoy the flexibility of choosing your preferred payment method from our wide array of options including credit cards, Alipay, Google Pay, and PayPal.
Trusted by over 50,000 customers all over the world
Leveraging our two-decade long experience in the IDC industry, our platform, LightNode, which was launched in 2021, has already served more than 50,000 customers across over 130 countries with over 700,000 cloud servers launched. Over the next three years, we aim to establish edge compute nodes in more than 100 countries worldwide to cover a broader user base.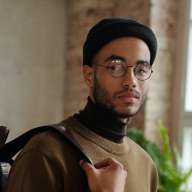 " I've been using LightNode's VPS for a few months now. It's been a smooth ride so far, no big issues or anything. Their customer service is pretty responsive too."
John Thompson
FAQ | Malaysia VPS
A VPS server offers high performance, security, and controllability. It handles high traffic better than shared hosting, and is more cost-effective than a dedicated server. Moreover, a VPS can easily scale resources according to business needs, and allows for the selection of server location to meet specific network performance requirements.

A

Forex VPS

is crucial for forex traders as it provides a stable and reliable platform for executing trades 24/7, mitigates the risk of power outages or internet disruptions, and allows for faster transaction times due to proximity to the trading servers, enhancing the overall trading experience.

Yes, VPS hosting is typically faster than shared hosting. This is because VPS hosting provides dedicated resources, reducing the chances of server slowdowns or interruptions due to other users' activities, which is common in shared hosting environments.

Whether you need VPS hosting or not depends on your specific needs. If you have a growing website with increasing traffic, or require more control over your hosting environment, or need to ensure stability and performance, then VPS hosting could be an excellent choice. It offers a good balance between cost, control, and capacity compared to shared or dedicated hosting.

VPS hosting works by using virtualization technology to divide a powerful physical server into multiple virtual servers. Each VPS has its own dedicated resources and operates independently of the others, meaning it has its own operating system, disk space, bandwidth, and memory, similar to a standalone server. Despite being housed on the same machine, each VPS can run its own applications and be rebooted independently, providing users with the control and capacity of a dedicated server at a more affordable cost.

At LightNode, you can restart VPS through our control panel. Our control panel is easy to use. Besides restart, you can also reinstall VPS, change IP address, upgrade your VPS plan. and switch your port.
Don't miss out on the best Malaysia VPS.
Embrace excellence with LightNode VPS - Unleashing the power of high-performance hosting!