Buy Fast CentOS VPS Hosting From $7.7/mo
Experience high-speed CentOS VPS hosting starting from just $7.7 per month. Our powerful virtual private servers provide you with the perfect platform to host your websites, applications, and projects.
Powerful CentOS VPS
LightNode's Global CentOS VPS extends its reach across the globe, backed by the dependable CentOS platform. Fusing velocity, dependability, and user-friendliness, it stands as the ultimate preference for those in pursuit of top-tier hosting excellence.
IP Change
With LightNode, you have the opportunity for two free IP changes, ensuring your online activities remain private and secure at all times.
KVM Virtualization
Our VPS utilizes KVM technology for virtualization, offering flexibility and control to meet your diverse requirements.
Hourly Billing
You'll be billed on an hourly basis, paying only for the time you use, achieving true flexibility and cost-efficient resource management.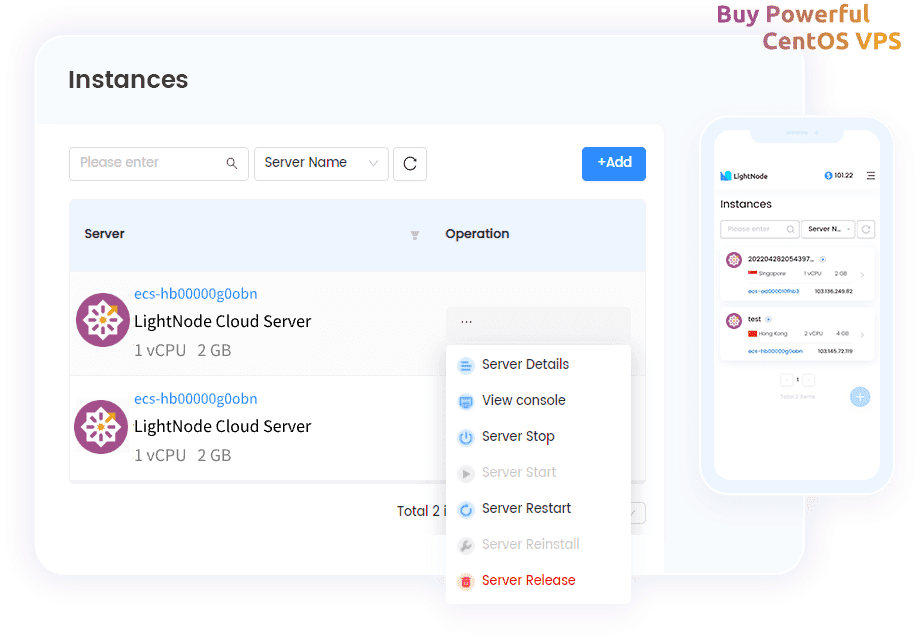 IP Change
KVM Virtualization
Hourly Billing
Connect. Deploy. Grow - Globally
Start deploying your High Performance Cloud VPS worldwide. Reduce latency, with our Cloud VPS located near your users and equipped with local BGP access.
Silicon Valley

Washington

Frankfurt

Istanbul

Riyadh

Dubai

Bangkok

Hanoi

Phnom Penh

Ho Chi Minh

Hong Kong

Taipei

Seoul

Johannesburg

Singapore

Manila

Dhaka

Sao Paulo

Jeddah

Tokyo

Cairo

Bahrain

Sofia

Athens

Kuala Lumpur

London

Muscat

Kuwait City

Marseille

Karachi

kathmandu

Moscow

Buenos Aires

Jakarta

Mexico City

Santiago

Yangon

Japan
LightNode Worldwide Locations
0
700,000+
Cloud Servers Launched
More resources, less cost
Not only is it cheap, but it can give you up to $15 when you recharge for the first time.


Know more about LightNode CentOS VPS
With high performance, reliable uptime, and customizable configurations, you'll have the control you need to ensure your online presence thrives. Benefit from the stability and security of CentOS while enjoying the affordability and flexibility of our hosting plans. Join us today to elevate your web hosting experience to the next level.
40+ Locations
Across our 40+ global data centers, you can select the optimal server location, ensuring superior performance and precise geographical targeting.
Multiple OS Images
No matter the operating system you need, we offer an extensive array of system images, including Ubuntu, CentOS, Debian, Windows, and more.
Simple Dashboard
Through our user-friendly control panel, effortlessly manage VPS resources and swiftly perform tasks like system reinstallation and restarts.
NVMe SSD Storages
Equipped with high-speed NVMe SSD storage, our VPS delivers lightning-fast data access, boosting performance significantly.
Online Support
LightNode provides real-time online chat support, ensuring timely responses and assistance whenever you have queries.
Multiple Application Images
Our VPS comes with diverse application images, including CyberPanel, CloudPanel, OLS Wordpress, and more, offering you expanded choices for your projects.
Trusted by over 50,000 customers all over the world
Leveraging our two-decade long experience in the IDC industry, our platform, LightNode, which was launched in 2021, has already served more than 50,000 customers across over 130 countries with over 700,000 cloud servers launched. Over the next three years, we aim to establish edge compute nodes in more than 100 countries worldwide to cover a broader user base.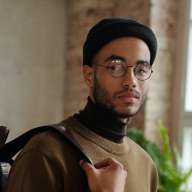 " I've been using LightNode's VPS for a few months now. It's been a smooth ride so far, no big issues or anything. Their customer service is pretty responsive too."
John Thompson
FAQ | CentOS VPS
A VPS is useful for hosting websites, testing software, running custom applications, remote desktop access, private cloud services, game servers, data backup, e-commerce, data analysis, VPN, learning, custom services, scaling resources, enhanced security, and hosting databases.

Yes, you can change the CentOS version on your VPS. However, remember to consider compatibility, back up data, follow upgrade steps, test in a safe environment, plan for possible downtime, check software dependencies, ensure updates for the new version, have backup and rollback plans, and possess technical expertise.

No, you don't need to pay extra for an Ubuntu VPS. The cost is transparent and there are no additional charges.

VPS outshines shared hosting through its heightened performance, increased control, and dedicated resources. Unlike shared hosting where resources are shared among multiple users, VPS grants you a dedicated portion of a server's power and memory. This translates to faster loading times, improved stability, and better handling of traffic spikes. In contrast, shared hosting offers limited control due to its shared nature.

Yes, VPS hosting is designed to be online and accessible 24/7, providing consistent availability for your websites and applications.

In LightNode, you can easily manage the VPS though our dashboard.
Don't miss out on the best CentOS VPS.
Embrace excellence with LightNode VPS - Unleashing the power of high-performance hosting!