Powerful South Korea VPS hosting by LightNode
Experience an exceptional hosting service with LightNode's Korea VPS. Designed for high-speed connectivity, stability, and outstanding security.
High Performance Korea VPS with Hourly Billing
LightNode's South Korea VPS is a virtual private server hosting service located in South Korea. It provides high-speed connectivity, top-notch performance, and dedicated resources like CPU, RAM, and storage. This service offers a competitive edge to businesses targeting the Asian market, due to its localized server advantage leading to faster access and improved user experiences. Its dedicated resources make it suitable for hosting websites, running applications, managing databases, setting up game servers, or running private clouds.
NVMe SSD Storage
With NVMe SSD storage, our VPS ensures faster data retrieval and improved overall performance.
Self-service Restart
Avoid command line operations with our self-reboot feature, and easily restart your VPS from our intuitive dashboard.
Quick Deployment
We make every effort to get your server ready swiftly. Typically, it's prepared within minutes of your purchase.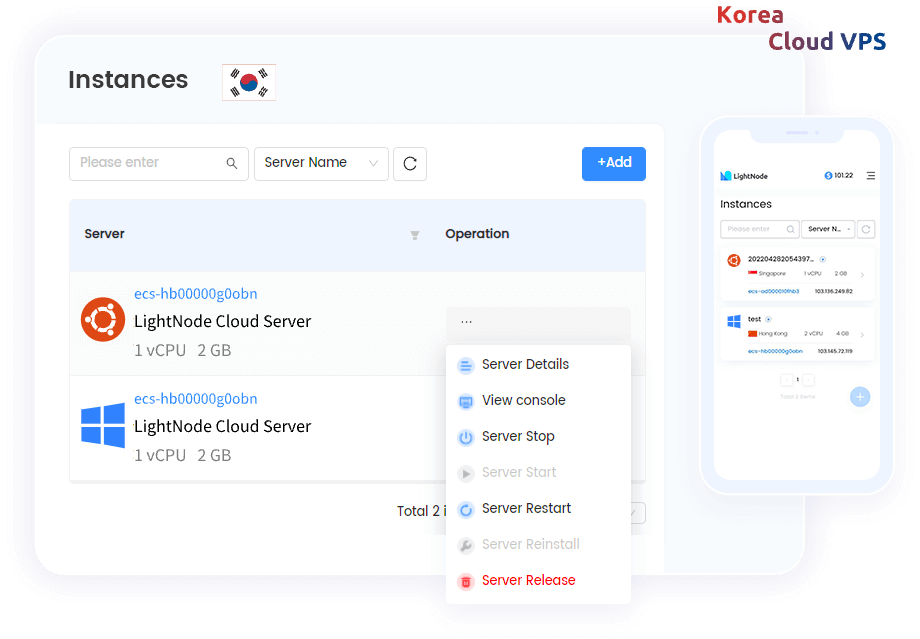 NVMe SSD Storage
Self-service Restart
Quick Deployment
Connect. Deploy. Grow - Globally
Start deploying your High Performance Cloud VPS worldwide. Reduce latency, with our Cloud VPS located near your users and equipped with local BGP access.
Silicon Valley

Washington

Frankfurt

Istanbul

Riyadh

Dubai

Bangkok

Hanoi

Phnom Penh

Ho Chi Minh

Hong Kong

Taipei

Seoul

Johannesburg

Singapore

Manila

Dhaka

Sao Paulo

Jeddah

Tokyo

Cairo

Bahrain

Sofia

Athens

Kuala Lumpur

London

Muscat

Kuwait City

Marseille

Karachi

kathmandu

Moscow

Buenos Aires

Jakarta

Mexico City

Santiago

Yangon

Japan
LightNode Worldwide Locations
0
700,000+
Cloud Servers Launched
More resources, less cost
Not only is it cheap, but it can give you up to $15 when you recharge for the first time.


Why should you choose LightNode's Korea VPS?
With LightNode's Korea VPS, you get a solution that delivers exceptional speed and reliable performance, a critical factor in running your applications with maximum efficiency. Our commitment to top-tier security ensures that your data is always protected. Not to forget, LightNode's transparent pricing policy eliminates hidden charges, and the flexible hourly billing system allows for easy cost management. Hence, LightNode's Korea VPS stands out as an ideal choice for all your hosting needs.
Full Root Access
With our VPS solutions, you're in the driver's seat. We provide Full Root Access, giving you complete control over your server.
Elastic Configuration
Our servers offer the flexibility to choose from various configurations, with the added advantage of upgrades whenever required.
Stable Performance
With our VPS solutions, you can expect Stable Performance. We guarantee a smooth and consistent experience.
Cost-effective
We believe in providing superior service without the hefty price tag. Our VPS solutions offer great value for your investment.
Dedicated IP Address
Benefit from having a unique IP address for each of your servers, promoting secure and stable connections at all times.
Pre-installed Images
Get started right away with our range of pre-installed application images. Your server is ready to use as soon as you make a purchase.
Trusted by over 50,000 customers all over the world
Leveraging our two-decade long experience in the IDC industry, our platform, LightNode, which was launched in 2021, has already served more than 50,000 customers across over 130 countries with over 700,000 cloud servers launched. Over the next three years, we aim to establish edge compute nodes in more than 100 countries worldwide to cover a broader user base.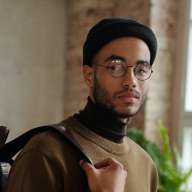 " I've been using LightNode's VPS for a few months now. It's been a smooth ride so far, no big issues or anything. Their customer service is pretty responsive too."
John Thompson
FAQ | Korea VPS
A South Korea VPS, particularly when powered by LightNode, can do numerous things to optimize your online operations. It allows you to host websites, run applications, and manage databases effectively due to its powerful, dedicated resources. Given its high-speed connectivity and localized server advantage, it provides faster access and better user experience to the targeted audience in Asia.

The pricing of a VPS is determined based on its configuration, with different configurations corresponding to different prices. These configurations include the number of CPU cores, the amount of RAM, the size of the storage space, among others. Additionally, some providers offer additional services such as image backups, which may come with extra costs.

To make your VPS more secure:

1. Keep software updated.

2. Use strong passwords and SSH key authentication.

3. Enable a firewall and limit unnecessary services.

4. Install security tools and monitor logs.

5. Regularly back up your data.

In brief, a dedicated server is a completely separate physical server with no resource sharing, while a VPS is created by virtualizing a single server into multiple virtual machines, allowing resource sharing with some level of isolation. Dedicated servers offer high performance but are more expensive, whereas VPS provides a cost-effective solution suitable for small to medium-sized websites and applications. The choice depends on specific needs, budget, and technical requirements.

The number of websites you can run on a VPS depends on the resources allocated to your server and the resource requirements of each website. For small websites, you can host multiple sites on a single VPS, but as complexity and traffic grow, you might need to allocate more resources or upgrade your plan. It's crucial to monitor resource usage and optimize your websites to improve performance.
Don't miss out on the best Korea VPS.
Embrace excellence with LightNode VPS - Unleashing the power of high-performance hosting!