Rent Cheap VPS Bangladesh Hosting Server
Best VPS Hosting Bangladesh. Buy High-quality BD server at an affordable price in LightNode.
High-quality Bangladesh VPS in LightNode
LightNode's Bangladesh VPS is a fast virtual server solution strategically located in Bangladesh to provide excellent service in the region. This powerful cloud server environment is designed to meet your web hosting needs, delivering excellent application performance and website speed. As a user, you get full control through root access, which enables you to customize the server configuration as per your needs. A standout feature of our Bangladesh VPS is the flexible hourly billing model that allows users to pay only for the resources they use. To simplify the process, we also offer a variety of payment options to make it easy for everyone to get started. Whether it's a personal blog or a complex business website, our Bangladesh VPS is designed to provide high-quality hosting solutions for all types of online projects.
Dedicated IP Address
Experience the benefits of a static IP address. Each of our VPS servers comes with its own unique IP.
Pre-installed Images
No more waiting for software installations. Our servers come with pre-installed application images for immediate use.
Multiple OS Options
With Multiple OS Options, we offer the flexibility to choose the perfect Linux or Windows image for your needs, ensuring a smooth and efficient operation.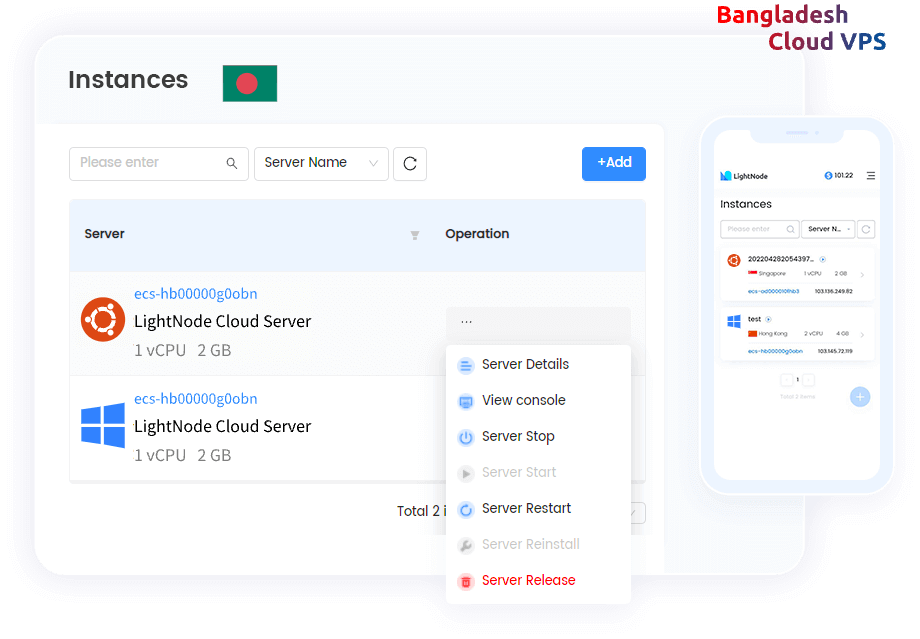 Dedicated IP Address
Pre-installed Images
Multiple OS Options
Connect. Deploy. Grow - Globally
Start deploying your High Performance Cloud VPS worldwide. Reduce latency, with our Cloud VPS located near your users and equipped with local BGP access.
Silicon Valley

Washington

Frankfurt

Istanbul

Riyadh

Dubai

Bangkok

Hanoi

Phnom Penh

Ho Chi Minh

Hong Kong

Taipei

Seoul

Johannesburg

Singapore

Manila

Dhaka

Sao Paulo

Jeddah

Tokyo

Cairo

Bahrain

Sofia

Athens

Kuala Lumpur

London

Muscat

Kuwait City

Marseille

Karachi

kathmandu

Moscow

Buenos Aires

Jakarta

Mexico City

Santiago

Yangon

Bogota

Baghdad
LightNode Worldwide Locations
0
700,000+
Cloud Servers Launched
More resources, less cost
Not only is it cheap, but it can give you up to $15 when you recharge for the first time.


Bangladesh VPS: Key Features and Why They Matter
Discover the potential of LightNode's Bangladesh VPS with great features that really matter. Our VPS offers comprehensive features designed to provide a smooth, reliable and efficient user experience. LightNode always strives to deliver exceptional VPS solutions, prioritizing quality, affordability and unwavering customer support. Find out how our key features make our Bangladesh VPS stand out amongst the vast array of cloud services.
Cost-effective
Experience great performance at a great price. Our VPS solutions offer excellent value for money.
Control Panel
Gain control over your VPS with our easy-to-use interface, offering features like performance metrics monitoring and power management.
Online Customer Service
We offer prompt, efficient online support to ensure that the issues you encounter are resolved without delay.
Hourly Billing
Our billing system operates on an hourly basis, giving you the flexibility to only pay for the time you use. Just release your VPS when you're finished, and the billing ends.
Custom Firewall
Take control of your VPS security. We provide you the ability to adjust your port settings as per your needs.
Multiple Payment Options
No matter where you are, our variety of payment methods, from credit cards to Alipay, Google Pay and PayPal, ensures that you can easily purchase our VPS services.
Trusted by over 50,000 customers all over the world
Leveraging our two-decade long experience in the IDC industry, our platform, LightNode, which was launched in 2021, has already served more than 50,000 customers across over 130 countries with over 700,000 cloud servers launched. Over the next three years, we aim to establish edge compute nodes in more than 100 countries worldwide to cover a broader user base.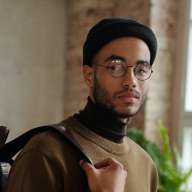 " I've been using LightNode's VPS for a few months now. It's been a smooth ride so far, no big issues or anything. Their customer service is pretty responsive too."
John Thompson
FAQ | Bangladesh VPS
To protect your VPS, there are several measures you can take, such as keeping your software and operating system up to date with security patches, using strong passwords and SSH keys, implementing a firewall, disabling unnecessary services, and backing up your data regularly.

First confirm whether the vps can be connected. After connecting to the VPS, you can install the software you want. If you want to run a website, you can choose a panel to use, so that many operations can be performed on the panel. No need to connect to the VPS anymore.

Yes, LightNode will provide a IP address to the VPS you purchase. You can also change them twice for free.

The best and cheapest VPS options can vary based on your specific needs and budget. It's essential to compare their plans, features, and customer reviews to find the best and most cost-effective VPS solution for your requirements.

No, a VPS does not hide your location. The location of the VPS server is still visible to the websites and services you access through it. However, using a VPS can help enhance your privacy and security, as your personal IP address is not directly exposed to the websites you visit.
Don't miss out on the best Bangladesh VPS.
Embrace excellence with LightNode VPS - Unleashing the power of high-performance hosting!