cPanel VPS Hosting - Affordable VPS Hosting with cPanel & WHM
Are you in search of budget-friendly VPS hosting featuring cPanel? Your search ends here! Introducing our state-of-the-art cPanel & WHM VPS hosting solution, meticulously crafted for webmasters, developers, and businesses in pursuit of an optimal blend of speed, adaptability, and authority.
cPanel VPS Hosting - User-friendly Web Hosting Control Panel
cPanel is a popular web hosting control panel that provides a user-friendly interface for managing websites and servers. LightNode offers a high-performance cPanel & WHMVPS with a pre-installed cPanel control panel, high-performance CPU (Intel, AMD optional) , and NVMe SSD storage.
Instant Provisioning
Boot quickly within 1 minute to respond to your large number of business needs.
Low Latency
With dedicated resources across the globe, multiple data center locations, and VPS servers, we ensure lightning-fast load times and low latency for your website visitors.
Easy-to-use graphical user interface
We offer Cloud VPS with pre-installed cPanel across more than 30 locations worldwide.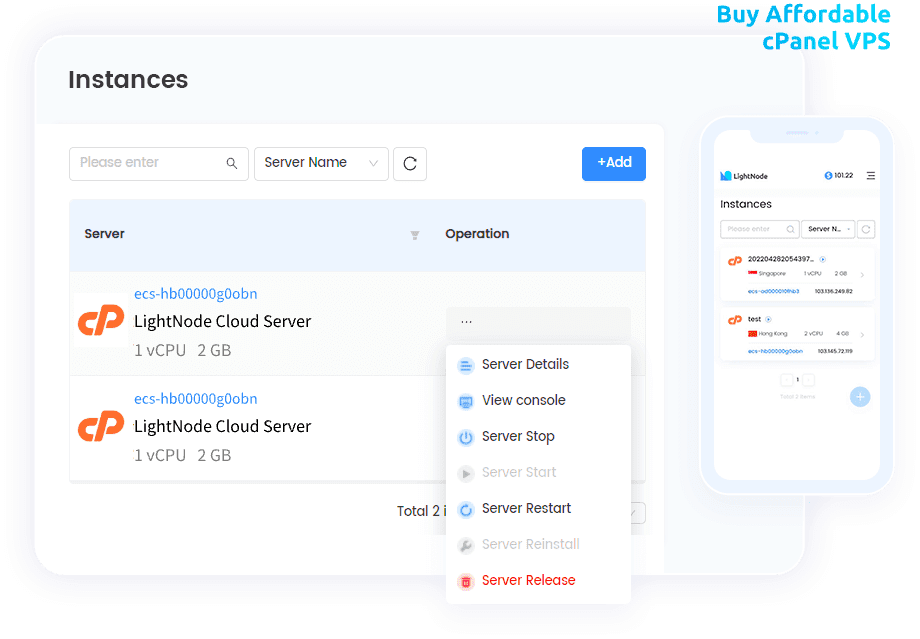 Instant Provisioning
Low Latency
Easy-to-use graphical user interface
Connect. Deploy. Grow - Globally
Start deploying your High Performance Cloud VPS worldwide. Reduce latency, with our Cloud VPS located near your users and equipped with local BGP access.
Silicon Valley

Washington

Frankfurt

Istanbul

Riyadh

Dubai

Bangkok

Hanoi

Phnom Penh

Ho Chi Minh

Hong Kong

Taipei

Seoul

Johannesburg

Singapore

Manila

Dhaka

Sao Paulo

Jeddah

Tokyo

Cairo

Bahrain

Sofia

Athens

Kuala Lumpur

London

Muscat

Kuwait City

Marseille

Karachi

kathmandu

Moscow

Buenos Aires

Jakarta

Mexico City

Santiago

Yangon

Japan
LightNode Worldwide Locations
0
700,000+
Cloud Servers Launched
More resources, less cost
Not only is it cheap, but it can give you up to $15 when you recharge for the first time.


Why buy cPanel VPS from LightNode?
LightNode's cPanel VPS is equipped with high-performance CPUs (Intel, AMD optional) and NVMe SSD storage to ensure high performance and fast data transfer. With 30+ data center VPS locations worldwide to choose from and an hourly billing payment model, you only pay for the number of hours you use and are not charged for idle time release, saving you money.
Built for cPanel
We have optimized our servers for cPanel. This way, you can get the full performance of your chosen server while running cPanel on it.
Highly scalable
Enjoy fast scalability according to your VPS needs. Upgrade and downgrade VPS plans in 1-2 minutes anytime.
Reliable performance
LightNode's cPanel VPS offers high-performance CPUs (Intel, AMD optional) and NVMe SSD storage to ensure that your workloads are handled smoothly and promptly.
Cost Saving
cPanel VPS has an hourly rate model that allows you to try out VPS in different locations at any time and save on business costs by not having to pay for idle time.
VPS Full Root Access
Full root access allows total control over your hosting environment, including custom installs and configuration with your virtual private server hosting.
30+ Locations
LightNode VPS is hosted in world-class data centers in over 30 locations worldwide. We let you decide from our many locations wherever is convenient.
Trusted by over 50,000 customers all over the world
Leveraging our two-decade long experience in the IDC industry, our platform, LightNode, which was launched in 2021, has already served more than 50,000 customers across over 130 countries with over 700,000 cloud servers launched. Over the next three years, we aim to establish edge compute nodes in more than 100 countries worldwide to cover a broader user base.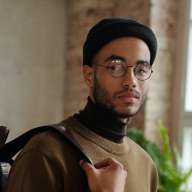 " I've been using LightNode's VPS for a few months now. It's been a smooth ride so far, no big issues or anything. Their customer service is pretty responsive too."
John Thompson
FAQ | cPanel & WHM VPS
cPanel stands out as a well-liked control panel for web hosting, furnishing a visual interface to oversee websites, domains, emails, databases, and various facets of hosting, streamlining server administration through its approachable tools and functionalities.

The term "cPanel VPS" denotes a VPS hosting setting merged with the cPanel control panel, amalgamating VPS advantages of dedicated resources and flexibility with cPanel's user-friendly convenience.

Windows VPS has 30+ data centers to choose from: USA(Silicon Valley, Washington)VPS, Germany VPS, Turkey VPS, Greece VPS, Bulgaria VPS, UK VPS, France VPS, Brazil VPS, Argentina VPS, Saudi Arabia VPS, Dubai VPS, Bahrain VPS, Oman VPS, Kuwait VPS, Japan VPS, Singapore VPS, South Korea VPS, Hong Kong VPS, Vietnam VPS, Cambodia VPS, Philippines VPS, Taiwan VPS, Thailand VPS, Bangladesh VPS, Malaysia VPS, Pakistan VPS, Indonesia VPS, Nepal VPS, South Africa VPS, Egypt VPS, Russia VPS, Mexico VPS, Chile Santiago VPS, Myanmar VPS

The significance of cPanel lies in its capacity to grant access to numerous hosting features and settings, obviating the requirement for technical expertise. cPanel empowers less tech-savvy users to oversee their hosting accounts encompassing websites, domains, emails, and more.

The distinction between managed VPS with cPanel and unmanaged VPS with cPanel lies in the level of administrative responsibility. Managed VPS with cPanel involves the hosting provider handling tasks such as server maintenance, security, updates, and technical support, allowing users to focus on their content. In contrast, with unmanaged VPS and cPanel, users are responsible for these tasks themselves, necessitating a higher degree of technical proficiency to ensure the server's proper functioning and security.

LightNode accepts a variety of payment methods, currently supported payment methods are: credit card, PayPal, Alipay, and Google Pay.
Don't miss out on the best cPanel & WHM VPS.
Embrace excellence with LightNode VPS - Unleashing the power of high-performance hosting!