South Africa VPS - KVM and NVMe SSD VPS in South Africa
We offer High Performance, NVMe SSD VPS in South Africa, Cheap South Africa Linux VPS hosting & Windows VPS hosting.
South Africa|100% NVMe SSD VPS in South Africa
South Africa VPS (Virtual Private Server) is a virtual server hosted in a South African datacenter that runs as a standalone virtual machine with its own operating system, resources, and network connectivity.LightNode's South Africa VPS datacenter is located in Johannesburg, South Africa, and offers 100% NVMe SSDs, Windows & Linux operating systems with pre-installed. Intel and AMD EPYC processors.
Pay by hourly billing
Pay only for the hours you use, cancel at any time, no contracts, and save on hosting costs.
High Performance
Our VPS servers are equipped with the latest Intel and AMD architectures, high-speed NVMe SSD storage and powerful infrastructure.
More traffic and storage space
With South Africa VPS you can always add more traffic and storage as your business dictates.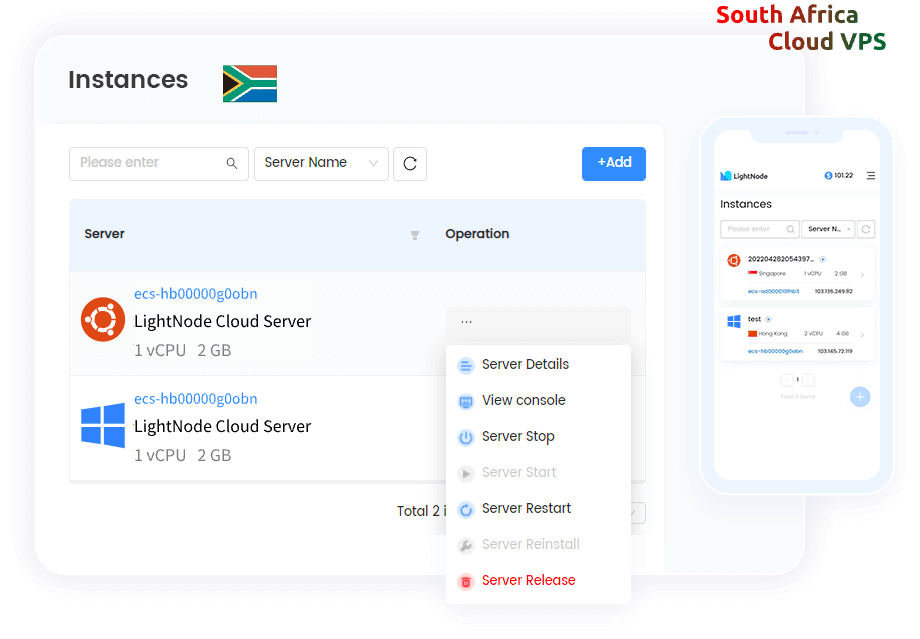 Pay by hourly billing
High Performance
More traffic and storage space
Connect. Deploy. Grow - Globally
Start deploying your High Performance Cloud VPS worldwide. Reduce latency, with our Cloud VPS located near your users and equipped with local BGP access.
Silicon Valley

Washington

Frankfurt

Istanbul

Riyadh

Dubai

Bangkok

Hanoi

Phnom Penh

Ho Chi Minh

Hong Kong

Taipei

Seoul

Johannesburg

Singapore

Manila

Dhaka

Sao Paulo

Jeddah

Tokyo

Cairo

Bahrain

Sofia

Athens

Kuala Lumpur

London

Muscat

Kuwait City

Marseille

Karachi

kathmandu

Moscow

Buenos Aires

Jakarta

Mexico City

Santiago

Yangon

Bogota

Baghdad
LightNode Worldwide Locations
0
700,000+
Cloud Servers Launched
More resources, less cost
Not only is it cheap, but it can give you up to $15 when you recharge for the first time.


Why buy South Africa VPS from LightNode?
LightNode's South Africa VPS connects to the major local carriers in Johannesburg, South Africa, providing ultra-low latency local access and local IPs, with easy coverage of the South African region. Provides high-performance CPU and NVMe SSD storage with KVM virtualization. Support Google Pay, Paypal, Alipay and other payment methods without any hidden fees.
Instant Setup And Delivery
After creating South Africa VPS, it will be available to you within 1 minute. The servers are sent out in automatic mode to provide instant access to server resources.
Scalability
Our South Africa VPS Server provides highly scalable resources that you can utilize to build your site and expand services and resources as your site needs more resources.
Cost Savings
For as low as $7.70 per month, South Africa VPS is hourly paid, so you can try out VPS in different locations whenever you want, and save on business costs by not having to pay for idle time.
Multiple pre-installed Application Images
South Africa VPS offers several pre-installed application images delivered in 2 minutes, such as CyberPanel, OpenLiteSpeed WordPress, Cloud Panel 2, cPanel &WHM 102.0.18, BT-Panel 7.7.0, WordPress 5.4. .2. BlueStacks VPS and more.
Simple and intuitive panel
Our client suite offers you a transparent method to pilot your South Africa VPS. With merely one click, you can oversee its operations, from monitoring performance to booting, shutting down, rebooting, reinstalling the system, to IP alterations and beyond.
VPS Full Root Access
Full root access allows total control over your hosting environment, including custom installs and configuration with your virtual private server hosting.
Trusted by over 50,000 customers all over the world
Leveraging our two-decade long experience in the IDC industry, our platform, LightNode, which was launched in 2021, has already served more than 50,000 customers across over 130 countries with over 700,000 cloud servers launched. Over the next three years, we aim to establish edge compute nodes in more than 100 countries worldwide to cover a broader user base.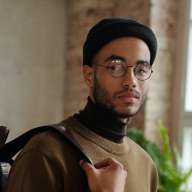 " I've been using LightNode's VPS for a few months now. It's been a smooth ride so far, no big issues or anything. Their customer service is pretty responsive too."
John Thompson
FAQ | South Africa VPS
South African VPS, provided by LightNode, is a virtual server hosted in a data center located in Johannesburg. It offers a reliable hosting environment with dedicated resources for websites, apps, and online services. With South African VPS, you get better performance and control, just like having your own mini-computer on the internet, tailored to serve users in South Africa and neighboring regions.

LightNode's South Africa VPS offers NVMe SSD storage. NVMe (Non-Volatile Memory Express) is a high-performance storage technology that provides faster data access and improved overall VPS performance. With NVMe SSD storage, users can experience reduced loading times, faster data transfers, and improved responsiveness for their websites, applications, and online services hosted on the South Africa VPS.

YES, LightNode's South Africa VPS offers cPanel &WHM 102.0.18Application Image, we have established a friendly relationship with the official cPanel panel, and constantly maintain and enhance the image of the cPanel panel in an effort to make our VPS the most suitable for the cPanel panel.

With LightNode's South Africa VPS, you can engage in forex trading with ease and confidence. Our reliable

Forex VPS

ensures stable and low-latency connections, providing an optimal environment for executing trades and accessing trading platforms. Whether you're a beginner or experienced trader, our VPS solutions offer the performance and security you need to succeed in the forex market.

With LightNode's South Africa VPS, you have the flexibility to choose from a variety of operating system images that come pre-installed. Whether you prefer Ubuntu, Debian, CentOS, Rocky Linux, FreeBSD, or even Windows, we've got you covered! This wide range of options allows you to pick the operating system that best suits your needs and preferences, making it easy to set up and run your VPS just the way you want it.

With LightNode's South Africa VPS, you get access to high-performance CPUs, with options to choose between Intel and AMD processors. These powerful CPUs ensure that your virtual server can handle demanding tasks and processes with ease. Whether you're running resource-intensive applications or need smooth performance for your websites, our VPS hosting with top-notch CPUs has you covered for a seamless and efficient experience.
Don't miss out on the best South Africa VPS.
Embrace excellence with LightNode VPS - Unleashing the power of high-performance hosting!