Buy MikroTik VPS Server - Best&Cheap MikroTik CHR VPS Hosting - RouterOS VPS
We offer MikroTik VPS with pre-installed MikroTik RouterOS, deploy your MikroTik VPS in 2 minutes with just one click. free certificate and only $7.71 per month.
MikroTik VPS Hosting - Using RouterOS on a VPS( CHR VPS )
Want your own router on a VPS? Want to set up a virtual router to provide network connectivity for multiple users? We offer MikroTik VPS, MikroTik VPS are virtual private servers that turn into MikroTik routers. Our MikroTik VPS comes pre-installed with MikroTik RouterOS, deploy your router on the cloud in less than 2 minutes with just one click. Free certificate and only $7.71 per month.
Low Latency, High Uptime
The 99.95% uptime of our MikroTik VPS ensures 24/7 availability, and local BGP offers low latency.
Instant Setup And Delivery
After creating MikroTik VPS, you can use it within 2 minutes. The server is sent in automatic mode to provide instant access to server resources.
MikroTik RouterOS Image pre-installed, Free License
Free pre-installation of MikroTik RouterOS Image without specialized skills.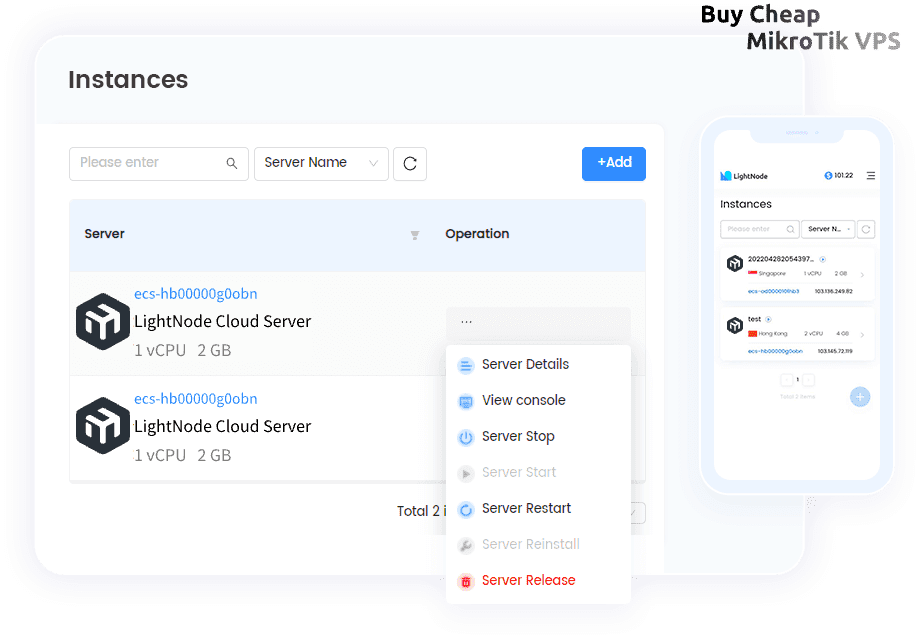 Low Latency, High Uptime
Instant Setup And Delivery
MikroTik RouterOS Image pre-installed, Free License
Connect. Deploy. Grow - Globally
Start deploying your High Performance Cloud VPS worldwide. Reduce latency, with our Cloud VPS located near your users and equipped with local BGP access.
Silicon Valley

Washington

Frankfurt

Istanbul

Riyadh

Dubai

Bangkok

Hanoi

Phnom Penh

Ho Chi Minh

Hong Kong

Taipei

Seoul

Johannesburg

Singapore

Manila

Dhaka

Sao Paulo

Jeddah

Tokyo

Cairo

Bahrain

Sofia

Athens

Kuala Lumpur

London

Muscat

Kuwait City

Marseille

Karachi

kathmandu

Moscow

Buenos Aires

Jakarta

Mexico City

Santiago

Yangon

Japan
LightNode Worldwide Locations
0
700,000+
Cloud Servers Launched
More resources, less cost
Not only is it cheap, but it can give you up to $15 when you recharge for the first time.


Why buy MikroTik VPS from LightNode?
LightNode offers MikroTik VPS with pre-installed free MikroTik RouterOS latest long-term version, deploy your router on VPS in 2 minutes with a single click. Our MikroTik VPS mention offers high-performance CPU (Intel, AMD optional) and NVMe SSD storage, with 30+ server locations worldwide to ensure ultra-low latency and high availability. Cheap and easy to use and only $7.71 per month with hourly payment model, release at idle time to save cost.
High-specification infrastructure
LightNode's MikroTik VPS offers high-performance CPUs (Intel, AMD optional) and NVMe SSD storage to ensure that your workloads are handled smoothly and promptly.
Dedicated IP Address
Our MikroTik VPS offers dedicated static IP addresses, which means that your VPS will always have the same IP identification. This helps to increase network reliability.
Pay by hourly billing
Cheap MikroTik VPS Hourly billing billing model, You only pay for the time you use it, save on hosting costs, can scale up or down your VPS as needed, have better control over your VPS, and can cancel your VPS at any time.
More traffic and storage space
With MikroTik VPS you can always add more traffic and storage as your business dictates.
Elastic Configuration
Our MikroTik VPS servers offer the flexibility to choose from various configurations, with the added advantage of upgrades whenever required.
IP Change
Experience the flexibility with our IP Change feature, allowing two free IP changes for every new machine to better serve your specific needs.
Trusted by over 50,000 customers all over the world
Leveraging our two-decade long experience in the IDC industry, our platform, LightNode, which was launched in 2021, has already served more than 50,000 customers across over 130 countries with over 700,000 cloud servers launched. Over the next three years, we aim to establish edge compute nodes in more than 100 countries worldwide to cover a broader user base.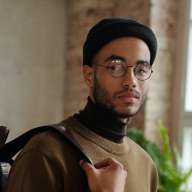 " I've been using LightNode's VPS for a few months now. It's been a smooth ride so far, no big issues or anything. Their customer service is pretty responsive too."
John Thompson
FAQ | MikroTik VPS
MikroTik VPS(MikroTik RouterOS VPS), functions as a virtual private server that's easily transformed into a router using MikroTik's specialized RouterOS software. However, its capabilities extend beyond this transformation. We've meticulously fine-tuned the server's resources to perfectly align with the operating system and its intended applications. Our MikroTik RouterOS VPS predominantly serves networking needs and arrives pre-installed for hassle-free utilization, eliminating the need for intricate technical configurations.

MikroTik is one of the industry's most popular hardware companies, producing a range of modems, routers, and even some server devices. Its routers were particularly popular for their unique operating system. After a while, MikroTik began releasing the operating system as standalone software called RouterOS. RouterOS basically allows you to convert any computer system into a MikroTik router device, providing useful but straightforward functionality. The MikroTik Cloud-Hosting Router (CHR) is a recently released version of RouterOS MikroTik.CHR is designed to run on clouds, virtual private servers (VPS), and virtual machines.

All LightNodea MikroTik VPS comes with a dedicated static IP, so you are the only user of that IP when you use our services. Privacy and security are guaranteed at the same time, all in one go. You will not be penalized if your neighbor breaks the rules.

Our MikroTik VPS comes pre-installed with the latest version of MikroTik RouterOS and you can deploy your MikroTik VPS in less than 2 minutes with just a single click.

Currently, MikroTik VPS is available in USA Washington server locations and will be available in all 30+ nodes in the future, including USA (Silicon Valley, Washington) VPS, Germany VPS, Turkey VPS, Greece VPS, Bulgaria VPS, UK VPS, France VPS, Brazil VPS, Argentina VPS, Saudi Arabia VPS, Dubai VPS, Bahrain VPS, Oman VPS, Kuwait VPS, Japan VPS, Singapore VPS, Korea VPS, Hong Kong VPS, Vietnam VPS, Cambodia VPS, Philippines VPS, Taiwan VPS, Thailand VPS, Bangladesh VPS, Malaysia VPS, Pakistan VPS, Indonesia VPS, Nepal VPS, South Africa VPS, Egypt VPS, Russia VPS, Mexico VPS, Santiago de Chile VPS, Myanmar VPS
Don't miss out on the best MikroTik VPS.
Embrace excellence with LightNode VPS - Unleashing the power of high-performance hosting!