Buy SSD VPS Germany Hosting in LightNode
Get a fast, high performance Dedicated Virtual Server in Germany. Best for Web Hosting,Application and Database Hosting.
Excellent Germany VPS Hosting
A German VPS (such as the one offered by LightNode) represents a virtual private server located in a German data center. This server solution is dedicated to providing users with exclusive sharing of server resources, thus improving performance consistency compared to shared hosting. Users have full control over their VPS through root access, allowing them to customize the server configuration to their specific needs. German VPS are strategically located for excellent, fast and low-latency connections, especially for users targeting European audiences. As such, it is an excellent choice for businesses and individuals who need reliable hosting for their websites, applications or other online platforms.
Elastic Configuration
Choose a server configuration that best suits your needs, with the freedom to upgrade at any time. We offer the flexibility you need.
Stable Performance
Experience reliable, Stable Performance with our VPS. We promise consistent operation to meet all your online needs.
Cost-Effective
Get more for less. Our VPS services deliver exceptional performance at an unbeatable price.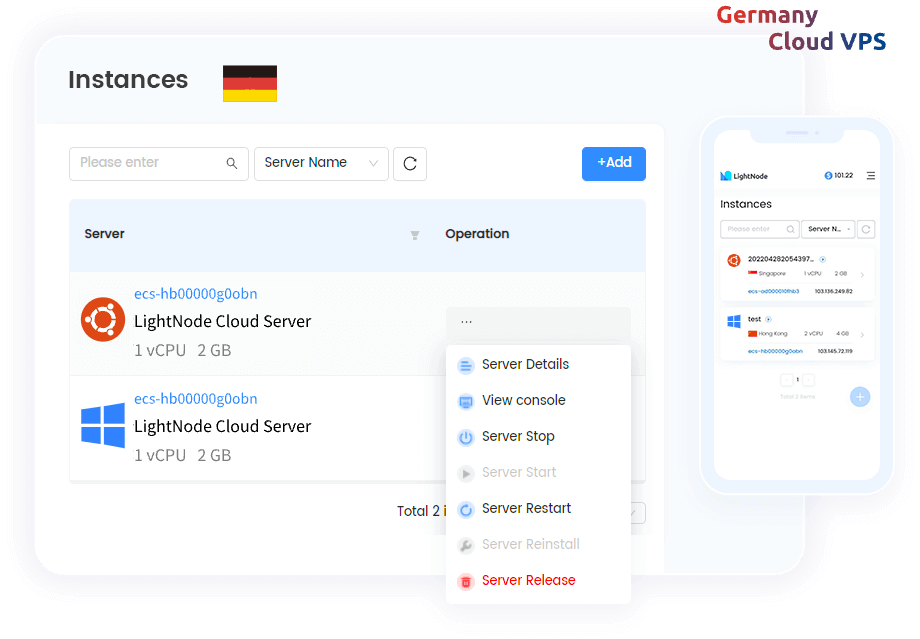 Elastic Configuration
Stable Performance
Cost-Effective
Connect. Deploy. Grow - Globally
Start deploying your High Performance Cloud VPS worldwide. Reduce latency, with our Cloud VPS located near your users and equipped with local BGP access.
Silicon Valley

Washington

Frankfurt

Istanbul

Riyadh

Dubai

Bangkok

Hanoi

Phnom Penh

Ho Chi Minh

Hong Kong

Taipei

Seoul

Johannesburg

Singapore

Manila

Dhaka

Sao Paulo

Jeddah

Tokyo

Cairo

Bahrain

Sofia

Athens

Kuala Lumpur

London

Muscat

Kuwait City

Marseille

Karachi

kathmandu

Moscow

Buenos Aires

Jakarta

Mexico City

Santiago

Yangon

Japan
LightNode Worldwide Locations
0
700,000+
Cloud Servers Launched
More resources, less cost
Not only is it cheap, but it can give you up to $15 when you recharge for the first time.


Revolutionize Your Workflow with Frankfurt VPS: Important Features
Discover how LightNode's Frankfurt VPS can transform your workflow. Offering powerful performance, scalability, and top-tier security, our VPS solutions have been carefully designed to meet your specific needs. LightNode's Frankfurt VPS is not just about running your operations smoothly, it's about helping you reach new heights in your online journey. Join us at LightNode and empower your digital endeavors with our dependable VPS service.
Dedicated IP Address
Enjoy the advantage of a unique IP address with each server. This ensures a stable and reliable connection for all your needs.
Pre-installed Images
With our pre-installed application images, your server is ready for immediate use. Get started as soon as you complete your purchase.
Multiple OS Options
Adapt to your evolving needs with our Multiple OS Options. Choose from a variety of Linux and Windows images, or even application-specific images.
Cost-effective
Invest in a VPS solution that offers high performance at a cost-effective price. With us, you get the best of both worlds.
Control Panel
Manage your VPS effortlessly with our intuitive interface, where you can perform fundamental tasks like checking server stats and managing power states.
Online Customer Service
We're here for you when you need us. Our online support team is ready to assist and answer your queries.
Trusted by over 50,000 customers all over the world
Leveraging our two-decade long experience in the IDC industry, our platform, LightNode, which was launched in 2021, has already served more than 50,000 customers across over 130 countries with over 700,000 cloud servers launched. Over the next three years, we aim to establish edge compute nodes in more than 100 countries worldwide to cover a broader user base.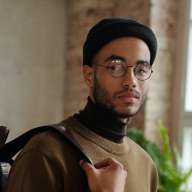 " I've been using LightNode's VPS for a few months now. It's been a smooth ride so far, no big issues or anything. Their customer service is pretty responsive too."
John Thompson
FAQ | Germany VPS
Yes, you can install SSL certificates on a VPS to enable secure HTTPS connections for your websites and applications.Installing an SSL certificate on your VPS ensures that the data transmitted between your server and users' browsers is encrypted, enhancing the security and trustworthiness of your online services.

Benefits of LightNode Windows VPS:

1. Windows application compatibility.

2. Easy remote access with Remote Desktop tool.

3. Familiar user interface.

With LightNode Windows VPS, you don't need to set up. Wait for a few minutes than you can connect to the Windows VPS.

1. Choose and purchase a VPS hosting plan.

2. Connect to your VPS with SSH tools.

3. Install the software you want to run.

A VPS (Virtual Private Server) works by virtualizing a single physical server into multiple virtual machines. Each VPS operates independently with its own operating system, resources, and network connectivity.

1. Dedicated resources.

2. Customization and control over the server.

3. Scalability as the website grows.

4. Isolation for improved security and stability.

5. Root access for administrative control.
Don't miss out on the best Germany VPS.
Embrace excellence with LightNode VPS - Unleashing the power of high-performance hosting!