Cheap Japan VPS Hosting Solution in LightNode
Select Japan VPS hosting plan that best fits your requirements at an affordable price, with minimal latency to Japan.
Full Root Access Japan VPS
A Japan VPS, such as those offered by LightNode, is a Virtual Private Server located in Japan. It provides users with a dedicated portion of a physical server's resources, ensuring consistent performance and higher reliability compared to shared hosting. Users enjoy full root access, giving them the ability to configure the server to their exact needs. The location in Japan offers lower latency and faster connection speeds for users targeting audiences in Japan and other nearby regions in Asia. This makes it an excellent choice for businesses and individuals looking to host their websites, applications, or other online services.
Self-Reboot
Skip the command line and restart your VPS directly from our user-friendly dashboard with the self-reboot feature.
Rapid Deployment
Enjoy minimal wait times with our efficient server deployment. We usually have your server ready within a few minutes.
Elastic Configuration
Our server configurations are flexible, ensuring you can adapt to changing requirements and upgrade whenever necessary.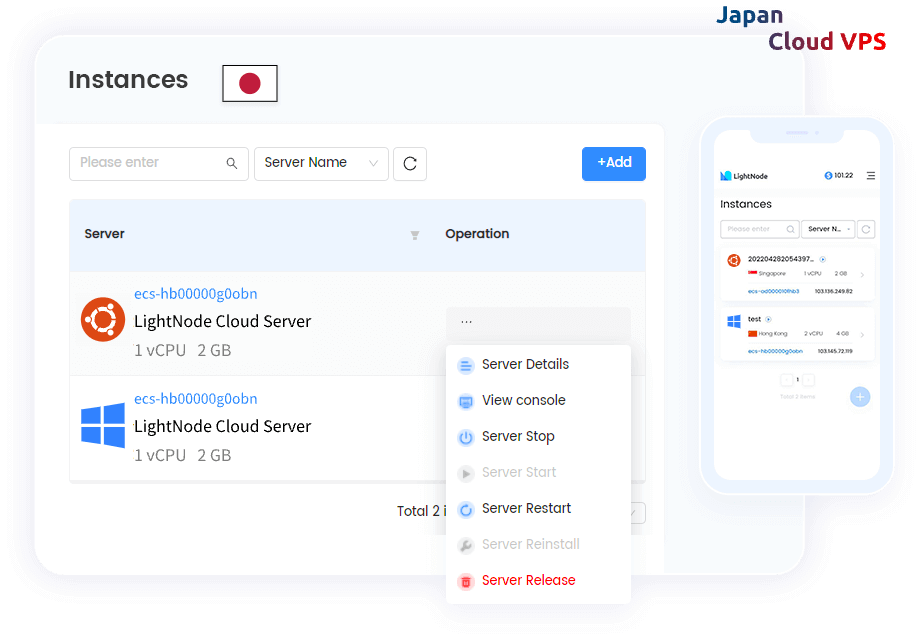 Self-Reboot
Rapid Deployment
Elastic Configuration
Connect. Deploy. Grow - Globally
Start deploying your High Performance Cloud VPS worldwide. Reduce latency, with our Cloud VPS located near your users and equipped with local BGP access.
Silicon Valley

Washington

Frankfurt

Istanbul

Riyadh

Dubai

Bangkok

Hanoi

Phnom Penh

Ho Chi Minh

Hong Kong

Taipei

Seoul

Johannesburg

Singapore

Manila

Dhaka

Sao Paulo

Jeddah

Tokyo

Cairo

Bahrain

Sofia

Athens

Kuala Lumpur

London

Muscat

Kuwait City

Marseille

Karachi

kathmandu

Moscow

Buenos Aires

Jakarta

Mexico City

Santiago

Yangon

Japan
LightNode Worldwide Locations
0
700,000+
Cloud Servers Launched
More resources, less cost
Not only is it cheap, but it can give you up to $15 when you recharge for the first time.


Unlock the Power of Tokyo VPS: Core Features Breakdown
Discover the true potential of VPS solutions with LightNode's Tokyo VPS. Our top-tier service seamlessly combines powerful functionalities, efficient performance, and intuitive interfaces to deliver an unparalleled hosting experience. Each feature has been meticulously designed to meet the diverse needs of our global clientele, ensuring high uptime, scalability, and robust security measures. With LightNode, you unlock access to a reliable and cost-effective VPS hosting platform, where every feature is crafted to facilitate your digital transformation journey. Choose LightNode's Tokyo VPS today and experience a hosting solution that's as dynamic and versatile as your online aspirations.
Stable Performance
Our VPS services are designed for Stable Performance. Rely on us for consistent and smooth operation.
Cost-Effective
Our VPS services provide superior performance that suits your budget. Excellent value without compromising on quality.
Dedicated IP Address
Experience the peace of mind that comes with a unique IP address for each server, ensuring reliable and secure connections.
Pre-installed Images
Our servers come with ready-to-use application images, allowing you to start working immediately after your purchase.
Multiple OS Options
With our Multiple OS Options, you have the flexibility to choose the environment that suits your needs best, whether it's various Linux or Windows images, or application-specific ones.
Cost-effective
Get the most value for your money. Our VPS solutions provide outstanding performance at an affordable price.
Trusted by over 50,000 customers all over the world
Leveraging our two-decade long experience in the IDC industry, our platform, LightNode, which was launched in 2021, has already served more than 50,000 customers across over 130 countries with over 700,000 cloud servers launched. Over the next three years, we aim to establish edge compute nodes in more than 100 countries worldwide to cover a broader user base.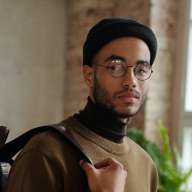 " I've been using LightNode's VPS for a few months now. It's been a smooth ride so far, no big issues or anything. Their customer service is pretty responsive too."
John Thompson
FAQ | Japan VPS
Sure. VPS is great for development and testing, offering an isolated environment to work on projects and experiment without impacting production servers. It provides dedicated resources and flexibility for developers' needs.

The advantage of VPS (Virtual Private Server) is that it provides dedicated resources, increased performance, better scalability, and greater control over the server environment compared to shared hosting.

If you just run a small business, you need $7.7/mo to cost on the VPS in LIghtNode.

A Android VPS is a Virtual Private Server that can run Android APPs, providing a server environment for test Android applications.

Windows VPS has a graphical interface and is easy to operate. If you use a Windows computer before, you will feel no strangeness in using it. Windows is the most popular operating system in the world, and many software adaptations are done very well, which is more suitable for running new projects.

You mat have a try on LightNode VPS server. Our fast and cheap VPS hosting will help your business succeed.
Don't miss out on the best Japan VPS.
Embrace excellence with LightNode VPS - Unleashing the power of high-performance hosting!