Best And Cheap VPS Chile Hosting Server
Many businesses turn to VPS hosting for their needs. This is especially true in Chile, a nation that is rapidly embracing digital transformation.
Cheap VPS Hosting Chile 2023
Explore the best and most affordable VPS Chile hosting server with LightNode. Our services stand out for their premium quality, extraordinary speed, and robust security, all at a pocket-friendly price. We ensure superior performance with our NVMe SSD storage, providing faster and more reliable data transfer. With hourly billing, you only pay for the exact time your server is active, making it incredibly cost-effective.
Hourly Billing
Take control of your billing with our hourly charges. If you no longer need your VPS, simply release it and the billing stops.
Custom Firewall
We offer the ability to manage your port settings, allowing you to maximize your VPS' security.
Multiple Payment Options
Our platform offers an array of payment methods for your convenience. Pay via credit card, Alipay, Google Pay or PayPal - the choice is yours.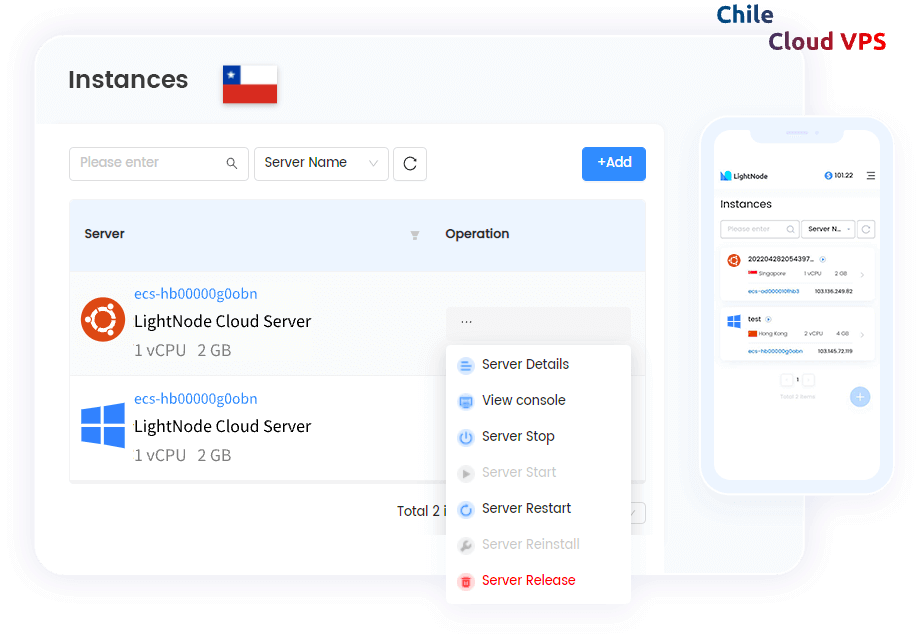 Hourly Billing
Custom Firewall
Multiple Payment Options
Connect. Deploy. Grow - Globally
Start deploying your High Performance Cloud VPS worldwide. Reduce latency, with our Cloud VPS located near your users and equipped with local BGP access.
Silicon Valley

Washington

Frankfurt

Istanbul

Riyadh

Dubai

Bangkok

Hanoi

Phnom Penh

Ho Chi Minh

Hong Kong

Taipei

Seoul

Johannesburg

Singapore

Manila

Dhaka

Sao Paulo

Jeddah

Tokyo

Cairo

Bahrain

Sofia

Athens

Kuala Lumpur

London

Muscat

Kuwait City

Marseille

Karachi

kathmandu

Moscow

Buenos Aires

Jakarta

Mexico City

Santiago

Yangon

Japan
LightNode Worldwide Locations
0
700,000+
Cloud Servers Launched
More resources, less cost
Not only is it cheap, but it can give you up to $15 when you recharge for the first time.


Understanding the Features of Chile VPS
LightNode's Chile VPS is designed to provide a fast and flexible solution for your online needs. It comes with fast SSD storage, pre-installed operating system and application images for instant use, and full root access for complete control.
Uptime Guarantee
Enjoy near-perfect operation times with our 99.9% uptime commitment, ensuring your business runs smoothly without any interruptions.
IP Change
Our service stands out with its flexibility, including our IP Change feature that provides two free IP switches for every new machine.
Transparent Pricing
Our pricing is fully transparent and fair. We employ an hourly billing system, ensuring that you never face any hidden costs or charges.
KVM Virtualization
With KVM Virtualization, our VPS services offer high performance and strong isolation, allowing you to focus on your business growth.
SSD Storage
Our VPS ensures rapid data access and improved performance, thanks to the use of NVMe SSD storage.
Self-Reboot
Manage your VPS effortlessly with our self-reboot feature. No need to struggle with command line, simply restart your server from our dashboard.
Trusted by over 50,000 customers all over the world
Leveraging our two-decade long experience in the IDC industry, our platform, LightNode, which was launched in 2021, has already served more than 50,000 customers across over 130 countries with over 700,000 cloud servers launched. Over the next three years, we aim to establish edge compute nodes in more than 100 countries worldwide to cover a broader user base.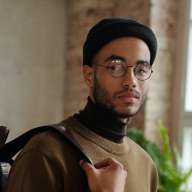 " I've been using LightNode's VPS for a few months now. It's been a smooth ride so far, no big issues or anything. Their customer service is pretty responsive too."
John Thompson
FAQ | Chile VPS
A Chile VPS from LightNode can host websites, run applications, store data, and much more. With full root access, users have the power to configure and customize the server to their needs. Its proximity to South American users can provide faster loading times, improved SEO, and better user experience.

While a VPS can operate and process data without an internet connection, accessing it remotely requires internet. So, practically, a VPS needs an internet connection for you to utilize its features effectively.

A Chile VPS, unlike a standard server, is cost-efficient, scalable, and grants users full control over their virtual environments. Plus, it's located in Chile, providing a better connection for users in South America. A server means a physical server machine.

Hourly billing VPS in Chile refers to a billing model where you are charged for the exact amount of time your VPS server is operational. This provides flexibility and cost efficiency, as you only pay for the server resources you actually use.

The difference between NVMe SSD VPS and HDD VPS lies in the type of storage device used. NVMe SSD VPS is significantly faster and more reliable than traditional Hard Disk Drives (HDD) used in HDD VPS. This results in faster data transfer, improved server performance, and better overall user experience.

Yes, you can host a database on a Chile VPS. A VPS provides the necessary resources and control to set up and run a database server, just like any other VPS in different locations. As long as the VPS meets the requirements for the database software you want to use, you can use it for hosting databases.
Don't miss out on the best Chile VPS.
Embrace excellence with LightNode VPS - Unleashing the power of high-performance hosting!