High-Performance Dubai VPS Hosting Server in LightNode
VPS Dubai delivers cheap hosting services with advanced features for power users. Get started today and experience the difference.
Powerful Dubai VPS in LightNode
Dubai VPS by LightNode is your gateway to enhanced online performance and productivity. Housed in the thriving tech hub of Dubai, our VPS services provide you with top-tier resources that are key to your online growth. One standout feature is our SSD storage, which ensures your data is handled with impressive speed. Additionally, LightNode's Dubai VPS services go beyond just provision of resources; we offer a warm welcome to new users with bonus credit upon registration. Moreover, you can earn extra credit through our Affiliate (Aff) program by inviting other users. This makes our Dubai VPS not only a powerhouse of performance but also a platform that's cost-effective and rewards user participation.
Control Panel
Enjoy a hassle-free VPS management experience with our user-friendly platform. Check your server's performance or manage power settings effortlessly.
Online Customer Service
Our dedicated online support is readily available to assist you, ensuring your VPS runs smoothly at all times.
Hourly Billing
Enjoy the flexibility of only paying for the hours you use. Release the VPS when it's no longer needed, and the billing stops.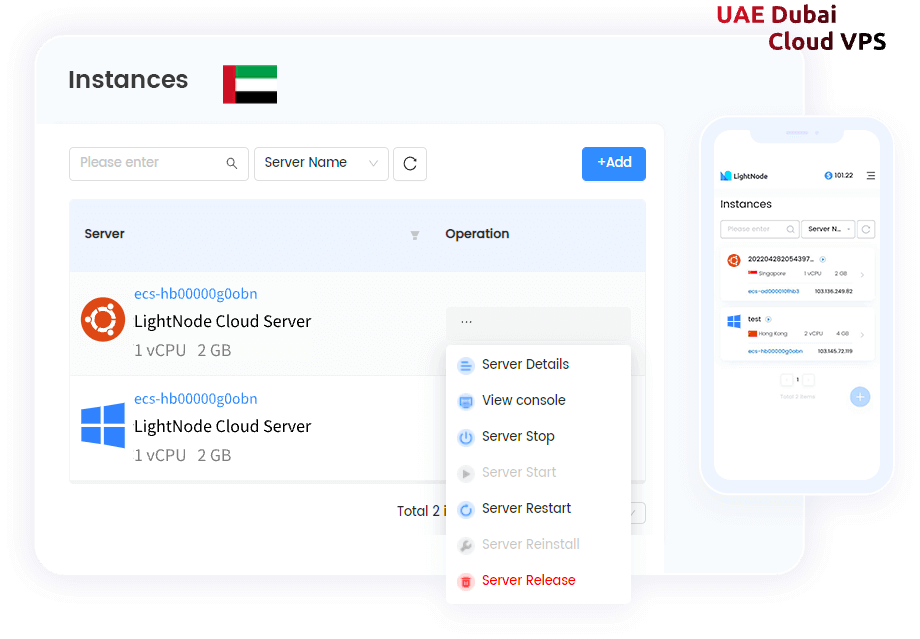 Control Panel
Online Customer Service
Hourly Billing
Connect. Deploy. Grow - Globally
Start deploying your High Performance Cloud VPS worldwide. Reduce latency, with our Cloud VPS located near your users and equipped with local BGP access.
Silicon Valley

Washington

Frankfurt

Istanbul

Riyadh

Dubai

Bangkok

Hanoi

Phnom Penh

Ho Chi Minh

Hong Kong

Taipei

Seoul

Johannesburg

Singapore

Manila

Dhaka

Sao Paulo

Jeddah

Tokyo

Cairo

Bahrain

Sofia

Athens

Kuala Lumpur

London

Muscat

Kuwait City

Marseille

Karachi

kathmandu

Moscow

Buenos Aires

Jakarta

Mexico City

Santiago

Yangon

Japan
LightNode Worldwide Locations
0
700,000+
Cloud Servers Launched
More resources, less cost
Not only is it cheap, but it can give you up to $15 when you recharge for the first time.


Feature-Focused: Why Choose Dubai VPS in LightNode
Unlock the potential of your Dubai VPS: An in-depth look at LightNode's key features. Learn how our Dubai VPS can help enhance your Internet operations by providing access to a wide range of user-centric features. From customizable firewalls and multiple operating system options to best-in-class performance and cost-effectiveness, learn why LightNode's Dubai VPS is the smart choice for your hosting needs.
Custom Firewall
Manage your VPS' security your way. We provide the option to adjust your port settings as per your needs.
Multiple Payment Options
We offer an extensive range of payment options including credit cards, Alipay, Google Pay and PayPal, providing you with the freedom to choose the most suitable one.
Uptime Guarantee
We understand the importance of reliability, that's why we commit to a 99.9% uptime, ensuring that your business runs smoothly round the clock.
IP Change
Never feel locked in! Our IP Change option allows two free IP switches on each new machine, offering you adaptability and control.
Transparent Pricing
We believe in full transparency when it comes to pricing, ensuring no hidden fees or secondary charges, with an hourly billing model for your convenience.
KVM Virtualization
Experience the benefits of KVM Virtualization with our VPS solutions. Enjoy dedicated resources, enhanced performance, and unparalleled isolation.
Trusted by over 50,000 customers all over the world
Leveraging our two-decade long experience in the IDC industry, our platform, LightNode, which was launched in 2021, has already served more than 50,000 customers across over 130 countries with over 700,000 cloud servers launched. Over the next three years, we aim to establish edge compute nodes in more than 100 countries worldwide to cover a broader user base.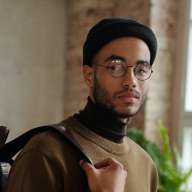 " I've been using LightNode's VPS for a few months now. It's been a smooth ride so far, no big issues or anything. Their customer service is pretty responsive too."
John Thompson
FAQ | Dubai VPS
In LightNode, we provide a dashboard to monitor the basic performance of your VPS server. You can monitor the usage of CPU and storages.

Yes, LightNode VPS provide an IP address for every VPS hosting server. Besides, you can change the IP twice for free. Try it now.

You would need a VPS (Virtual Private Server) for dedicated resources, better performance, customization, control, and scalability compared to shared hosting. It's suitable for hosting websites, applications, and services with specific requirements.

LightNode VPS servers are billed hourly. The lowest price is $0.012/hour. You can use it out of the box. For newly registered users, we also have a mystery gift.

Yes, you can install a GUI on a VPS if the operating system supports it. If you prefer a GUI for easier management, you can install desktop environments like GNOME or XFCE on Linux-based VPS instances. Keep in mind that using a GUI may consume more resources compared to a command-line interface.

Types of VPS:

1. Unmanaged VPS: Complete control but self-managed.

2. Managed VPS: Hosting provider manages the server.

3. Windows VPS: Runs on Windows OS.

4. Linux VPS: Runs on Linux OS.
Don't miss out on the best Dubai VPS.
Embrace excellence with LightNode VPS - Unleashing the power of high-performance hosting!