LightNode Vietnam VPS Hosting in Hanoi
The cheapest and most cost effective high quality Vietnam VPS is on LightNode! The machine room is located in Hanoi, Vietnam, covering the surrounding Southeast Asian countries to meet your business needs.
Most cost-effective Vietnam VPS
LightNode has independent computer rooms in Hanoi and Ho Chi Minh City, Vietnam, providing high-quality Vietnamese VPS, independent Vietnam servers and web hosting services. LightNode Vietnam VPS image supports regular Linux systems, and can be installed for free Windows systems, including Windows 10, Windows Server 2012 Standard Edition, 2016, 2019, etc. LightNode currently supports PayPal, Google pay, Ali pay and credit card payments.
Set Up in Minutes
With a balance in your account, you can install the server in less than 2 minutes.
Online Customer Service
You can count on our customer service team to be online at all times, available through support tickets, live assistance, or email to tackle any challenges that arise while deploying your VPS.
Cost-Effective
Our Vietnam VPS hosting offers a cost-effective avenue, ensuring that you receive premium service. Think of it as a valuable investment for your website's upward trajectory.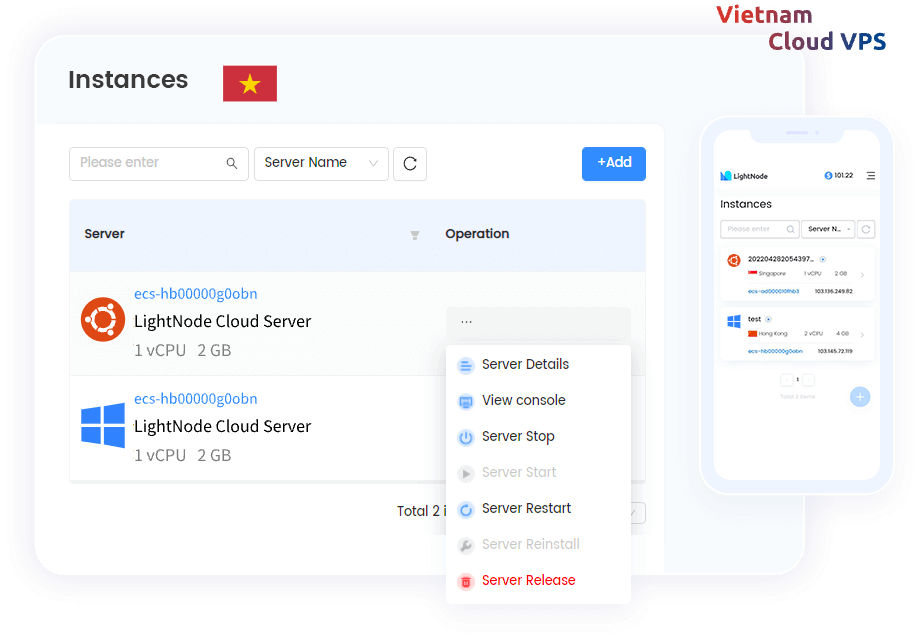 Set Up in Minutes
Online Customer Service
Cost-Effective
Connect. Deploy. Grow - Globally
Start deploying your High Performance Cloud VPS worldwide. Reduce latency, with our Cloud VPS located near your users and equipped with local BGP access.
Silicon Valley

Washington

Frankfurt

Istanbul

Riyadh

Dubai

Bangkok

Hanoi

Phnom Penh

Ho Chi Minh

Hong Kong

Taipei

Seoul

Johannesburg

Singapore

Manila

Dhaka

Sao Paulo

Jeddah

Tokyo

Cairo

Bahrain

Sofia

Athens

Kuala Lumpur

London

Muscat

Kuwait City

Marseille

Karachi

kathmandu

Moscow

Buenos Aires

Jakarta

Mexico City

Santiago

Yangon

Bogota

Baghdad
LightNode Worldwide Locations
0
700,000+
Cloud Servers Launched
More resources, less cost
Not only is it cheap, but it can give you up to $15 when you recharge for the first time.


Why choose LightNode's Vietnam VPS?
LightNode's Vietnamese VPS offers high performance cpu and NVMe SSD storage with KVM virtualization. Connects with major local operators in Vietnam to provide ultra-low latency local access in Hanoi and Ho Chi Minh City, Vietnam. Supports multiple payment methods with no hidden fees. It is affordable and offers high reliability and 99.95% uptime.
Super Fast Storage
For every VPS we deploy around the world, we ensure the inclusion of high-performance NVMe SSD storage that meets enterprise benchmarks.
Hourly Billing
Hourly billing is a feature of LightNode Vietnam VPS hosting, granting you the ability to pay incrementally and sample our various app snapshots.
Vietnam Local IP
Our server infrastructure extends to over 30 countries on five continents. All our Vietnam VPSs are assigned local static IPs for prompt access to regional applications and websites.
Simple and intuitive panel
Utilizing our client interface, you can effortlessly administer your Vietnam VPS. One click enables you to gauge performance, turn on, turn off, restart the server, reinitialize the system, alter the IP, among other functions.
Reliable Servers
Through strategic partnerships with local carriers, our Vietnam VPS promises a reliable, low-latency local experience for seamless business operations.
Low Latency, High Uptime
Enjoy seamless 24/7 access with our VPS, having a 99.95% uptime, and quick response times via local BGP.
Trusted by over 50,000 customers all over the world
Leveraging our two-decade long experience in the IDC industry, our platform, LightNode, which was launched in 2021, has already served more than 50,000 customers across over 130 countries with over 700,000 cloud servers launched. Over the next three years, we aim to establish edge compute nodes in more than 100 countries worldwide to cover a broader user base.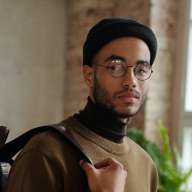 " I've been using LightNode's VPS for a few months now. It's been a smooth ride so far, no big issues or anything. Their customer service is pretty responsive too."
John Thompson
FAQ | Vietnam Hanoi VPS
Without a doubt, LightNode ensures every VPS server has its own static IP, which guarantees you're the lone user of that IP when you're on our service. This setup provides you with total command over your online privacy and undertakings, unhindered by any unusual usage from other individuals.

LightNode VPS is compatible with an array of operating system versions, encompassing Windows, Linux, Ubuntu, Debian, CentOS, FreeBSD, Rocky Linux, AlmaLinux, and Arch Linux.

LightNode VPS supports application images such as CyberPanel, OpenLiteSpeed Wordpress, Cloud Panel 2, cPanel & WHM, BT-Panel, Wordpress 5.4.2,

BlueStacks

, Utunnel, and

MikroTik CHR

.

Vietnam VPS is available for purchase through a selection of convenient payment methods like Google Pay, PayPal, Alipay, and credit card. With the 'Customer Control Panel', managing and making payments has never been easier.

We currently have a number of different configurations of VPS plans, you can choose the right plan for your business needs. If you need to upgrade your current VPS plan, simply log into your account dashboard and select the plan you need to upgrade your purchase. The upgrade period will not cause any trouble as well as downtime.

At LightNode, we pride ourselves on rapid VPS host delivery, taking merely 1-2 minutes. As soon as your server is set up, you'll receive an email at the address associated with your LightNode account, detailing the server's password and other relevant data. And if you wish, the console's server details area lets you reset that password.
Don't miss out on the best Vietnam Hanoi VPS.
Embrace excellence with LightNode VPS - Unleashing the power of high-performance hosting!