LightNode Saudi Arabia VPS Hosting in Jeddah
Jeddah, a port city in the Saudi Arabian province of Mecca, is the economic center of Saudi Arabia and the wealthiest city in the Middle East and West Asia. If you want to deploy VPS hosts in Jeddah, the first choice is LightNode's data center in Jeddah, Saudi Arabia.
Best Saudi Arabia VPS in Jeddah
Saudi Arabia is increasingly encouraging the development of the private sector to reduce the country's dependence on oil exports, which creates many jobs. Select LightNode to deploy VPS hosts in the Jeddah data center in Saudi Arabia for low latency, high performance host support. We have a static ip in Saudi Arabia, 24-hour customer support and a worry-free refund policy to provide stability for your business.
Hourly Billing
LightNode Saudi Arabia VPS hosting emphasizes flexible billing by the hour, affording you the opportunity to only pay for what you use and dive into our collection of application images.
Multiple Images Available
We offer system images for all major Linux distributions, all major Windows versions, and a wide range of one-click rapid deployment application images.
Saudi Arabia Local IP
Our global server footprint covers over 30 countries across five major continents. Local static IPs are a standard for our Saudi Arabia VPS, ensuring quick connectivity to local web services and applications.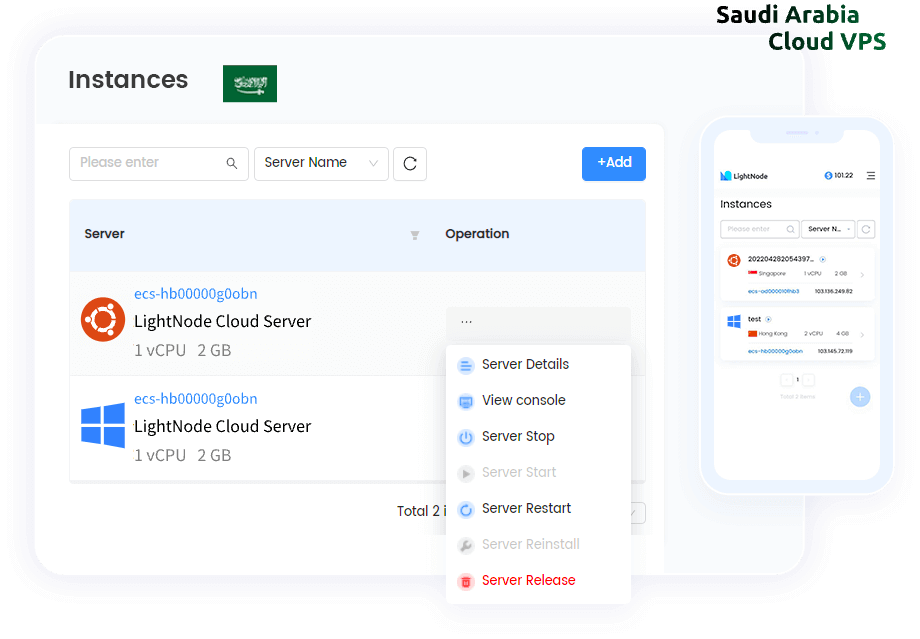 Hourly Billing
Multiple Images Available
Saudi Arabia Local IP
Connect. Deploy. Grow - Globally
Start deploying your High Performance Cloud VPS worldwide. Reduce latency, with our Cloud VPS located near your users and equipped with local BGP access.
Silicon Valley

Washington

Frankfurt

Istanbul

Riyadh

Dubai

Bangkok

Hanoi

Phnom Penh

Ho Chi Minh

Hong Kong

Taipei

Seoul

Johannesburg

Singapore

Manila

Dhaka

Sao Paulo

Jeddah

Tokyo

Cairo

Bahrain

Sofia

Athens

Kuala Lumpur

London

Muscat

Kuwait City

Marseille

Karachi

kathmandu

Moscow

Buenos Aires

Jakarta

Mexico City

Santiago

Yangon

Bogota

Baghdad
LightNode Worldwide Locations
0
700,000+
Cloud Servers Launched
More resources, less cost
Not only is it cheap, but it can give you up to $15 when you recharge for the first time.


Why choose LightNode' Saudi Arabia VPS?
LightNode's Saudi Arabia VPS data center is located in Jeddah, Saudi Arabia, and is connected to major local operators in Jeddah, providing ultra-low latency local access and local IP in Saudi Arabia. The business scope easily covers the Arabian Peninsula region. Provides high-performance cpu and NVMe SSD storage with KVM virtualization. Support a variety of payment methods, such as Google Pay, Paypal, Alipay, pay by the hour, easy refund. It is affordable and offers high reliability and 99.95% uptime. Customer service 24 hours online response, for your VPS business to provide the strongest technical support.
Simple and intuitive panel
Manage your Saudi Arabia VPS effortlessly through our client panel. With a single click, you can monitor its performance, power it on or off, reboot, reinstall its OS, switch IP, and more.
KVM virtualization
Harnessing the power of KVM virtualization, LightNode's VPS solutions provide a stable and isolated environment, ensuring consistent performance and dedicated resources.
Super Fast Storage
We consistently ensure that each of our VPS solutions, available globally, is backed by robust enterprise-standard NVMe SSD storage for optimal performance.
Reliable Servers
Rely on our Saudi Arabia VPS, backed by local carrier partnerships, to provide consistent, low-latency access, ensuring your business continuity.
Online Customer Service
Our customer care team is on standby 24/7, ensuring you can reach them via ticketing, online support, or email to address any concerns when setting up your VPS.
Cost-Effective
With our VPS hosting in Saudi Arabia, you're not only saving money but also ensuring top-notch service. This choice is a step forward for your website's steady expansion.
Trusted by over 50,000 customers all over the world
Leveraging our two-decade long experience in the IDC industry, our platform, LightNode, which was launched in 2021, has already served more than 50,000 customers across over 130 countries with over 700,000 cloud servers launched. Over the next three years, we aim to establish edge compute nodes in more than 100 countries worldwide to cover a broader user base.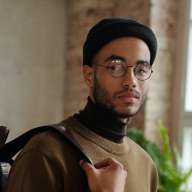 " I've been using LightNode's VPS for a few months now. It's been a smooth ride so far, no big issues or anything. Their customer service is pretty responsive too."
John Thompson
FAQ | Saudi Arabia Jeddah VPS
Operating systems ranging from Windows, Linux, Ubuntu, to Debian, CentOS, FreeBSD, Rocky Linux, AlmaLinux, and Arch Linux find their support on LightNode VPS.

Certainly, LightNode's Saudi Arabia VPS Hosting each boast a unique static IP, which affirms you as the singular user of that IP when availing our services. This not only guarantees you utmost control over your online privacy but also ensures you're insulated from any adverse effects of other users' atypical activities.

LightNode VPS offers support for several application images, notably CyberPanel, OpenLiteSpeed Wordpress, Cloud Panel 2, cPanel & WHM, BT-Panel, Wordpress 5.4.2,

BlueStacks

, Utunnel, and

MikroTik RouterOS 6&7

.

LightNode's Saudi Arabia VPS hosts can be delivered in 1-2 minutes. Once your server is up and running, the system will automatically email the server's password and relevant details to the address registered with your LightNode account. Remember, the console's server details segment offers a password reset feature.

Both Jeddah and Riyadh are important cities in Saudi Arabia. Choosing any of the nodes will serve the needs of Saudi Arabian users visiting well. However, if your users are mainly closer to one of the cities, you can choose a VPS in that city.

When it comes to buying Saudi Arabia VPS, we've made it simple by offering multiple payment avenues - Google Pay, PayPal, Alipay, and credit card. Use the 'Customer Control Panel' to streamline your payment preferences and transactions.
Don't miss out on the best Saudi Arabia Jeddah VPS.
Embrace excellence with LightNode VPS - Unleashing the power of high-performance hosting!