Buy Cheap Node JS VPS Hosting Server with Hourly Billing
Discover the power and flexibility of LightNode Node JS VPS hosting solutions. Tailored for developers and enterprises, our Node JS VPS delivers unbeatable performance and hourly billing ensures you only pay for what you use. Our dedicated server environments are optimized for Node JS applications, allowing you to experience smooth deployment and scalability.
Pre-deploy Node JS on VPS
LightNode offers you a smooth Node JS VPS experience. From enjoying full control through full root access to instant setup with our rapid deployment, we guarantee stable uptime to ensure your Node JS project is always running efficiently.
Full Root Access
Take full control of your Node JS VPS environment, customizing it to your specific requirements.
Rapid Deployment
Quickly launch your Node JS applications with our simplified VPS setup, minimizing boot time and increasing productivity.
Uptime Guarantee
With LightNode's Node JS VPS, you can experience consistent online presence thanks to our industry-leading uptime commitment.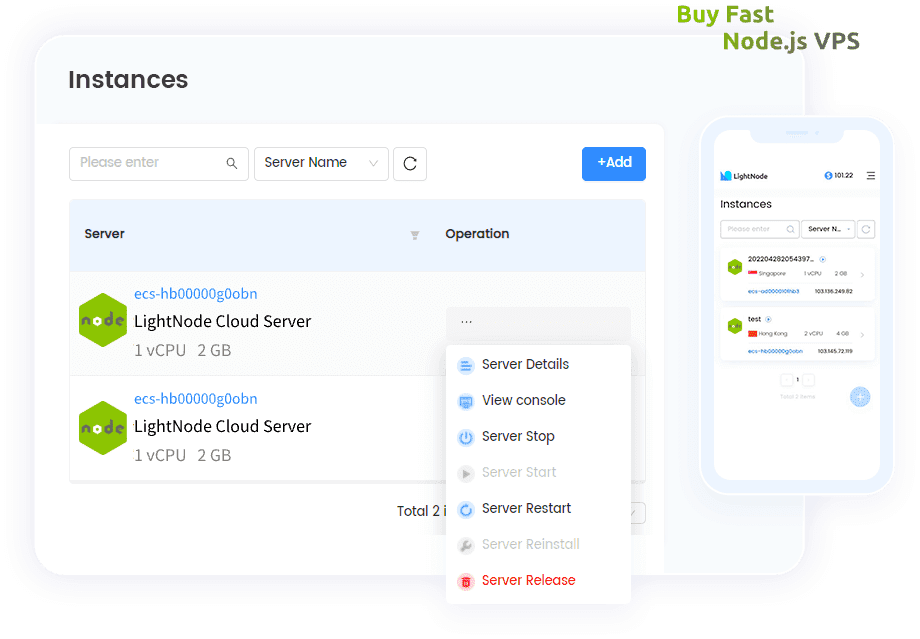 Full Root Access
Rapid Deployment
Uptime Guarantee
Connect. Deploy. Grow - Globally
Start deploying your High Performance Cloud VPS worldwide. Reduce latency, with our Cloud VPS located near your users and equipped with local BGP access.
Silicon Valley

Washington

Frankfurt

Istanbul

Riyadh

Dubai

Bangkok

Hanoi

Phnom Penh

Ho Chi Minh

Hong Kong

Taipei

Seoul

Johannesburg

Singapore

Manila

Dhaka

Sao Paulo

Jeddah

Tokyo

Cairo

Bahrain

Sofia

Athens

Kuala Lumpur

London

Muscat

Kuwait City

Marseille

Karachi

kathmandu

Moscow

Buenos Aires

Jakarta

Mexico City

Santiago

Yangon

Japan
LightNode Worldwide Locations
0
700,000+
Cloud Servers Launched
More resources, less cost
Not only is it cheap, but it can give you up to $15 when you recharge for the first time.


Why you need LightNode Node JS VPS?
LightNode brings a user-centric dashboard, multiple payment options, and fast NVMe SSD storage to add to your Node.js VPS journey. With unique dedicated IP addresses, flexible IP changes, and online support, we are committed to providing a seamless, robust VPS experience for all your Node JS needs.
Dedicated IP Address
Provide your Node JS VPS with a unique, fixed IP address to improve the security and accessibility of your web applications.
Simple Control Panel
Easily manage your Node JS VPS with our user-friendly dashboard, which simplifies server maintenance and monitoring, and allows you to easily switch on and off and reinstall your system.
Multiple Payment Methods
Flexible payment options ensure a smooth transaction every time you purchase or renew your Node.js VPS service, we support Credit Card, Alipay and PayPal.
NVMe SSD Storages
Experience lightning-fast data access and storage with NVMe SSDs on our Node JS VPS, ideal for performance-driven applications.
Free IP Change
Get two free IP changes for your VPS Node JS to accommodate different network requirements.
Online Support
Our dedicated support team is always ready to assist you with any Node JS VPS issues and ensure seamless server operation.
Trusted by over 50,000 customers all over the world
Leveraging our two-decade long experience in the IDC industry, our platform, LightNode, which was launched in 2021, has already served more than 50,000 customers across over 130 countries with over 700,000 cloud servers launched. Over the next three years, we aim to establish edge compute nodes in more than 100 countries worldwide to cover a broader user base.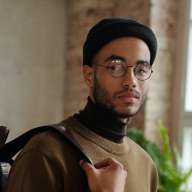 " I've been using LightNode's VPS for a few months now. It's been a smooth ride so far, no big issues or anything. Their customer service is pretty responsive too."
John Thompson
FAQ | Node JS VPS
Node JS is an open source, cross-platform runtime environment that allows developers to execute JavaScript outside of the browser.LightNode Node JS VPS hosting is designed for server-side scripting, enabling developers to create dynamic web pages before they are sent to the user's browser.

Node JS is primarily used to build fast and scalable web applications. With the efficiency of Node JS VPS hosting, developers can handle a large number of connections simultaneously without blocking, making it perfect for real-time applications, RESTful APIs, and other data-intensive applications.

Yes, Node JS is primarily used as a backend runtime environment. By choosing a Node JS VPS solution, organizations and developers can benefit from seamless backend operations that ensure the robustness of server-side applications.

Installing Node.js on a VPS server is easy, usually you need to use a package manager such as 'apt' for Ubuntu or 'yum' for CentOS. But you can also just use the LightNode Node.js VPS application image, which comes with Node.js pre-installed and you can start using it straight away.

LightNode VPS is constantly updating its products to ensure the best possible experience for its users. We offer the latest stable version of Node.js to ensure optimal performance and security.

By design, Node JS is secure. However, its security depends heavily on how developers use it and the conventions they follow. With LightNode Node JS VPS, users can simply manage ports and ensure that their applications are protected from common vulnerabilities.
Don't miss out on the best Node JS VPS.
Embrace excellence with LightNode VPS - Unleashing the power of high-performance hosting!