Buy Cheap Python VPS Hosting
LightNode offers the best VPS services for developers and businesses. With our cost-effective plans, you can run your Python applications smoothly, ensuring optimal performance and scalability.
Start Your Python Program
Provide your Python applications with unrivaled flexibility and performance with LightNode Python VPS hosting. Our hourly billing system ensures cost-effective scalability, while our commitment to low latency translates into superior application responsiveness. Each VPS comes with a dedicated IP address, providing a safe and secure environment for your development needs.
Hourly Billing
Hourly billing VPS allows you to use your Python scripts more cost effectively.
Low Latency
Our low latency Python VPS solutions are optimized for efficiency, so you can experience fast response times and smoother application performance.
Dedicated IP Address
Enhance the security and accessibility of your Python projects with dedicated IP addresses, ensuring a stable, unique identity for your VPS.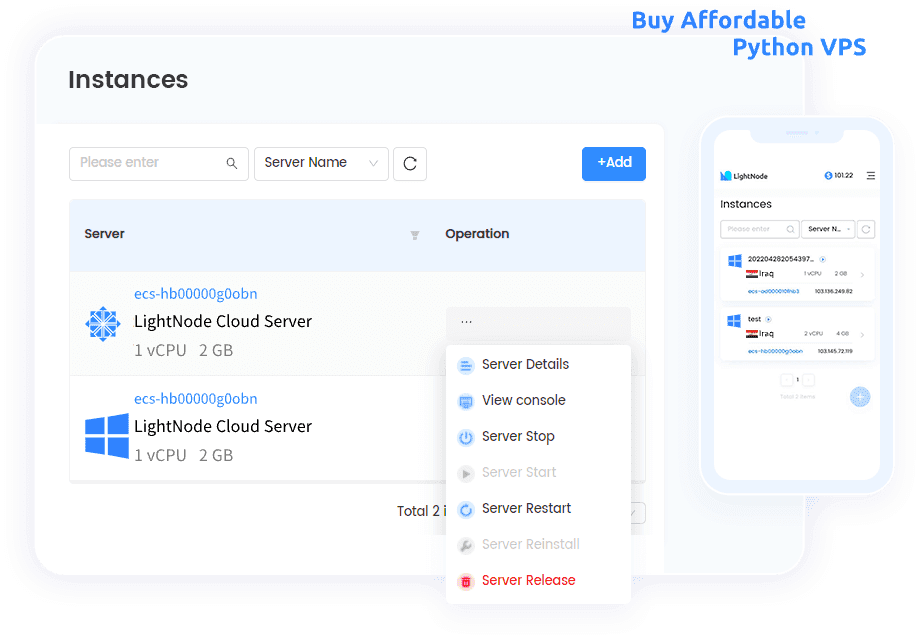 Hourly Billing
Low Latency
Dedicated IP Address
Connect. Deploy. Grow - Globally
Start deploying your High Performance Cloud VPS worldwide. Reduce latency, with our Cloud VPS located near your users and equipped with local BGP access.
Silicon Valley

Washington

Frankfurt

Istanbul

Riyadh

Dubai

Bangkok

Hanoi

Phnom Penh

Ho Chi Minh

Hong Kong

Taipei

Seoul

Johannesburg

Singapore

Manila

Dhaka

Sao Paulo

Jeddah

Tokyo

Cairo

Bahrain

Sofia

Athens

Kuala Lumpur

London

Muscat

Kuwait City

Marseille

Karachi

kathmandu

Moscow

Buenos Aires

Jakarta

Mexico City

Santiago

Yangon

Bogota

Baghdad
LightNode Worldwide Locations
0
700,000+
Cloud Servers Launched
More resources, less cost
Not only is it cheap, but it can give you up to $15 when you recharge for the first time.


Why should you choose LightNode VPS to install Python?
Expand your global reach with LightNode 39+ strategically-located data centers, ensuring your Python VPS is always close to your end users. With cutting-edge NVMe SSD storage and sophisticated BGP routing, we ensure fast and stable connectivity. We offer 24/7 live chat support, full root access for ultimate control over your servers, and a wide range of operating systems to choose from to customize your Python VPS to your specific requirements.
39+ Locations Around the World
Deploy your Python applications closer to your users with LightNode's network of data centers in 39 locations worldwide.
NVMe SSD Storage
With our NVMe SSD storage, you can enjoy lightning-fast data access speeds to improve the performance of your Python applications on our VPS hosting.
BGP Route
Thanks to LightNode's implementation of BGP routing, your Python VPS can enjoy strong network stability and optimized connectivity.
Live Chat
With our live chat feature, you can get instant support and have your issues resolved in no time.
Full Root Access
Gain complete control over your Python VPS environment with full root access, allowing you to configure and customize the server as needed.
Different Operating Systems
Choose from a wide range of operating systems and find the perfect environment for your Python applications on our VPS hosting.
Trusted by over 50,000 customers all over the world
Leveraging our two-decade long experience in the IDC industry, our platform, LightNode, which was launched in 2021, has already served more than 50,000 customers across over 130 countries with over 700,000 cloud servers launched. Over the next three years, we aim to establish edge compute nodes in more than 100 countries worldwide to cover a broader user base.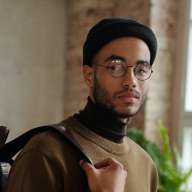 " I've been using LightNode's VPS for a few months now. It's been a smooth ride so far, no big issues or anything. Their customer service is pretty responsive too."
John Thompson
FAQ | python vps
A Python VPS is a Virtual Private Server configured to support Python programming language environments and applications. LightNode's Python VPS offers dedicated resources, full root access, and compatibility with various Python frameworks for fast development and deployment of your Python projects.

To run a Python script from a LightNode server, simply access your server via SSH, navigate to the directory containing your script, and execute it with the command python scriptname.py. Our VPS environments support Python out of the box, ensuring a hassle-free runtime experience for your scripts.

The key difference between VPS and shared hosting lies in resource allocation. A VPS provides dedicated resources and isolated environments for enhanced performance and security, whereas shared hosting houses multiple users on a single server with shared resources, often leading to limited performance and less control.

Problems with pip installation on VPS can be caused by network issues, incorrect package names, or permission restrictions.LightNode VPS has a stable network environment for smooth pip installation, giving you a great experience.

Of course you can, it is possible to use Docker on LightNode Python VPS to create, deploy and run applications via containers. Containers allow you to take an application with all the parts it needs and send it out as a package. We also offer a

Docker VPS

, which you can purchase pre-installed directly.

You need a Python VPS to get the flexibility, control, and dedicated resources necessary for optimal performance of your Python applications.LightNode's Python VPS provides an isolated environment to ensure that your applications run smoothly without the resource contention that is common in shared hosting.
Don't miss out on the best python vps.
Embrace excellence with LightNode VPS - Unleashing the power of high-performance hosting!