Buy Cheap Virtualbox VPS Hosting Servers
Unleash the power of efficient server hosting with LightNode's Virtualbox VPS solutions. You can install and run VirtualBox on LightNode VPS to fulfill your business needs.
High Performance VPS
With our Virtualbox VPS, you can choose from a range of operating systems, tailored to your unique application needs. With state-of-the-art NVMe SSD storage, you can access your data at lightning speeds. Plus, you can access anywhere in the world at any time, so your virtual presence is unlimited.
Different Operating Systems
Choose from a variety of operating systems on our Virtualbox VPS to perfectly suit your application needs.
NVMe SSD Storages
Experience blazing-fast data access with our NVMe SSD storage to boost your Virtualbox performance.
Global Locations
Our VPS covers more than 30 locations worldwide, enabling you to use VirtualBox globally.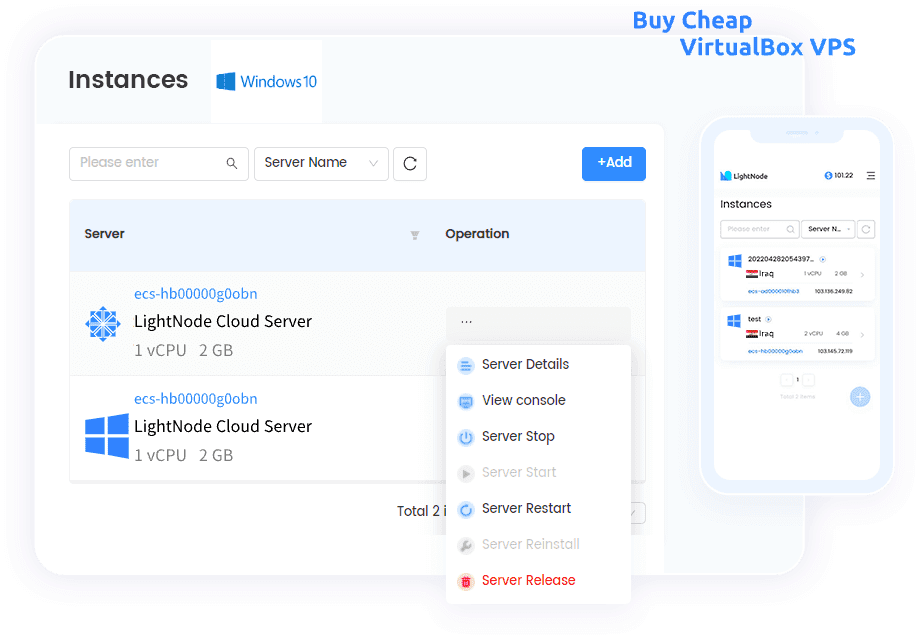 Different Operating Systems
NVMe SSD Storages
Global Locations
Connect. Deploy. Grow - Globally
Start deploying your High Performance Cloud VPS worldwide. Reduce latency, with our Cloud VPS located near your users and equipped with local BGP access.
Silicon Valley

Washington

Frankfurt

Istanbul

Riyadh

Dubai

Bangkok

Hanoi

Phnom Penh

Ho Chi Minh

Hong Kong

Taipei

Seoul

Johannesburg

Singapore

Manila

Dhaka

Sao Paulo

Jeddah

Tokyo

Cairo

Bahrain

Sofia

Athens

Kuala Lumpur

London

Muscat

Kuwait City

Marseille

Karachi

kathmandu

Moscow

Buenos Aires

Jakarta

Mexico City

Santiago

Yangon

Bogota

Baghdad
LightNode Worldwide Locations
0
700,000+
Cloud Servers Launched
More resources, less cost
Not only is it cheap, but it can give you up to $15 when you recharge for the first time.


Why should you use LightNode VPS for VirtualBox?
LightNode Virtualbox VPS is not only packed with great raw features, but it also puts those features firmly in your hands. With full root access, you can create the environment that works best for you. Whether it's flexible hourly billing, seamless IP changes, optimal data routing with BGP, or a low-latency experience, our intuitive dashboard provides you with simplified VPS management like never before.
Full Root Access
Gain unparalleled control with full root access, allowing complete customization of your Virtualbox environment. You can also install additional software.
Hourly Billing
Run VirtualBox with our hourly billing VPS for flexible cost control and even test various systems and configurations at low cost.
Free IP Change
Enjoy the flexibility of two free IP changes to enhance the security and management of your VPS.
BGP Route
We use BGP routing, which allows you to enjoy a fast and smooth connection experience.
Low Latency Virtualbox VPS
Ensure the ultimate VirtualBox experience with our low latency VPS, perfect for applications that require real-time interaction.
Simple Dashboard
Easily manage your Virtualbox VPS with our user-friendly dashboard that simplifies all key functions.
Trusted by over 50,000 customers all over the world
Leveraging our two-decade long experience in the IDC industry, our platform, LightNode, which was launched in 2021, has already served more than 50,000 customers across over 130 countries with over 700,000 cloud servers launched. Over the next three years, we aim to establish edge compute nodes in more than 100 countries worldwide to cover a broader user base.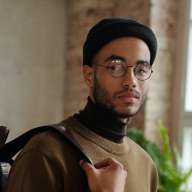 " I've been using LightNode's VPS for a few months now. It's been a smooth ride so far, no big issues or anything. Their customer service is pretty responsive too."
John Thompson
FAQ | virtualbox vps
Virtualbox VPS is a virtual private server that utilizes the Oracle VirtualBox platform. It provides a versatile environment for hosting a variety of operating systems and applications in virtual machines. With LightNode's Virtualbox VPS, users get the combined benefits of VirtualBox's flexibility and our advanced VPS features.

While both Virtual Machines and Virtual Private Servers provide virtualized environments, the main difference between them lies in usage and scale.VMs are software-based computer emulations that are typically used for testing or development. Meanwhile, a VPS is usually a partition of a physical server in a data center used to host dedicated resources for applications and websites.

VirtualBox offers many advantages. It supports multiple operating systems, offers snapshotting capabilities, and has a user-friendly interface. With LightNode's Virtualbox VPS, users can capitalize on these advantages in a hosting environment that ensures optimal performance and scalability.

Yes, if configured correctly, a VirtualBox VM is secure. Its isolation properties ensure that activities within the VM do not affect the host system. Pairing it with LightNode's secure infrastructure can further increase security.

Users choose VirtualBox because of its adaptability in running multiple operating systems at the same time, testing software in a controlled environment and creating portable workstations. When these features are combined with LightNode VPS solutions, users get a powerful hosting platform.

VirtualBox is open source software and available for free. However, when you choose LightNode's Virtualbox VPS, you are investing in a robust hosting solution with enhanced features, guaranteed uptime, and dedicated support.
Don't miss out on the best virtualbox vps.
Embrace excellence with LightNode VPS - Unleashing the power of high-performance hosting!