Buy Fast and Cheap Washington VPS Hosting
We are providing Washington VPS Hosting to its all customers at the affordable price. Get your USA VPS server with high speed.
Best Washington VPS in LightNode
A Washington VPS from LightNode is your own private server hosted in one of the most data-rich regions in the world - Washington, DC. This virtual private server (VPS) provides you with top-tier performance, reliability, and security. As a LightNode customer, you will have full root access, which allows you to fully customize your server to meet your exact needs. Washington VPS offers SSD storage, ensuring high-speed data access and processing. Additionally, the auto-scalable resources mean your server can grow with your business or project. And with LightNode's dedication to transparent pricing, you always know what you're paying for with no hidden costs or surprise fees. Experience the power and flexibility of our Washington VPS and give your online project the robust foundation it deserves.
Multiple OS Options
With Multiple OS Options, we provide the flexibility to select from various Linux and Windows images, ensuring your VPS is tailored to your exact needs.
Cost-effective
Our VPS solutions are not just affordable; they're high-performing too, making them an excellent investment.
Control Panel
Handle your VPS efficiently with our simplified interface, which allows for basic operations like tracking server stats and controlling power states.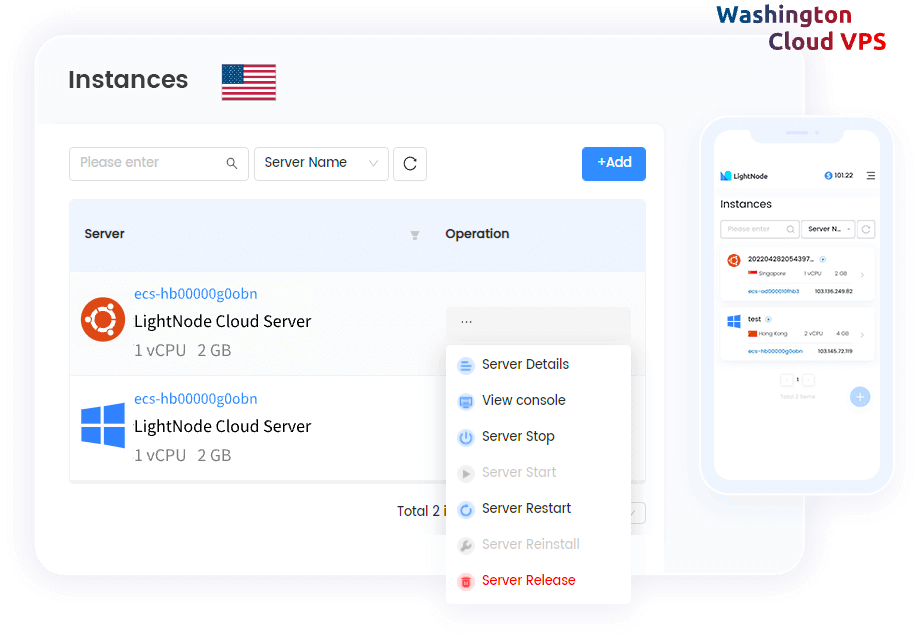 Multiple OS Options
Cost-effective
Control Panel
Connect. Deploy. Grow - Globally
Start deploying your High Performance Cloud VPS worldwide. Reduce latency, with our Cloud VPS located near your users and equipped with local BGP access.
Silicon Valley

Washington

Frankfurt

Istanbul

Riyadh

Dubai

Bangkok

Hanoi

Phnom Penh

Ho Chi Minh

Hong Kong

Taipei

Seoul

Johannesburg

Singapore

Manila

Dhaka

Sao Paulo

Jeddah

Tokyo

Cairo

Bahrain

Sofia

Athens

Kuala Lumpur

London

Muscat

Kuwait City

Marseille

Karachi

kathmandu

Moscow

Buenos Aires

Jakarta

Mexico City

Santiago

Yangon

Bogota

Baghdad
LightNode Worldwide Locations
0
700,000+
Cloud Servers Launched
More resources, less cost
Not only is it cheap, but it can give you up to $15 when you recharge for the first time.


Discover the Strengths of Washington VPS: Feature Review
Come experience the important features of LightNode Washington VPS. Familiarize yourself with the combination of powerful performance, superior control, and affordability that our Washington VPS offers. LightNode's goal is to provide high-quality, value-priced VPS solutions that maintain a balance between features and budget. Find out why our Washington VPS stands out in the cloud server industry!
Online Customer Service
We're here to ensure your experience is seamless. Count on our online support team for swift and effective solutions.
Hourly Billing
Our services are billed hourly, offering you the flexibility to only pay for the time you need. Release your VPS when done, and the charges cease.
Custom Firewall
We offer you the flexibility to adjust your port settings, providing an extra layer of security for your VPS.
Multiple Payment Options
Providing you with various payment methods such as credit card, Alipay, Google Pay, and PayPal, we make your transactions seamless and hassle-free.
Uptime Guarantee
With a 99.9% uptime guarantee, we assure that your operations stay uninterrupted, providing you with a reliable platform for your business needs.
IP Change
Our VPS solutions give you control, including the option to change your IP twice for free with every new machine, ensuring your online presence is always optimal.
Trusted by over 50,000 customers all over the world
Leveraging our two-decade long experience in the IDC industry, our platform, LightNode, which was launched in 2021, has already served more than 50,000 customers across over 130 countries with over 700,000 cloud servers launched. Over the next three years, we aim to establish edge compute nodes in more than 100 countries worldwide to cover a broader user base.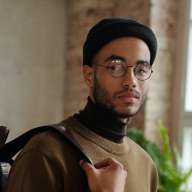 " I've been using LightNode's VPS for a few months now. It's been a smooth ride so far, no big issues or anything. Their customer service is pretty responsive too."
John Thompson
FAQ | Washington VPS
Of Course you can. But there is always a better way, you can directly choose LightNode's OLS WordPress application image, this image is pre-installed with WordPress image, you only need to wait a few minutes to start using it directly.

There are a few different types of ports that a VPS may use. The most common ports are typically 80 (HTTP), 443 (SSL), and 3306 (SQL).

Yes, you can host a domain on a VPS (Virtual Private Server). A VPS provides the necessary resources and control to host websites and applications, making it an ideal platform for hosting one or multiple domains.

It's fast. It just takes a few minutes, then you will get a installed VPS in LightNode. The only thing you need to do is to connect to the VPS.

Yes, a VPS (Virtual Private Server) runs independently from your computer. It operates 24/7 as long as it is hosted on the hosting provider's server, regardless of whether your computer is turned on or off.

Managing a VPS can be more challenging than shared hosting. However, with some basic understanding of server administration and regular maintenance, managing a VPS can become manageable and rewarding.
Don't miss out on the best Washington VPS.
Embrace excellence with LightNode VPS - Unleashing the power of high-performance hosting!