Best Matomo Self Hosted VPS Hosting | Hourly VPS Serve
LightNode is the best choice for Matomo VPS hosting. Our servers ensure real-time data insights and hourly billing flexibility. And high performance features can make Matomo smoother.
Installation Guide
Hosting Matomo on LightNode VPS
Hosting Matomo on your own VPS is more convenient for data processing, you have full root access to the VPS and the data is completely your own, it is also convenient to install other software on the same host to work with matomo. Learn more about LightNode Matomo self-hosted VPS.
Pay Hourly
With the ability to bill by the hour, LightNode VPS offers the flexibility to control costs without spending too much at once.
NVMe SSD Storages
NVMe SSD storage allows Matomo to store and recall data faster, meeting the need for rapid data analysis.
Flexible Configurations
Adjust your VPS configuration at any time to ensure efficient data processing and keep your Matomo system upgraded at any time.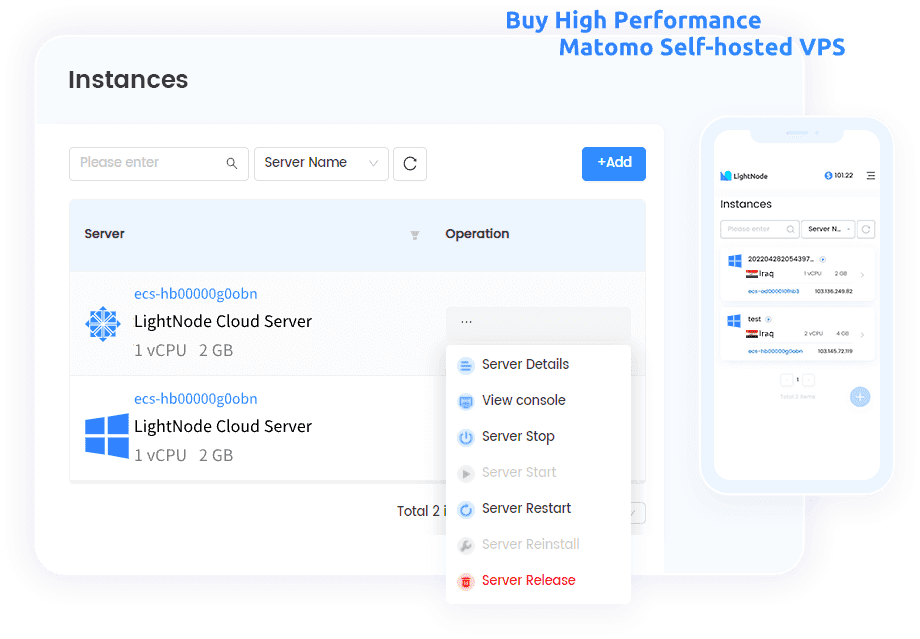 Pay Hourly
NVMe SSD Storages
Flexible Configurations
Connect. Deploy. Grow - Globally
Start deploying your High Performance Cloud VPS worldwide. Reduce latency, with our Cloud VPS located near your users and equipped with local BGP access.
Silicon Valley

Washington

Frankfurt

Istanbul

Riyadh

Dubai

Bangkok

Hanoi

Phnom Penh

Ho Chi Minh

Hong Kong

Taipei

Seoul

Johannesburg

Singapore

Manila

Dhaka

Sao Paulo

Jeddah

Tokyo

Cairo

Bahrain

Sofia

Athens

Kuala Lumpur

London

Muscat

Kuwait City

Marseille

Karachi

kathmandu

Moscow

Buenos Aires

Jakarta

Mexico City

Santiago

Yangon

Bogota

Baghdad
LightNode Worldwide Locations
0
700,000+
Cloud Servers Launched
More resources, less cost
Not only is it cheap, but it can give you up to $15 when you recharge for the first time.


Why should you choose LightNode VPS to host Matomo?
At LightNode, we understand the complexity of hosting Matomo analytics. That's why our Matomo VPS offers a large selection of operating systems for you to choose from. With a user-friendly dashboard and rapid deployment of KVM technology, you are guaranteed a premium experience. Additionally, our commitment to stable uptime and low latency ensures that your analytics are always at your fingertips.
Many Operating Systems
Support multiple operating systems, no matter what you want to use to install and run Matomo.
Simple Dashboard
We provide a simple VPS control panel that allows you to quickly reinstall or reboot your Matomo VPS.
Rapid Deployment
Get your Matomo analysis up and running in no time with our fast VPS deployment.
KVM Tech
Rely on advanced KVM technology for stable and secure Matomo VPS operation.
Uptime Guarantee
We offer an uptime guarantee to ensure that you have access to Matomo at all times and that your website data is not interrupted.
Low Latency
Use our low latency VPS for real-time Matomo analytics feeds so you can analyze your data more accurately.
Trusted by over 50,000 customers all over the world
Leveraging our two-decade long experience in the IDC industry, our platform, LightNode, which was launched in 2021, has already served more than 50,000 customers across over 130 countries with over 700,000 cloud servers launched. Over the next three years, we aim to establish edge compute nodes in more than 100 countries worldwide to cover a broader user base.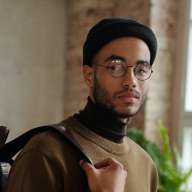 " I've been using LightNode's VPS for a few months now. It's been a smooth ride so far, no big issues or anything. Their customer service is pretty responsive too."
John Thompson
FAQ | matomo hosted vps
A Matomo self-hosted VPS is a dedicated virtual server where users can install and manage their own instance of Matomo analytics. With a Matomo VPS, you get the freedom to control and customize your analytics environment, ensuring privacy and tailored insights.

While Matomo offers in-depth analytics and is privacy-focused, it might require more hands-on management than cloud-based solutions. Also, depending on your Matomo VPS specifications, there may be hardware and traffic limitations.

The main advantage of Matomo is that it's open-source and respects user privacy. Hosting it on a Matomo VPS ensures data control. Meanwhile, Google Analytics offers extensive features and integration but collects user data.

Hosting Matomo on your own VPS ensures maximum data privacy, control over your analytics environment, and the flexibility to customize and scale as per your needs. It's a prime choice for businesses prioritizing data sovereignty.

Matomo doesn't have a built-in limit for the number of websites you can track. The actual limit would depend on the specifications of your Matomo VPS, such as CPU, storage, and bandwidth.

Yes, Matomo can replace Google Analytics. It offers comprehensive analytics tools, and with a Matomo VPS, you get added advantages like data control and privacy. However, the best choice depends on your specific needs and preferences.
Don't miss out on the best matomo hosted vps.
Embrace excellence with LightNode VPS - Unleashing the power of high-performance hosting!